Taylor Swift is currently on a 52-show tour of the United States called "The Eras Tour," and fans across the country are just eating it up.
Now, for fans in Pennsylvania, they can also eat up some Taylor Swift-inspired ice cream flavors.
Ripleigh Maring is a 16-year-old from McSherrystown, Pennsylvania who owns Ripleigh's Creamery.
Ahead of Swift's three-night concert series in Philadelphia, Pennsylvania, Maring created new Taylor Swift-inspired flavors for the special occasion, Fox 43 in Pennsylvania reported.
TAYLOR SWIFT QUIZ! HOW WELL DO YOU KNOW THE FAMOUS POP MUSICIAN?
The flavors are all named after some of Swift's most popular songs — like "Lavender Haze," "Bad Blood," "Love Story," "Karma" and "Wildest Dreams."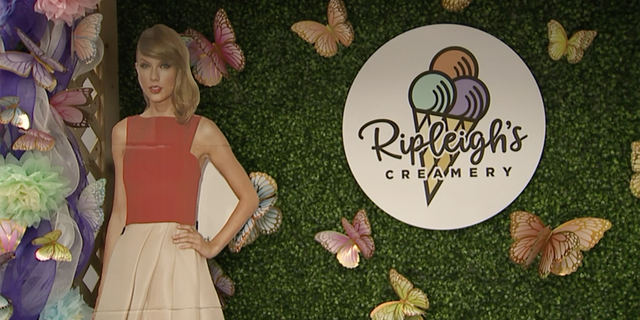 Ripleigh's Creamery is an ice cream shop run by 16-year-old Ripleigh Maring – who loves Taylor Swift.  (Fox News)
The ice cream shop went viral on TikTok after Maring got a special surprise just days before the big concert weekend.
BAD BUNNY'S HIT SONG HAS 'RIGHT TEMPO' FOR LIFE-SAVING CPR, AMERICAN HEART ASSOCIATION SAYS: 'KEEP THE BEAT'
The creamery-owner premiered the new flavors a month ago and has been posting about the specialties for the last month — all in hopes that Ms. Swift herself would pay the shop a visit this weekend while she's in town.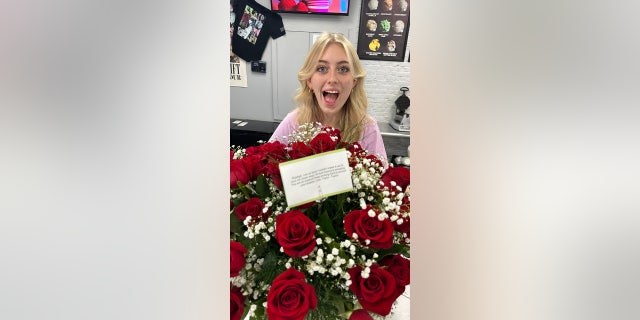 Maring was shocked to find four dozen roses being delivered to the store, sent from the pop star herself.  (Ripleigh's Creamery)
Although Swift will be unable to visit the store, she made sure to let Maring know that she was impressed by her efforts.
On Thursday, May 11, Maring received four dozen red roses from the pop star, as Maring's viral TikTok reveals.
ON THIS DAY IN HISTORY, MAY 12, 1965, ROLLING STONES RECORD 'SATISFACTION' AFTER KEITH RICHARDS DREAMED A RIFF
In the TikTok video viewed nearly four million times, Maring is gifted the flowers, along with a special note from Swift tucked between the red roses.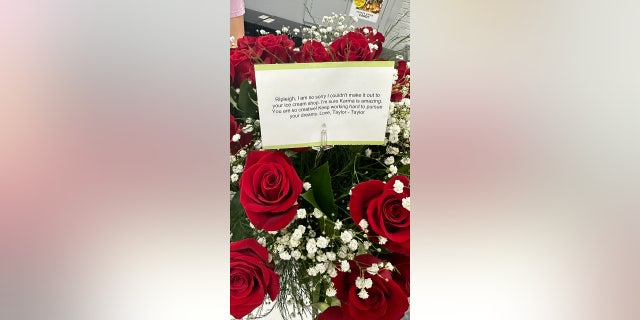 Maring had tears in her eyes as she realized Swift has recognized her shop and all of her efforts to celebrate the Swift tour coming to the area.  (Ripleigh's Creamery)
"Ripley, I am so sorry I couldn't make it out to your ice cream shop," the singer wrote.
"I'm sure 'Karma' is amazing. You are so creative," she continued.
CLICK HERE TO SIGN UP FOR OUR LIFESTYLE NEWSLETTER
"Keep working hard to pursue your dreams," she said.
The 16-year-old high school sophomore was so stunned by the superstar's kind gesture that it brought tears to her eyes, her TikTok revealed.
Maring encouraged fellow Swifties to visit the store in their favorite "era" — asking them to dress for the occasion, she told Fox 43.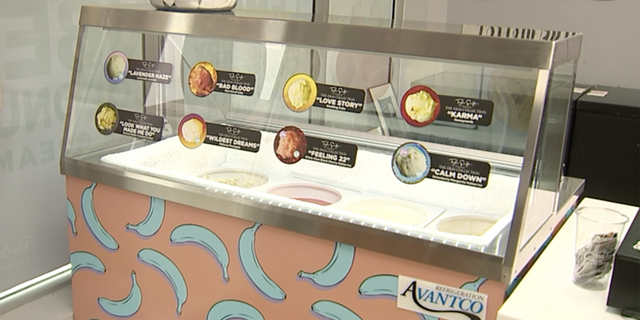 Some of the flavors are named after Taylor Swift  songs: "Bad Blood," "Lavendar Haze" and "Wildest Dreams." (Fox News)
"I've seen so many people from different 'eras' of her life… they'll wear the whole costume," the ice cream shop owner said.
Maring has run the store since she was 14 years old, calling the shop her passion.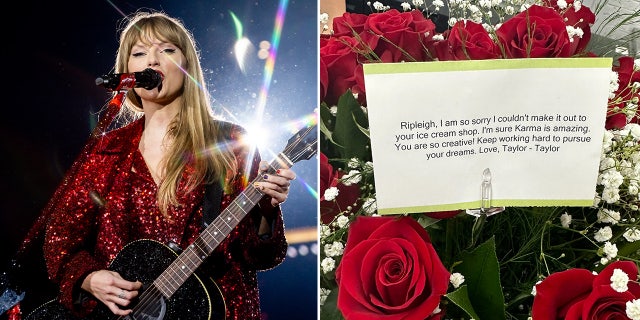 Taylor Swift sent a fan flowers after her unique business idea paid homage to the superstar. (Getty Images/Ripleigh's Creamery)
CLICK HERE TO GET THE FOX NEWS APP
The owner has turned her passion into a trendy business; one that has clearly caught the attention of one of the most famous pop stars in the world.
Maring attended The Eras Tour in Tampa, Florida, last month — but many of the employees at Ripleigh's will be attending the concert this weekend, she noted.