"Feebleness in the Oval Office" and pro-China sympathizers pushing friendly policies have led to European leaders cozying up to America's biggest adversary, China expert Gordon Chang told Fox News.
"One of the main Chinese foreign policy goals these days is to divide Europe from the United States," said Chang. "And it looks like some days they are actually succeeding."
French President Emmanuel Macron appeared to distance himself from U.S. interests after spending three days meeting with Chinese President Xi Jinping in Beijing last week. He said in an interview with the French newspaper Les Echo that Europe should not follow the "American rhythm" on Taiwan and "should not be caught up in a disordering of the world and crises that aren't ours."
GORDON CHANG: XI IS DIVIDING EUROPE FROM THE U.S.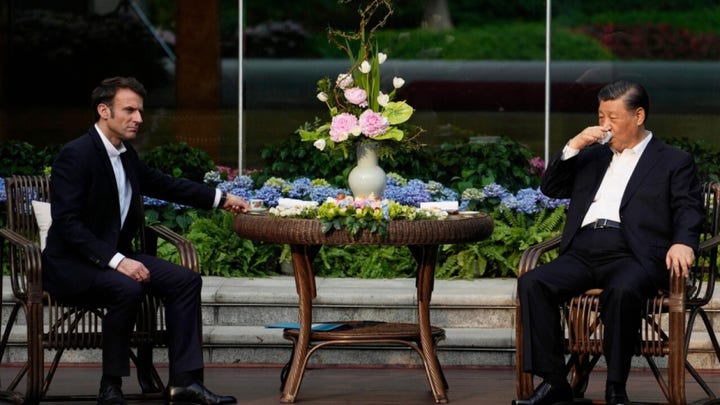 Video
WATCH MORE FOX NEWS DIGITAL ORIGINALS HERE
Chang said Macron's "unjustified" comments undermine the U.S., "but fortunately, European leaders and others severely criticized Macron for these comments, which certainly weakened Europe's security.
"If Macron doesn't want to support the U.S. and Taiwan, then the obvious question is, 'Should the U.S. be supporting Europe and Ukraine?'"
The U.S. has committed more than $200 billion in aid to Ukraine since Russia's invasion in 2022, far exceeding that of other NATO countries.
The U.S. is also the largest contributor to NATO's military spending, while other European allies fail to meet the treaty's 2% defense spending obligation.
"Until they're willing to pay for their defense, they are dependent on the U.S.," Chang said. "Emmanuel Macron can say what he wants, but Europe needs Washington."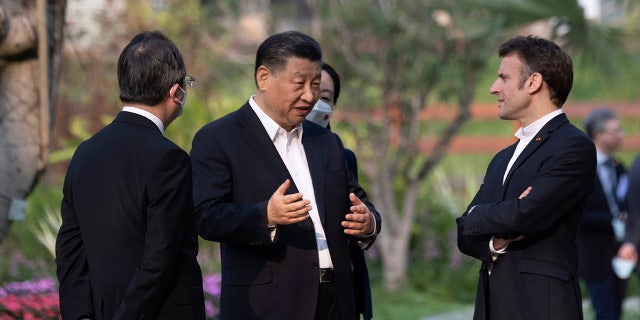 Chinese President Xi Jinping, center, and French President Emmanuel Macron, right, talk in the garden of the Guangdong province governor's residence in Guangzhou, China, Friday, April 7, 2023.  (Jacques Witt, Pool via AP)
While Europe still depends on the U.S., Chang said Macron's friendly meeting with America's greatest adversary is "a symptom of the feebleness in the Oval Office."
"We are seeing comments that we did not hear during the Trump administration," Chang told Fox News. "European leaders didn't like Trump, but they respected him and they respected the United States.
"Unfortunately, right now, Macron doesn't respect Biden, and he doesn't respect the United States."
LEVIN TORCHES BIDEN'S FOCUS ON IRELAND AS CHINA DOMINANCE GROWS
Last week, China began "combat readiness patrols" and sent fighter jets and warships toward Taiwan following a meeting between House Speaker Kevin McCarthy and Taiwanese President Tsai Ing-wen.
This comes after the Chinese government imposed a travel ban and economic sanctions against American groups and individuals who associated with Tsai's meeting.
Despite criticism about turning a blind eye to Chinese aggression, the Biden administration has in the past described China as "the most serious long-term challenge to the international order."
"China is the only country with both the intent to reshape the international order and, increasingly, the economic, diplomatic, military and technological power to do it," U.S. Secretary of State Antony Blinken said on Capitol Hill in May. "Beijing's vision would move us away from the universal values that have sustained so much of the world's progress over the past 75 years."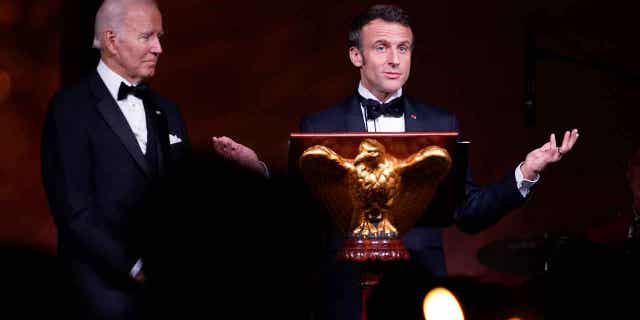 Gordon Chang said France's Macron, right, "doesn't respect Biden, and he doesn't respect the United States." (AP Photo/Andrew Harnik)
CLICK HERE TO GET THE FOX NEWS APP
Chang, however, blamed Chinese Communist Party sympathizers within the U.S. government and corporations for implementing weak policies that allow China to act on its global ambition and challenge America on the world stage.
"China has worked very hard to infiltrate the U.S. and uses every point of contact to try to take us down," Chang said. "China does have a lot of sympathizers: Wall Street, corporate boardrooms all across Washington, D.C., and, obviously, in the Biden administration."
Macron's meeting with Xi and the strengthening of China-Europe relations reflect "a noticeable collapse in America's standing around the world," that has occurred under the Biden administration, Chang said.
"He's presiding over a failure of America across the board."
To watch Chang's full interview, click here: