Ohio Republican Senate candidate Bernie Moreno has floated the idea of financial compensation for the White descendants of northern soldiers who fought in the Civil War for the freedom of enslaved people.
Moreno's comments came during a campaign event earlier this week in the Buckeye State, where incumbent Democrat Sen. Sherrod Brown is seeking a fourth term in office in the 2024 Senate election.
"We stand at the shoulders of giants, don't we? We stand on shoulders of people like John Adams, James Madison, Alexander Hamilton, George Washington. That this group of people took on the largest empire in history. They said no, we will not stand for this. And won," Moreno told supporters at the event. "That same group of people later, White people, died to free Black people. It's never happened in human history before, but it happened here in America. That's not taught a lot in schools much is it?"
"They make it sound like America is a racist, broken country," he continued. "You name a country that did that: that freed slaves, died to do that. You know, they talk about reparations. Where are the reparations for the people in the North who died to save the lives of Black people?"
OHIO'S BERNIE MORENO ANNOUNCES SECOND STRAIGHT GOP SENATE RUN, IN BID TO FLIP BLUE SEAT RED
Moreno said he knows "it's not politically correct to say that," but recognized that he has to "call it like it is."
In a statement to Fox News Digital, Conor McGuinness, a spokesperson for Moreno's Senate campaign, said the Republican made the remarks in an effort to point out "Democrat hypocrisy."
"Bernie was right when he said political correctness is killing our country, and the crocodile tears from the left expose the Democrat hypocrisy he was referring to in the clip," McGuinness said. "However, it's unsurprising that the liberal media missed his point, since they've been complicit with the identity politics charade for years."
Earlier this week, Moreno, a successful Cleveland-based businessman and luxury auto dealership giant who previously ran for Senate in the Buckeye State last cycle, jumped into the 2024 GOP Senate primary in Ohio in the hopes of taking on Brown next year in a race that could determine if the Republicans win back the Senate majority.
Moreno, an immigrant who arrived in the U.S. legally from Colombia with his family as a five-year-old boy, made border security a top issue during his 2022 Senate primary campaign and visited the U.S.-Mexico border. He shelled out millions of his own money to run TV commercials to try and boost his first Senate bid, but he suspended his campaign in February last year after requesting and holding a private meeting with former President Donald Trump.
In a campaign video announcing his candidacy in the race, Moreno touted himself as an "outsider conservative running for Senate."
OHIO GOP SENATE CANDIDATE DOLAN VISITS SOUTHERN BORDER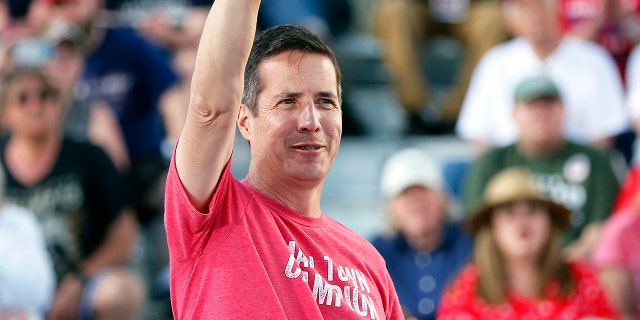 Bernie Moreno is acknowledged at a rally with former President Donald Trump at the Delaware County Fairgrounds, on April 23, 2022, in Delaware, Ohio. (AP Photo/Joe Maiorana)
Moreno took aim at Democrats and Republicans in the video, claiming that "we're losing our country because corrupt and cowardly politicians from both parties sell us out."
"President Trump put us on a path to prosperity, but today China's buying our land, drugs pour through our borders while our tax dollars flow to foreign countries and our jobs stream overseas. The country we love is being ruined by insider politicians," Moreno charged. "Now I'm running for Senate and you guessed it, I'd be an outsider in Washington too. I'm not a career politician. I've never held office. I'm doing this because I firmly believe career politicians have put us in a ditch and we need outsiders to fix this country."
Moreno also argued that "it takes new leaders who are willing to fight to save the America First values that we share."
Though it was formerly considered a battleground state, Ohio has trended red in recent years.
Last November, Republican JD Vance defeated then-Democratic Rep. Tim Ryan in the race to become the Buckeye State's next U.S. senator.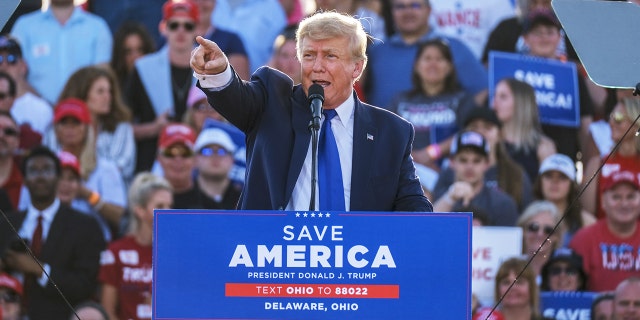 Former President Donald Trump speaks during the 'Save America' rally at the Delaware County Fairgrounds in Delaware, Ohio, on April 23, 2022. (Eli Hiller/Bloomberg)
CLICK HERE TO GET THE FOX NEWS APP
Prior to Moreno's announcement this month, Trump encouraged the "highly respected" Republican to enter the race.
"Word is that Bernie Moreno, the highly respected businessman from the GREAT STATE of OHIO, and the father-in-law of fantastic young Congressman, Max Miller, is thinking of running for the Senate," Trump wrote in a post to Truth Social. "He would not be easy to beat, especially against Brown, one of the worst in the Senate!"
Fox News' Paul Steinhauser contributed to this article.