A deal to raise minimum wages in New York would keep the state near the top of the list of places with the highest base pay for low-paid workers, but the raise amount is disappointing some labor activists who had hoped for a bigger bump.
The minimum hourly wage would rise to $17 in New York City and some of its suburbs and $16 in the rest of the state by 2026 under an agreement between Gov. Kathy Hochul and legislative leaders. That's an increase from the current rate of $15 in the city and $14.20 upstate.
Future increases would then be tied to the Consumer Price Index for Urban Wage Earners and Clerical Workers, a measurement of inflation.
US STATES LOOKING TO BOOST MINIMUM WAGE TO $20 AS INFLATION ISSUE CONTINUES
Under the agreement announced late Thursday, New Yorkers would be guaranteed an hourly wage well above the federal minimum of $7.25. They would still earn less than workers in California, Washington and Hawaii, which will all most likely have minimum wages of $18 or higher by 2028, according to the National Employment Law Project.
Achieving any pay raise counts as a victory for labor. It came over the objections of some employers who said companies struggling to control costs could be hurt by having to pay workers more.
The pay increase was dissatisfying to some liberal Democrats who had argued that high inflation in recent years was making it harder than ever for workers to keep up without a pay rise.
"We have to take the war on poverty more seriously. The true cost of living in New York — and particularly within the five boroughs — simply cannot be sustained at $17 per hour," said Sen. Jessica Ramos, a Queens Democrat who proposed raising the minimum wage above $20. "This agreement has effectively codified a wage that keeps working families poor."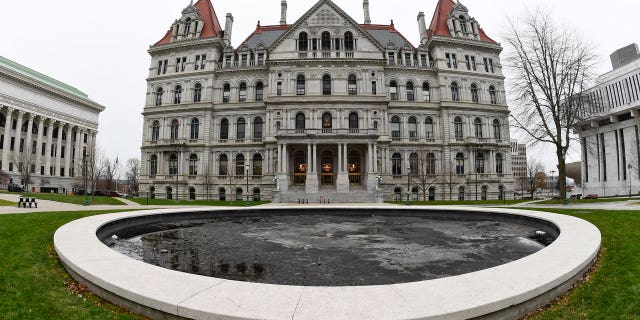 A deal between New York lawmakers and Democratic Gov. Kathy Hochul would see the state's minimum wage raised to $16 per hour by 2026. (AP Photo/Hans Pennink, File)
Raise Up NY, a coalition of labor unions, lawmakers and advocacy groups, called the new agreement a "weak compromise" in a statement, adding that it would give workers little financial relief.
Opponents of the wage increase have also said they aren't supportive of the agreement, saying it can be detrimental to small businesses that already took major hits during the COVID-19 pandemic.
The wage increase could be particularly detrimental to dairy farmers, forcing them to either cut staff or hours, or close down altogether, said Steve Ammerman, a spokesperson for the New York Farm Bureau, a group that represents farmers. He said inflation and minimum wage increases have already led to farm closures and that the latest increase will make it harder for farms to stay in business.
DOZENS OF STATES SEE NEW LAWS ON ABORTION, MINIMUM WAGE TAKE EFFECT IN 2023
The State Assembly's top Republican, William Barclay, said he worried a minimum wage rise would cause wage inflation across the spectrum of all occupations. To relieve inflationary pressures, he said, the state could have suspended the gas tax, which was done last year, or reduced the sales tax on some delivery and home good products.
The federal minimum wage in the United States has stayed at $7.25 per hour since 2009, but states and some localities are free to set higher amounts. At least 30 states have chosen to do so.
Hochul's initial plan for cost-of-living increases would have capped any yearly pay rise at 3%, a guardrail intended to soften the blow of periods of high inflation. The governor's office wouldn't say Friday if a cap would be included in the final version of the state budget bill, which is expected to be approved by lawmakers in the coming days.
CLICK HERE TO GET THE FOX NEWS APP
State Assembly Leader Carl Heastie confirmed the conceptual agreement in a statement Thursday night, but he said Democrats from the state Assembly still needed to discuss some issues.