New Jersey's Department of Environmental Protection has charged itself with damaging habitat for threatened and endangered birds that it was supposed to protect.
The work was designed to create habitat for one species of bird, but actually wound up destroying habitat for two others.
The department acknowledged it sent a violation notice and threatened penalties against its own Division of Fish and Wildlife regarding unauthorized work in February and March at the Glassboro Wildlife Management Area in Clayton, Gloucester County.
ACTIVISTS DROP SUIT AGAINST GREEN ENERGY GIANT ACCUSED OF KILLING OFF ENDANGERED SALMON
It was unclear how any penalties might work when the DEP is both the accuser and the accused. It also was not immediately clear whether any money might actually change hands. The department did not respond to questions about potential fines.
The work involved the clearing of vegetation and disturbance of soils on nearly 3 acres of what the state calls "exceptional resource value freshwater wetlands." Before the work was done, this land was considered suitable habitat for the barred owl, which is listed as a threatened species, and the red-shouldered hawk, an endangered species.
The project also cleared and disturbed an additional 12 acres of land near wetlands known as transition areas, which also are protected.
The DEP refused Friday to discuss how the work happened without authorization.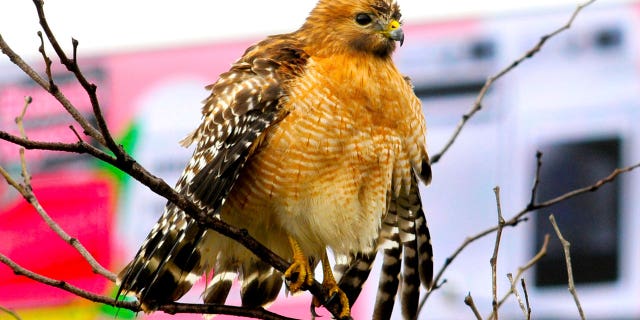 The red-shouldered hawk is one of two avian species displaced by the New Jersey Division of Fish and Wildlife's unwitting habitat destruction in Gloucester County. (Robin Rudd/Chattanooga Times Free Press via AP, File)
On its website, the department wrote on Feb. 1 that the work sought to create 21 acres of habitat for the American woodcock, a member of the sandpiper family that uses its long, narrow beak to forage for earthworms in damp soil. The project was designed to create "meadow habitat."
But in doing so, the state destroyed mature oak and pine forests in and near wetlands, and filled in some wetlands, four conservation groups said in a letter to the department in early March complaining about the work. The agency issued the violation notice on April 6.
"The wetland soil and flora that were previously undisturbed have been destroyed, and the mature forest that was already habitat for numerous rare species of plants and birds was clear-cut logged," the groups wrote. "All trees have been cut, and all stumps bulldozed."
Tom Gilbert, a leader of the New Jersey Conservation Foundation, said, "This never should have happened. They must also take steps to improve their clearly inadequate internal review process and meaningfully engage the public."
Jaclyn Rhoads, assistant executive director of the Pinelands Preservation Alliance, commended the state for owning up to its mistake, but said the DEP should provide a list of current projects on its website for public review.
ARE OFF-SHORE WIND FARMS CAUSING UNPRECEDENTED WHALE DEATHS?
"It is because of the public that we were able to stop further destruction of this landscape," she said.
Agency spokesman Larry Hajna said the Fish and Wildlife Division's Bureau of Land Management must implement appropriate soil conservation measures within 10 days and submit a plan within 30 days to restore the site. That must include removal of wood chips placed there.
By the end of April, the DEP intends to issue a notice of penalty assessment.
CLICK HERE TO GET THE FOX NEWS APP
Fish and Wildlife will propose additional environmentally beneficial measures, which will be subject to a public comment period, Hajna said.