A bill that would channel public money to scholarships for private school tuition in Nebraska is headed to a final step needed for passage this year.
The bill, introduced by Omaha Sen. Lou Ann Linehan, does not appropriate taxpayer dollars directly toward private school vouchers. Instead, it would allow businesses, individuals, estates and trusts to donate a portion of owed state income tax to be used for scholarships covering private school tuition.
Businesses and individuals could donate up to $100,000 per year; estates and trusts could offer up to $1 million a year. The bill would allocate $25 million a year over the next two years and up to $100 million annually thereafter to cover such donations — money that otherwise would have gone into the state's general revenue fund.
IOWA STUDENTS CAN USE PUBLIC MONEY TO PAY FOR PRIVATE SCHOOL UNDER NEW PLAN
The money would be overseen and allocated by nonprofit groups. On Thursday, lawmakers voted to include an amendment that would cap the amount those groups could take from donations for administrative costs at no more than 10%. The amendment also included reporting requirements to track the scholarship allocations.
The bill includes a tier system for scholarships that prioritizes low-income students and those being bullied in their current school.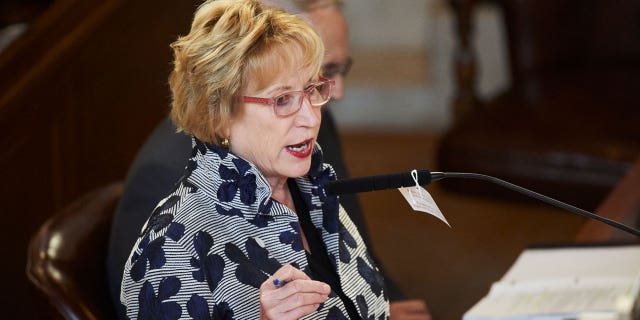 A bill introduced by Nebraska state Sen. Lou Ann Linehan, which would allow voluntary tax donations to be made for a state-funded school voucher program, has advanced in the Legislature. (AP Photo/Nati Harnik, File)
Public school advocates have blasted the measure as a "school voucher scheme" that will hurt the state's K-12 public school system.
"Proponent's game plan to force passage of their private school tax scheme is to threaten to hold hostage state funding of public schools –- public schools that educate 90% of all the kids in Nebraska," Nebraska State Education Association President Jenni Benson said in a statement. "If lawmakers cut promised state funding for public schools, it puts more pressure on our already-high property taxes."
GEORGIA GOV. BRIAN KEMP ENDORSES $6,500 PRIVATE SCHOOL VOUCHER BILL
A group representing Roman Catholic-run schools in the state — which would be the recipients of the most of the scholarship funds — celebrated the bill's advancement, echoing Linehan's stance that the move is geared to help families in need.
But the Nebraska Catholic Conference did not address opponents' concerns that its schools might discriminate against students and families — particularly those within the LGBTQ+ community — on the basis of religious tenets.
Omaha Sen. Megan Hunt, who opposes the bill, introduced an amendment earlier in the session that would have banned private schools benefiting from the vouchers from discriminating against families — including those within the LGBTQ+ community. It failed on a largely party-line vote.
CLICK HERE TO GET THE FOX NEWS APP
If passed, Nebraska would become one of the last states to offer some form of public money for private school tuition.