NASA scientists have found strong evidence of a polar cyclone on Uranus for the first time.
Researchers examined radio waves emitted from the ice giant and detected the phenomenon at its north pole.
NASA said in a release that the findings, published in the journal Geophysical Research Letters, confirm a broad truth.
For all planets with substantial atmospheres in the solar system, whether they are composed of mainly rock or gas, the atmospheres show signs of a vortex at the poles.
They reached these conclusions by using radio antenna dishes from New Mexico's Very Large Array, finding that the air and the north pole seems to be warmer and drier – much like cyclones spotted by NASA's Cassini spacecraft at Saturn.
The agency said those are hallmarks of a strong cyclone.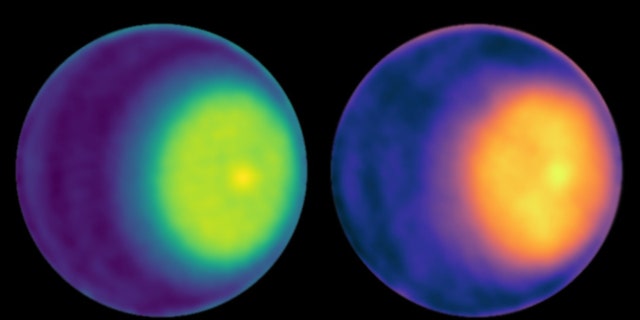 The images use wavelength bands K, Ka and Q. To highlight cyclone features, a different color map was used for each. (Credits: NASA/JPL-Caltech/VLA)
NASA'S WEBB SPACE TELESCOPE FINDS WATER AROUND MYSTERIOUS MAIN BELT COMET
NASA said that the position of Uranus in its long orbit around the sun has helped to get a better view.
For the last few decades, the poles hadn't been turned toward Earth.
With the new findings, cyclones or anti-cyclones have been identified at the poles on every planet in the solar system but Mercury. Mercury has no substantial atmosphere.