Minnesota — a state where it is already easy to vote — is moving make it even easier, countering the national trend of states imposing further restrictions on balloting.
The Minnesota Senate was set Wednesday to debate an elections bill that would allow 16- and 17-year-olds to pre-register so they can vote as soon as they are old enough, and establish automatic registration when residents apply for or renew driver's licenses or sign up for Medicaid and other public programs.
At a news conference ahead of the debate, Democratic Secretary of State Steve Simon called it a "once in a generation opportunity" to strengthen democracy.
KANSAS TO GIVE VOTERS 3 DAYS AFTER POLLS CLOSE TO RETURN MAIL-IN BALLOTS
Minnesota is increasing voter access even as red states impose more restrictions, often in the name of election integrity. Several Republican-led states have tightened rules on voting by mail since the 2020 presidential election, in part because of the false narrative of widespread fraud in that race. Mississippi last month set tighter restrictions on who can gather other people's absentee ballots. Three Republican-led states last month pulled out of a bipartisan effort among states to ensure accurate voter lists, undermining a system with a demonstrated record of combating voter fraud.
Simon pointed out that Minnesota 50 years ago became one of the first states to pass Election Day voter registration at the polls. He said he still views that as the "jewel in the crown" of a system that consistently makes Minnesota a national leader in voter turnout. Minnesota adopted another major set of changes 10 years ago, he said, listing online voter registration and allowing everyone to vote by absentee ballot without needing to provide an excuse.
"But this bill really is up there," Simon said. "If there was a Mount Rushmore for election reform bills in the history of Minnesota going back beyond 1973, this would be on it."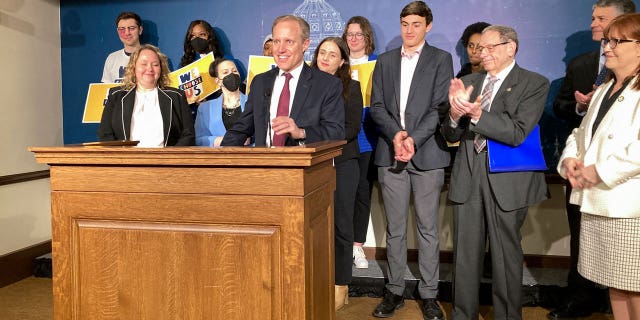 Democratic Minnesota Secretary of State Steve Simon has endorsed a proposed elections bill that would allow 16- and 17-year-olds to pre-register to vote, as well as connect voter registration to drivers licenses and enrollment in government programs. (AP Photo/Steve Karnowski)
The experience of other states shows that pre-registration makes young people more likely to vote the first time they become eligible and raises the chance that voting will become a lifelong habit, Simon said. And he said automatic registration will build on legislation enacted earlier this year, to restore the voting rights of felons when they leave prison, by making them more likely to exercise that right.
"We are setting an example," said Democratic Sen. Liz Boldon, of Rochester, the lead Senate author. "We are leading the way."
The bill, dubbed the "Democracy for the People Act," passed the House on a party-line vote two weeks ago. The lead Republican on the House Elections Committee, Rep. Paul Torkelson, of Hanska, said at the time that it struck him more as a bill for ensuring Democratic Party victories. He said it violated a longstanding tradition in the Minnesota Legislature that election bills should be bipartisan to advance.
"We know that many of our citizens are questioning the validity and the authenticity of our elections," Torkelson said at a news conference. "The work we do here should increase their confidence that our elections are being run fairly. And we don't believe that anything in this bill increases that public confidence."
INDIANA MAIL-IN VOTING CRACKDOWN HEADED TO GOVERNOR'S DESK
The bill was last on the Senate's agenda for the day, and sponsors said they expected the debate to go late into the night. While Senate Democrats hold just a one-vote majority, they expressed confidence that it would pass. Democratic Gov. Tim Walz is expected to sign it once it reaches his desk.
Democratic Senate Elections Committee Chair Jim Carlson, of Eagan, said bill also seeks to shed more light on money and politics with increased disclosure requirements. It also includes criminal penalties for intimidation of voters and interference with voting.
"What we've seen over the past couple of years, and what we have seen over the last couple of months, it's really that states across the country are making a choice," said Democratic Rep. Emma Greenman, of Minneapolis, the lead author in the House. "They're choosing between a thriving multiracial, multigenerational, multiregional democracy, or they're choosing something else."
CLICK HERE TO GET THE FOX NEWS APP
Greenman listed gerrymandering, restrictions on ballot access and expulsions of duly elected legislators as examples of what red states are doing. "In Minnesota we are choosing something different," she said.