The mayor of Mexico City has announced she will step down at the end of the week to run for president and seek to become the country's first female leader.
Mexico City Mayor Claudia Sheinbaum, a member of the leftist National Regeneration Movement (Morena) party, will step down on Friday to pursue the ruling party's candidacy for the 2024 presidential election and replace the popular current president, Andres Manuel Lopez Obrador.
Obrador cannot seek re-election because Mexican presidents are restricted by law to a single six-year term. Close aides to Lopez Obrador have said he would like Sheinbaum to succeed him. He denies having any favorite, according to Reuters.
Morena agreed on Sunday to announce the winner of its internal selection process on Sept. 6. Sheinbaum is one of the two favorites.
MEXICAN PRESIDENT RAMPS UP ANTI-REPUBLICAN RHETORIC, URGES HISPANICS NOT TO GIVE DESANTIS 'ANY VOTES'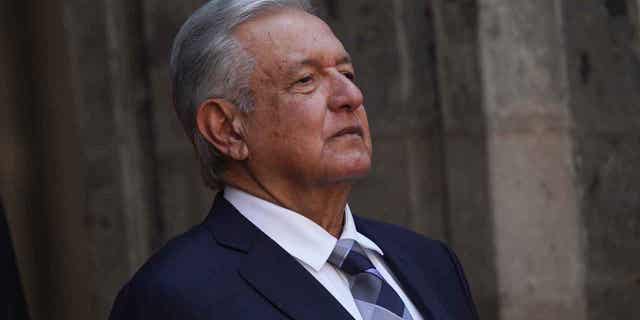 President Andres Lopez Obrador stands at the National Palace during a ceremony in Mexico City (AP Photo/Marco Ugarte, File)
Most opinion polls have tended to give Sheinbaum a slight advantage in the race over her rival Marcelo Ebrard, who stood down as foreign minister earlier on Monday to compete.
Sheinbaum made history in 2018 by becoming both the first elected female and the first Jewish mayor of Mexico City, winning the election by eight points, Times of Israel reported.