A Memphis panel is expected to vote Wednesday on whether to reinstate Tennessee lawmaker Justin Pearson, who along with fellow Democrat Rep. Justin Jones gained national recognition and praise from the White House after being booted from the Republican-run state legislature for using a bullhorn and speaking out of turn on the House floor regarding gun control.
Democrats Pearson, Jones and Rep. Gloria Johnson, dubbed the "Tennessee Three," faced possible expulsion for "disorderly behavior" after they interrupted a House session on March 30 in the wake of a shooting carried out by a transgender activist at a Christian school that left three 9-year-olds and three adults dead just three days prior.
Johnson, who is White and reportedly did not use a bullhorn to engage gun control protesters, survived by one vote, whereas the state House voted Thursday to expel Jones and Pearson, who are both Black. Tennessee House Republicans, who hold a 75-23 supermajority, denied allegations of racism after expelling the Black lawmakers, who the party said "lead disrespectful and deliberate efforts to disrupt business."
"Our focus continues to be on the six innocent lives that were brutally taken last week at the Covenant School, not those who have chosen to make this tragedy about themselves," the state House GOP added. "It's never been about change for the 3 #TennesseeMe members. Their only interest is being in the spotlight."
EXPELLED TENNESSEE LAWMAKERS RIPPED FOR BLAMING RACISM ON EXPULSION: 'THREW YOU OUT FOR VIOLATING THE RULES'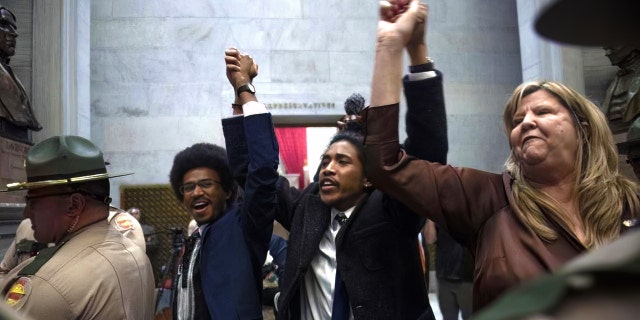 Reps. Justin Pearson, Justin Jones and Gloria Johnson exit the House Chamber at the Tennessee state Capitol on Monday. A Memphis panel is expected to vote to reinstate Pearson Wednesday. (Nicole Hester/The Tennessean via AP)
The Shelby County Board of Commissioners, controlled by Democrats on a 9-4 majority, is set to vote Wednesday afternoon to determine whether Pearson will be sent back to the Legislature in Nashville. The Nashville Metropolitan Council took only a few minutes Monday to unanimously restore Jones to office. He was quickly reinstated to his House seat.
Ahead of the vote Wednesday, Pearson is set to lead a march from the National Civil Rights Museum to the county commission's office in downtown Memphis.
"We got a problem going on in Tennessee," Pearson, a 28-year-old environmental activist, said on The Breakfast Club radio show Tuesday. "If you continue to erode democracy, you will reach a point when you will not have it."
In the span of a few days, Pearson and Jones had raised thousands of campaign dollars, and the Tennessee Democratic Party had received a new jolt of support from across the U.S.
Since the Civil War, the Tennessee House has only voted to expel its members twice before, according to NBC News.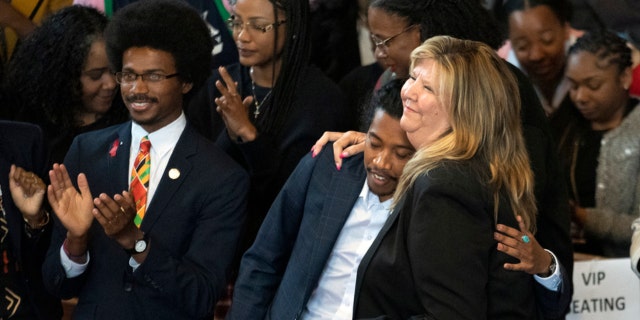 Reps. Justin Pearson, Justin Jones and Gloria Johnson have been dubbed by the White House as the "Tennessee Three." (AP Photo/George Walker IV)
NASHVILLE POLICE OFFICERS AT CHRISTIAN SCHOOL SHOOTING GIVE HARROWING FIRSTHAND ACCOUNT OF TAKING OUT SUSPECT
State rules dictate that appointments are on an interim basis and Gov. Bill Lee, a Republican, must schedule primary elections for Jones' and Pearson's seats within 60 days and a general election within 107 days. Jones and Pearson have said they plan to run in the special election.
State House Majority Leader William Lamberth and Republican Caucus Chairman Jeremy Faison said in a statement that the state Constitution provides for a pathway back after expulsion, and they would welcome any expelled member who is reappointed provided they follow the rules of the House and state law.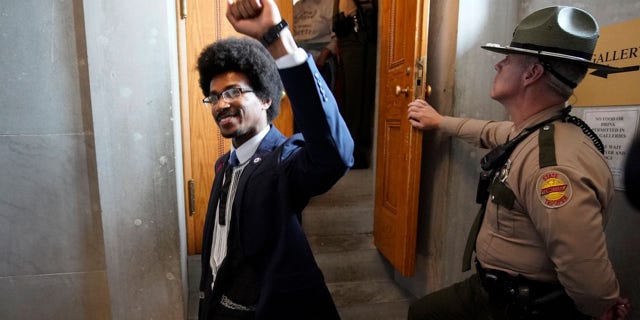 Rep. Justin Pearson raises his fist after visiting with supporters in the gallery of the House chamber Thursday, April 6, 2023, in Nashville. (AP Photo/George Walker IV)
Tensions rose when Pearson, Johnson and Jones joined with hundreds of demonstrators who packed the Capitol last month to call for the passage of gun control measures.
As protesters filled galleries, the lawmakers approached the front of the House chamber with a bullhorn and participated in a chant.
CLICK HERE TO GET THE FOX NEWS APP
At a Monday rally held in Memphis in support of Tyre Nichols, who died in January after he was beaten by police during an arrest, backers of Pearson said the commission was "on the clock." "You've got one job – to reinstate Justin Pearson," activist LJ Abraham said.
President Biden has reportedly extended an invitation to the "Tennessee Three" to visit the White, decrying Jones and Pearson's expulsions as "shocking, undemocratic, and without precedent." Vice President Kamala Harris visited Nashville on Friday to meet with Jones, Pearson and Johnson.
The Associated Press contributed to this report.