House Speaker Kevin McCarthy has agreed to meet with President Joe Biden on May 9 after the president issued an invitation to talk about how to resolve the debt ceiling standoff, just weeks before the federal government is expected to need a higher borrowing limit.
Two sources familiar with the matter told Fox News Digital on Tuesday that McCarthy spoke with Biden and agreed to meet a week from today.
The agreement to meet came hours after Treasury Secretary Janet Yellen told Congress that federal government will need to borrow more money to pay existing obligations by June 1.
HOUSE PASSES MCCARTHY'S DEBT CEILING BILL BY TWO VOTES, FOUR REPUBLICANS VOTE AGAINST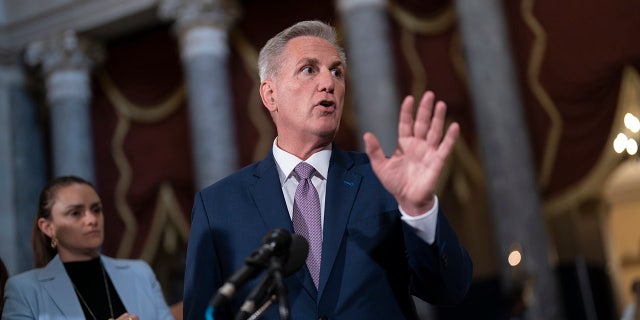 Speaker of the House Kevin McCarthy, R-Calif., talks to reporters just after the Republican majority in the House narrowly passed a sweeping debt ceiling package as they try to push President Joe Biden into negotiations on federal spending, at the Capitol in Washington, Wednesday, April 26, 2023.  ((AP Photo/J. Scott Applewhite))
The same day Yellen issued that projection, the president invited all for congressional leaders for a meeting at the White House. House Republicans passed a bill last week aimed at raising the debt limit while also enacting deep cuts that are projected to slash discretionary spending levels by roughly $150 billion from fiscal year 2023 to 2024.
President Joe Biden and Senate Majority Leader Chuck Schumer have so far made clear that they will not entertain the legislation, and have insisted on a "clean" debt limit increase separately from conversations about spending cuts. Schumer has called Republicans' Limit, Save Grow Act "dead on arrival" in the Senate.
SCHUMER REJECTS HOUSE DEBT CEILING BILL, PLANS HEARINGS TO 'EXPOSE' GOP'S 'RECKLESS LEGISLATION'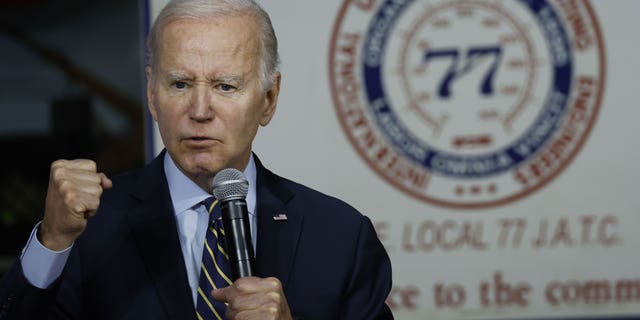 US President Joe Biden speaks during an event at the International Union of Operating Engineers Local 77 training center in Accokeek, Maryland, US, on Wednesday, April 19, 2023. (Ting Shen/Bloomberg via Getty Images)
If Biden and McCarthy can reach an agreement, that deal would likely sail through the Senate. But so far, it's not clear a deal is in reach, and the White House indicated Monday that Biden still wants to separate talks on the debt ceiling and federal spending levels.
"President Biden will stress that Congress must take action to avoid default without conditions, and invited the four leaders to the White House to discuss the urgency of preventing default, as well as how to initiate a separate process to address the budget and fiscal year 2024 appropriations," a White House official told Fox News on Monday.
REPUBLICANS HAVE THE UPPER HAND OVER DEMS IN DEBT CEILING NEGOTIATIONS, BUDGET EXPERT SAYS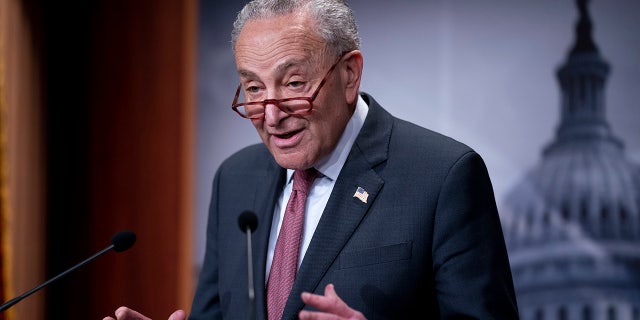 FILE – Senate Majority Leader Chuck Schumer, D-N.Y., speaks during a news conference at the Capitol in Washington, Monday, April 17, 2023. President Joe Biden and his top congressional allies, Senate Majority Leader Chuck Schumer and House Democratic Leader Hakeem Jeffries, say they are unwilling to negotiate over the debt ceiling.  ((AP Photo/J. Scott Applewhite, File))
On Monday evening, Schumer took steps toward putting both the GOP bill on the floor as well as legislation for a "clean" debt limit increase for two years.
As of now, a "clean" debt ceiling hike can't move in the Senate because Republicans don't support it. Senate GOP Leader Mitch McConnell has said previously that any agreement on the debt limit would have to be the product of talks between Biden and McCarthy.
Patrick Ward contributed to this report.