Mary Quant, the visionary fashion designer whose colorful, sexy miniskirts epitomized Swinging London in the 1960s and influenced youth culture around the world, has died. She was 93.
Quant's family said she died "peacefully at home" in Surrey, southern England, on Thursday.
Quant helped popularize the miniskirt — some credit her with inventing it — and the innovative tights that went along with it, creating dresses and accessories that were an integral part of the look. She created mix-and-match, simple garments that had an element of whimsy. Some compared her impact on the fashion world with The Beatles' impact on pop music.
"I think it was a happy confluence of events, which is really what fashion is so often all about," said Hamish Bowles, international editor at large for American Vogue magazine. "She was the right person with the right sensibility in the right place at the right time. She appeared on the scene at the exact cusp of the '60s."
GILBERT GOTTFRIED: WHAT TO KNOW ABOUT THE LATE 'ALADDIN' STAR AND COMEDIAN
He said Quant was also an astute businesswoman and one of the first to understand how branding herself as a creative force could help her sustain her business and branch out into new fields, like cosmetics.
Alexandra Shulman, former editor-in-chief of British Vogue, wrote on Twitter: "RIP Dame Mary Quant. A leader of fashion but also in female entrepreneurship- a visionary who was much more than a great haircut."
Quant was perfectly positioned to capitalize on the "youthquake" that took hold in the 1960s. She sensed that the days of the exclusive salons were numbered, and thought that even the great Parisian designers would follow ready-to-wear trends.
The look she created was sexy and fun, a sharp break with the predictable floral day dresses commonly worn in the conservative, austere years after World War II.
Quant introduced miniskirts with hemlines up to 8 inches above the knee to the London scene in 1966 and they were an instant hit with young people, in part because they shocked and offended many.
While some insist she first developed the style, many also credit French designer Andre Courreges, whose 1964 spring collection included minidresses that were popular in Paris but did not have widespread impact outside France. Others cite the short skirts worn by actress Anne Francis in the 1956 film "Forbidden Planet" as the first example of the miniskirt.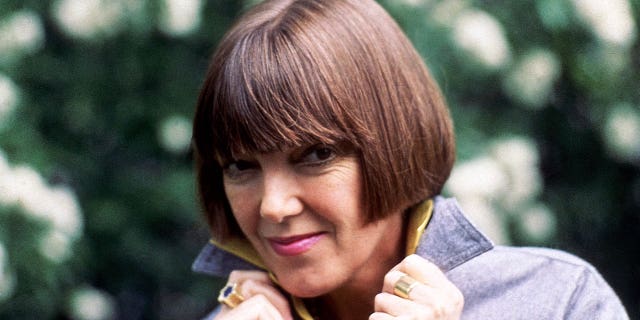 Mary Quant, British fashion designer, is pictured in 1970. Quant, whose designs epitomized the Swinging 60s, has died at the age of 93.  (AP Photo, file)
Whether or not she was the first to design them, it was Quant who figured out how to market the miniskirt to the masses.
Quant, who named the skirt after her favorite make of car, the Mini, recalled how it offered a "feeling of freedom and liberation.″ From her shop on King's Road in London's trendy Chelsea neighborhood, she took part in a clothing revolution.
"It was the girls on King's Road who invented the mini. I was making clothes which would let you run and dance and we would make them the length the customer wanted,″ she said. "I wore them very short and the customers would say, 'shorter, shorter'."
While Courreges came from an haute couture tradition and his clothes were expensive items aimed at a limited audience, Quant used a variety of materials and colors to make miniskirts popular with young women on a limited budget.
"She blasted through barriers of snobbery and tradition, with her vision of fashion as a way of resisting stereotypes, with well-made clothes and cosmetics that were empowering and liberating, as well as affordable," said Jenny Lister, who curated a 2020 exhibition devoted to Quant at London's Victoria & Albert Museum.
"Fashion today owes so much to the revolutionary, trailblazing Mary Quant.""
She shot to the top of the fashion scene at the time when The Beatles and Rolling Stones dominated the music world, and she was forever linked to the heady freedoms of the 1960s.
The clothes became wildly popular and were worn by models like Twiggy and Pattie Boyd, who was then married to Beatles guitarist George Harrison.
Asked by the Guardian newspaper in 1967 if her clothes could be considered "vulgar" because they were so revealing, Quant replied that she loved vulgarity and embraced it.
"Good taste is death, vulgarity is life," she said, adding that the provocative poses of her models reflected the new sexual openness of the times, which was fueled by the development of the birth control pill.
Born Feb. 11, 1930, the daughter of schoolteachers, Quant studied art education at Goldsmith's College in London before moving into fashion, working first as an apprentice to a hat-maker before trying her own designs.
With the help of her wealthy husband and business partner, Alexander Plunket Greene, and the accountant Archie McNair, she opened Bazaar in Chelsea in 1955, at first relying on innovative window displays to bring in younger customers.
"Snobbery has gone out of fashion, and in our shops you will find duchesses jostling with typists to buy the same dress," Quant once said. She called the store "a sophisticated candy store for grown-ups."
Bazaar became a focal point for the young and the beautiful and those who wanted to rub shoulders with them, and her presence there helped make the neighborhood a favored destination. Small restaurants, bistros and pubs all flourished and other boutiques opened, giving Chelsea's King's Road the feel of a perpetual party.
The shop was such a success that she soon moved into other parts of London and began exporting her clothes to the United States, where the "British invasion" was in full swing.
CLICK HERE TO GET THE FOX NEWS APP
Quant was unusual in that she often modeled her own clothes, usually with her hair styled in a distinctive, angular bob by hairdresser Vidal Sassoon.
She soon diversified her interests, developing a popular makeup line and also moving into kitchenware and household accessories.
The makeup proved extremely profitable, particularly in Japan, where Quant retained a devoted following.
Quant was also credited with introducing hot pants and micro-minis to the fashion scene in the late 1960s.
She was made an Officer of the Order of the British Empire for service to the fashion industry in 1966, wearing a trademark miniskirt when she received the honor at Buckingham Palace. In 2014, she was made a dame — the female equivalent of a knight — for services to British fashion. At the start of this year she was appointed a member of the Order of the Companions of Honor, a royal honor restricted to 65 people "of distinction" in the arts, science, medicine or government
Quant stepped down from the day-to-day management of her firm, Mary Quant Ltd., in 2000 after it was purchased by a Japanese company, but kept working as a consultant.
The firm continued to use the daisy motif and logo that Quant pioneered in the 1960s, and it long maintained a shop in London, in addition to roughly 200 shops in Japan.