Pinal County Sheriff Mark Lamb, who is running to be Arizona's next senator, says Arizonans needs a "proven conservative fighter" in Washington, D.C., to stop the flow of drugs and crime across the southern border.
Lamb, 50, this week became the first major Republican candidate to challenge Sen. Kyrsten Sinema, I-Ariz., who stunned Washington last December by leaving the Democratic Party to become an independent. As the top law enforcement officer in Arizona's third-biggest county working closely with federal immigration authorities, Lamb tells Fox News Digital he has the conservative worldview and firsthand experience Arizona needs to spur Washington, D.C., into action on the border.
"We've had a tremendous partnership with Border Patrol over the last seven years," Lamb said in an interview. "We work actively, almost daily with them, securing our border, traffic stops involving human smuggling, human smuggling through the desert area."
Pinal County does not sit on the U.S.-Mexico border. But Lamb's office deals daily with the consequences of illegal immigration, he says, as his county acts as a "pass through" area for drug and human trafficking.
ARIZONA SHERIFF MARK LAMB RUNNING FOR US SENATE SEAT HELD BY SINEMA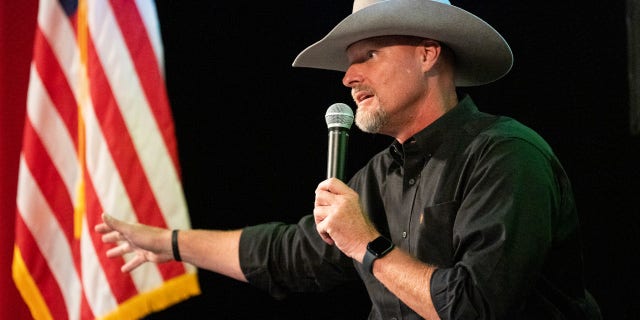 Pinal County Sheriff Mark Lamb speaks during Republican Senate candidate Jim Lamon's town hall event at the Combs Performing Arts Center in San Tan Valley, Ariz., July 7, 2022. (Bill Clark/CQ-Roll Call, Inc via Getty Images)
Lamb says in the past two years, since President Biden assumed office and reversed many of predecessor President Trump's immigration policies, his police force has recorded a dramatic increase in border-related crimes and lost lines of communication with Washington.
"That light turned off as soon as this administration took over, that communication line was severed outside the state of Arizona," Lamb says.
Explaining the difference between the Trump and Biden administrations, Lamb recounted how an anti-smuggling unit that operated in the Trump era at one point had so few crimes to solve the sergeant expressed concerns the unit would be disbanded.
SHERIFF MARK LAMB CALLS OUT 'ATTACK ON TRADITIONAL VALUES' IN AMERICA, HAS A FIX FOR THAT
But with Biden in charge, "we've had a 377% increase in traffic stops involving human smuggling. We've had a 461% increase in pursuits involving human smuggling. We've had a 610% increase in fentanyl pill seizures," Lamb says.
Asked what lawmakers should do to fight crime, Lamb disagreed with the approach Democrats have taken in big cities like Chicago, where Mayor-elect Brandon Johnson has called for increased spending on mental health services and other social programs instead of more funding for police departments.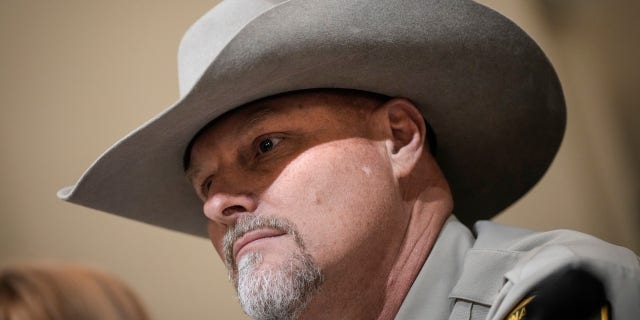 Pinal County Sheriff Mark Lamb this week announced he is running for U.S. Senate to oust Sen. Kyrsten Sinema, I-Ariz.  (Drew Angerer/Getty Images)
"We have actually continued to see a reduction in our crime index in our county. And I will tell you, it's not rocket science," Lamb says. "Be willing to actually hold people accountable and enforce the rule of law, and I think you will see a reduction in crime. Not that I don't agree with having more people that can help the mental health crisis and the drug crisis. But I don't think that's going to reduce your crime. If anything, it could contribute to the crime."
On other issues, Lamb takes traditionally conservative positions. He is pro-life and says he agreed with the U.S. Supreme Court's decision overturning Roe v. Wade.
"I don't think it's the federal government's responsibility" to legislate abortion, he added. "I think it's appropriately been pushed back to the states and for the states to make those decisions on an individual basis," he says.
Lamb supports American energy independence, blaming high inflation on "our inability to produce our own energy." On the federal deficit, Lamb told Fox News Digital he has worked to keep the Pinal County Sheriff's Office under budget in his seven years as sheriff and would take the same approach with taxpayer dollars as a U.S. senator.
"I understand where the money comes from and that we have a duty and a responsibility to spend it appropriately and make their dollar go as far as possible," he says.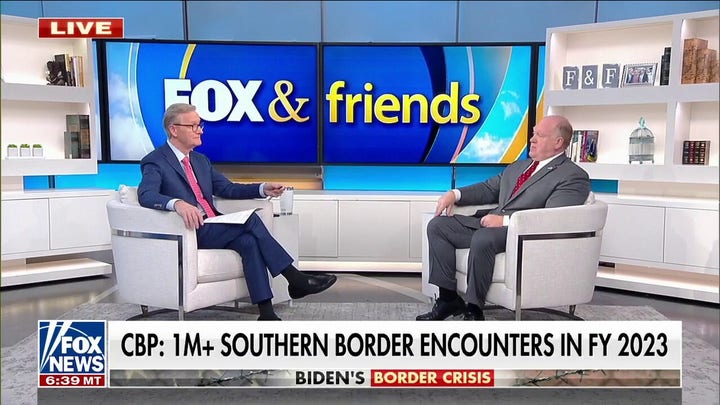 Video
While Lamb is the first Republican to join the 2024 Senate race, he is unlikely to be the last. Prospective candidates include 2020 GOP gubernatorial candidate Kari Lake, a staunch Trump supporter who would be the front-runner if she enters the race. Unsuccessful Senate candidate Blake Masters and failed gubernatorial and Senate candidates Jim Lamon and Karrin Taylor Robson are also considering running for Senate.
SHERIFF MARK LAMB OF ARIZONA HAS A STERN MESSAGE FOR BIDEN AT THE BORDER: 'APOLOGIZE' FIRST
A wild-card factor in the Republican primary would be Donald Trump's endorsement. The former president, who has been indicted on criminal charges by a Manhattan grand jury, loomed large over Arizona's 2022 elections, where both GOP gubernatorial nominee Lake and Senate nominee Masters won Trump's endorsement in the primary and lost the general election.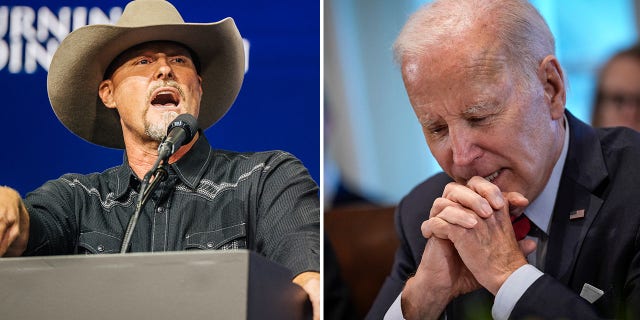 Sheriff Mark Lamb blames President Biden's policies for an increase in border-related crimes in his county.  (Brandon Bell/Drew Angerer/Getty Images)
Lamb has voiced strong support for Trump in the past. When asked if Trump's various controversies harmed Republicans in the 2022 election, he praised Trump's policies and said the country would be better off if he were still president.
CLICK HERE TO GET THE FOX NEWS APP
"I voted for Donald Trump in 2016. I voted for President Trump in 2020. I think we would all agree that our country was much better off two years ago under the last administration than it is now, especially as it relates to the economy, gas prices, as it relates to the border — which I can personally testify to," Lamb said.
"I think there's a lot of us that understand that the policies that President Trump had were very effective and good policies. And, once again, I focus on what I have to do. And I think there's a lot of things that we can replicate from that.
"And there's things that I bring to the table with my experience in law enforcement and having run an organization of 600 employees and a $55 million budget and a county the size of the state of Connecticut, I think that that gives me a lot of advantages and a lot of a lot of experience dealing with these issues."