An attorney for Danny Masterson challenged his former longtime girlfriend during cross-examination Wednesday on why her trial testimony alleging the actor raped her in 2001 included several new details that were missing from the accounts she gave authorities at the beginning of the investigation.
"Is your testimony today that you can now remember things in 2023 that you didn't remember in 2017?" Masterson's lawyer Shawn Holley asked the model and actor who is the first witness to take the stand in the Los Angeles courtroom at Masterson's trial on three rape charges.
The woman responded that her memory had not improved, but that she "opened up more than I have before" a day earlier when she described an attack from Masterson, then her boyfriend of five years, in their Hollywood-area home.
'THAT '70S SHOW' ACTOR DANNY MASTERSON DRUGGED 3 WOMEN BEFORE RAPING THEM, LA PROSECUTOR SAYS
She testified Tuesday that she woke to find Masterson on top of her and raping her, that she shouted for him to stop, that he put his full weight on her and pinned her arms down, and that she finally got him to stop by pulling his hair. He responded by hitting her in the face and spitting on her.
Holley dwelled on each of these elements in her cross-examination, asking why she had not mentioned in her initial interviews with Los Angeles police detectives and a prosecutor in 2017 that she had said that she was merely trying to go to sleep when she found Masterson trying to have sex with her.
"That's the same thing to me," she responded, "I'm Southern, we say trying to when we mean you're doing it."
Holley also suggested that her testimony didn't make physical sense when she said Masterson was looking at her with "dead eyes" the entire time while also putting his full body weight on her.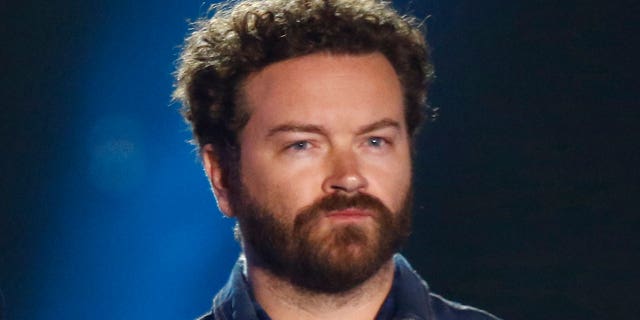 Danny Masterson appears at the CMT Music Awards in Nashville, Tennessee, on June 7, 2017. Masterson is back on trial on three charges of rape. (Wade Payne/Invision/AP, File)
"I'm trying to understand how a person's dead weight can be on your body and how his head can be suspended above your head?" Holley said.
The woman responded that "I just remember seeing his face and feeling him on me I don't remember where his hands were."
Holley also asked why she made no mention of Masterson pinning her arms down above her head in the hours she spent talking to police and prosecutors in 2017.
The woman explained that she did not reveal every detail in those initial interviews, and that she had not understood at the time how precise and careful she would need to be. Now that she has given multiple officials interviews and testified in court both at Masterson's preliminary hearing and his first trial last year, she knows better.
DANNY MASTERSON'S RAPE RETRIAL BEGINS WITH JURY SELECTION PROCESS IN LA COURTROOM
"I wish I understood that in the very first interview that you give with a detective or a prosecutor that you have to make sure your words are very literal, and that you have to give every detail," the woman said. "Because, respectfully, someone like you is going to challenge me on that. I don't like to talk about things and it takes me a long time to speak about things, and I was doing the best I can and I was being honest."
She breathed uneasily, apologized often, and occasionally grew emotional under cross-examination, but remained composed.
The Associated Press does not typically name people who say they have been sexually abused.
The model and actor was in a relationship with Masterson from 1996 until 2002. She first went to police to report him late in 2016.
CLICK HERE TO GET THE FOX NEWS APP
Masterson was eventually charged with raping three women at his home between 2001 to 2003, when he was at the height of his fame as a star of the sitcom "That '70s Show."
Masterson, 47, could get 45 years in prison if convicted of all three counts.
He has pleaded not guilty and his attorneys have said the decades-old stories told by the women are full of inconsistencies and not credible.
A mistrial was declared at the end of his first trial in November, with fewer than half of jurors voting to convict him on any of the three counts. Prosecutors opted to retry him when the women agreed to testify again.