Lamborghini is mixing it up with its new supercar.
The 2024 Revuelto is the exotic automaker's first series production hybrid, but definitely not an economy car.
The mid-engine coupe replaces the Aventador at the top of the Lamborghini lineup, which will be going all-hybrid in the coming years.
The Revuelto features a new take on the brand's signature wedge shape and scissor doors design that's wrapped around a chassis made largely from lightweight carbon fiber.
ROCK STAR'S LAMBORGHINI UNEARTHED FROM DUSTY STORAGE FACILITY AFTER 20 YEARS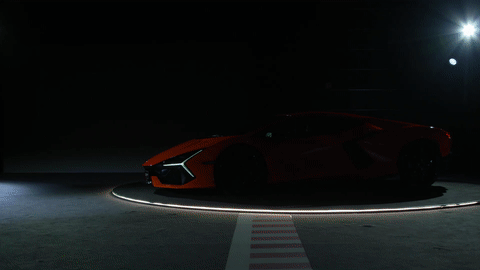 (Lamborghini)
It is powered by a 6.5-liter V12 engine and three electric motors that put out a combined 1001 horsepower, making it Lamborghini's most powerful model ever.
Two of the motors power the front wheels while a third is integrated with the V12 and its transversely-mounted 8-speed dual-clutch automatic transmission.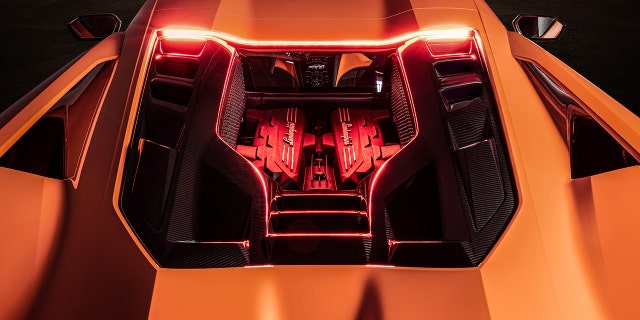 The Revuelto has a V12-based hybrid powertrain. (Lamborghini)
The powertrain layout is similar to that found in the recently discontinued V6-based Acura NSX hybrid and upcoming Chevrolet Corvette E-Ray, which uses a hybrid V8 with one electric motor driving both front wheels.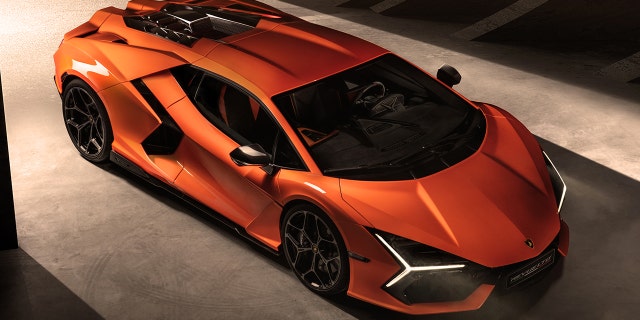 The Revuelto is Lamborghini's new top of the line supercar. (Lamborghini)
The Revuelto's 3.8 kilowatt-hour battery pack can be charged from an outlet and recovers energy as the vehicle brakes, dispensing it through the electric motors under acceleration.
According to Lamborghini, it can sprint to 60 mph in less than 2.5 seconds, reach a top speed in eceses of 217 mph and is capable of all-electric driving over short distances, about six miles.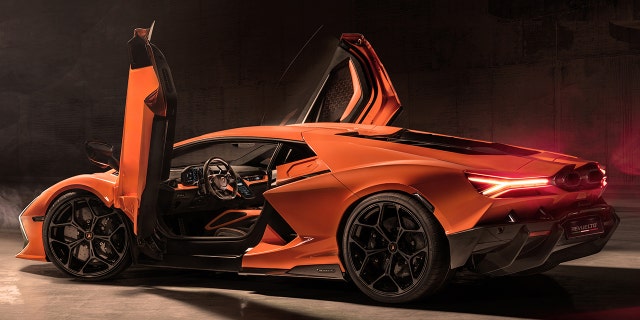 The two-seat coupe features scissor doors. (Lamborghini)
It is also equipped with a four-wheel-steering system to improve its low-speed agility stability at high speeds. Thirteen different drive modes are offered that modify its performance to the driver's taste.
CLICK HERE TO SIGN UP FOR THE FOX NEWS AUTOS NEWSLETTER
Pricing will be announced closer to when it goes on sale later this year, but the Aventador listed for around $500,000.
As for the Revuelto name, in Lamborghini tradition it borrows it from a famous fighting bull. In this case, one that became famous during a fight in Barcelona in 1880.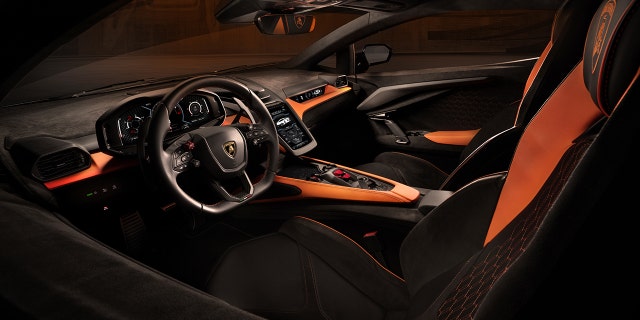 The Revuelto has digital displays for both the driver and passenger. (Lamborghini)
It can mean "unruly," and while that is appropriate for a raging bull it also means "mixed up," which the company said references the hybrid powertrain, but most people probably best know it as the signature Spanish scrambled egg dish.
CLICK HERE TO GET THE FOX NEWS APP
With the kind of performance it promises to deliver, the Revuelto might end up scrambling some brains along the way.