White House press secretary Karine Jean-Pierre (KJP) responded to special counsel allegations that she had violated the Hatch Act on Tuesday, saying the White House "didn't know" it had made a violation.
The Office of the Special Counsel (OSC) accused KJP of violating the Hatch Act, which limits certain political activities of federal employees to prevent influencing elections. The accusation pertained to her use of "Mega MAGA" to describe Republican policies, but she now argues that Republicans themselves have used the term, and she did not know the OSC considered it to be political.
"The White House Counsel's Office is reviewing [the OSC's] opinion and is going to respond to them," KJP said. "If you look at the archived Trump White House website, it contains about nearly 2,000 uses of 'MAGA' to describe policies and official agendas. Congressional Republicans have also used 'MAGA' to refer to policies and official agenda frequently for years now even, clearly, before we entered the administration."
"The opinion that was presented by OSC happened just last week, which is – it occurred months after the briefing where I made those comments. So, basically it is retroactive," she added. "We did not know their opinion when we were given the green light to say the comments that I made.
According to the OSC, Jean-Pierre committed the violation last year ahead of the 2022 midterm elections when she repeatedly referred to "mega MAGA Republicans" while acting in her role as White House press secretary.
"Because Ms. Jean‐Pierre made the statements while acting in her official capacity, she violated the Hatch Act prohibition against using her official authority or influence for the purpose of interfering with or affecting the result of an election," the agency wrote in a letter to the White House dated June 7.
"Unfortunately, we have seen mega MAGA Republican officials who don't believe in the rule of law. They refuse to accept the results of free and fair elections and they fan the flames of political violence through what they praise and what they refuse to condemn. It remains important for the president to state strongly and unequivocally that violence has no place in our democracy," she said.
CLICK HERE TO GET THE FOX NEWS APP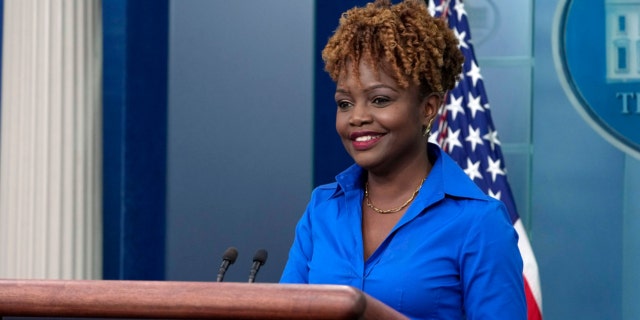 White House press secretary Karine Jean-Pierre speaks during the daily briefing at the White House in Washington. (AP Photo/Susan Walsh)
Biden previously introduced the term "mega MAGA" on Oct. 21 while attacking Republican economic policies as "mega MAGA trickle down."