A federal judge on Wednesday temporarily blocked a federal rule in 24 states that is intended to protect thousands of small streams, wetlands and other waterways throughout the nation.
U.S. District Judge Daniel L. Hovland in Bismarck, North Dakota, halted the regulations from the U.S. Environmental Protection Agency and U.S. Army Corps of Engineers pending the outcome of a lawsuit filed by the 24 states, most of which are led by Republicans. The regulations were finalized in December 2022, repealing a rule implemented during President Donald Trump's administration but thrown out by federal courts.
Opponents of the regulations, which define which "waters of the United States" are protected by the Clean Water Act, have called the rules an example of federal overreach and argued they would unfairly burden farmers and ranchers.
The preliminary injunction affects Alabama, Alaska, Arkansas, Florida, Georgia, Indiana, Iowa, Kansas, Louisiana, Mississippi, Missouri, Montana, Nebraska, New Hampshire, North Dakota, Ohio, Oklahoma, South Carolina, South Dakota, Tennessee, Utah, Virginia, West Virginia, and Wyoming. An injunction was previously issued that halted the rules in Texas and Idaho.
IDAHO JOINS TEXAS LAWSUIT AGAINST BIDEN'S WATERWAY PROTECTIONS RULE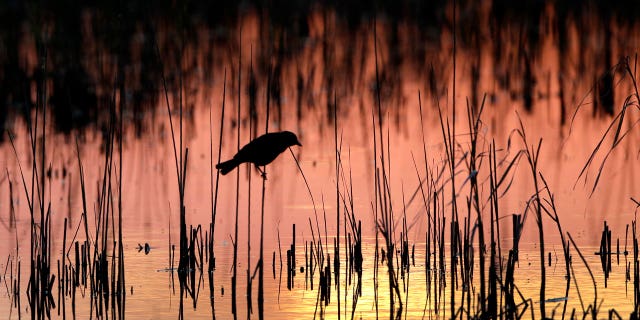 A Yellow-headed blackbird perches in a wetland on June 20, 2019, near Menoken, North Dakota. (AP Photo/Charlie Riedel, File)
CLICK HERE TO GET THE FOX NEWS APP
"Once again, the courts have affirmed that the Biden administration's WOTUS rule is overreaching and harmful to America's beef farmers and ranchers," said Todd Wilkinson, a South Dakota cattle producer and president of the National Cattlemen's Beef Association. "Cattle producers in 26 states now have some additional certainty while this rule is being litigated and we are optimistic that the Supreme Court will provide nationwide clarity on the federal government's proper jurisdiction over water."
The EPA said in a statement that the agency and the Army Corps of Engineers were reviewing the decision but still believe the regulations were "the best" interpretation of the Clean Water Act. The agency says its rules would still stand in states not included in the injunction.
"The agencies remain committed to establishing and implementing a durable definition of 'waters of the United States' informed by diverse perspectives," the EPA said in the statement. "Our goal is to protect public health, the environment, and downstream communities while supporting economic opportunity, agriculture, and industries that depend on clean water."
The injunction comes less than a week after President Joe Biden vetoed a congressional resolution that would have overturned the rule. The House and Senate had used the Congressional Review Act to block the regulations, with several Democrats joining Republicans in opposing the regulations.