While West Virginia Democratic Sen. Joe Manchin has yet to formally announce a 2024 reelection bid, the Republican primary heated up Thursday after Gov. Jim Justice said he will battle Rep. Alex X. Mooney, R-W.V. for the nomination.
Justice and Mooney traded barbs amid the announcement, with the Charles Town congressman calling governor a RINO (Republican In Name Only) and declaring himself the "only conservative in the race."
Mooney previously served as executive director of the National Journalism Center, an affiliate of the conservative Young America's Foundation (YAF) that trains aspiring young reporters. He is also, as Justice noted on "Fox News Tonight," a former Maryland Republican Party chairman.
"Mooney is a terrapin," Justice said on Fox News, referencing the reptilian mascot of UMD. "From Mooney's standpoint, calling me a RINO, for God's sakes of living, Mooney is from Maryland."
JUSTICE IN THE SENATE: WV GOV INTERESTED IN CHALLENGING MANCHIN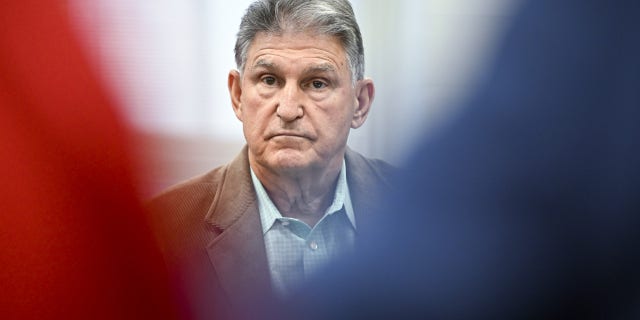 Manchin (Gaelen Morse/Bloomberg via Getty Images)
Speaking with West Virginia Metro News earlier this week, Mooney said he is the "proven conservative" and that if voters "want someone who's more of a liberal Republican, there's Jim Justice."
Justice, a multi-millionaire businessman who owns coal interests as well as the Greenbrier resort in White Sulphur Springs, W.V., was originally elected to the governorship as a Democrat, but changed parties when then-candidate Donald Trump visited Huntington in 2017.
At the time, Justice called Trump a man of "backbone [and] real ideas [who] cares about America."
For his part, Mooney also has a connection to Trump, who endorsed him in a key 2022 race that pitted him against fellow GOP Rep. David McKinley for what is somewhat of a merged district after West Virginia lost a congressional seat in the recent census.
Of Manchin, his potential general election challenger, Justice said Republicans must take control of the Senate, and that the moderate Democrat "migrates too much."
'RETIRE OR GET FIRED': SENATE GOP CAMPAIGN COMMITTEE TARGETS MANCHIN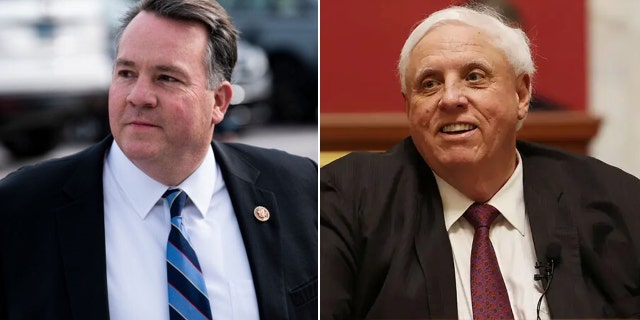 Rep. Alex Mooney, R-W.V., and West Virginia Gov. Jim Justice (Getty/AP Photo/Chris Jackson)
"At the end of the day, Brian, I'm not compromised," he told Fox News host Brian Kilmeade.
Justice said he has not taken a government salary and drives instead of being chauffeured, characterizing himself as someone who "never wanted anything for serving" the public.
"I want goodness for America. I'm really worried about this nation. And I think we could be more fragile than what we think," he said. "If we don't watch out… look what's going on today."
One fixture in Justice's political and personal life is his English bulldog, Babydog. As per custom, Babydog joined Justice during his Fox News interview.
The governor confirmed if elected, Babydog would travel with him to Washington.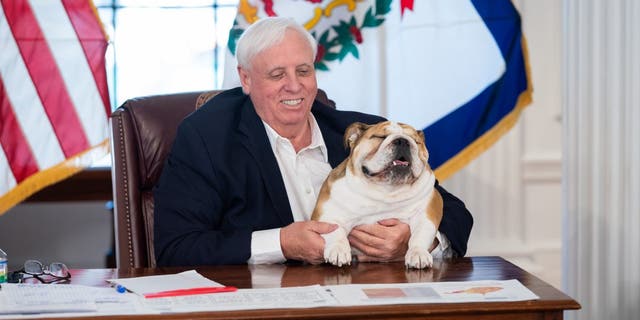 West Virginia Governor Jim Justice poses at his desk with his pet bulldog, Babydog. (Fox News Digital/Office of Governor Jim Justice)
"She makes people smile and she loves everybody," Justice said.
Babydog's omnipresence has brought some memorable moments over Justice's term, including when he publicly responded to a harsh criticism of the people of his state by left-wing actress Bette Midler.
Midler, who had criticized Manchin for not supporting President Biden's "Build Back Better" plan, said the senator wants everyone to "be like… West Virginia: Poor, illiterate and strung out."
In response, Justice held up Babydog during his 2022 State of the State address and said the dog "tells Bette Midler… to kiss her heiney."
Moreso than 2022, Democrats are fielding many battleground-state races including Manchin's seat, as well as that of Sens. Bob Casey Jr. in Pennsylvania, Jon Tester in Montana, Tim Kaine in Virginia, Tammy Baldwin in Wisconsin, Sherrod Brown in Ohio, Debbie Stabenow in Michigan, and Jacky Rosen in Nevada.