Conservatives skewered White House spokeswoman Karine Jean-Pierre for claiming that President Biden had made it a "priority" to reopen schools after the COVID-19 lockdowns.
A reporter brought up the toll the lockdowns took on children's education during Wednesday's press briefing, and asked the press secretary what Biden's plan is to help kids catch up from learning loss.
"Look, as you just said, kids have lost so much in the pandemic," Jean-Pierre replied. "This is why, when the president walked in, he made a priority to open schools, one of the things that was important to do to make sure that our kids, who have lost so much, were able to go back in-person school if they choose, have the resources that they needed to really succeed and move forward in their education."
"We saw that, unfortunately, the pandemic had a unfortunate effect on our young people, on our kids," she went on, saying Biden "was committed" and that's why he fought so hard for the American Rescue Plan, which is what allowed them to open schools.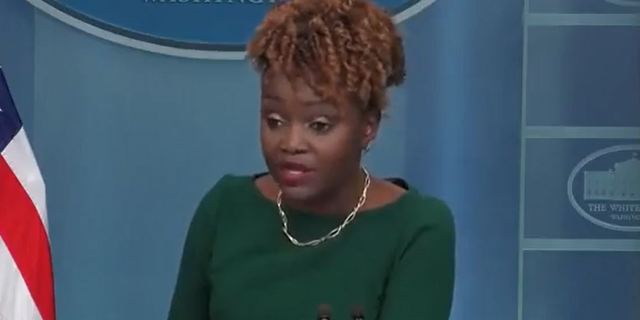 White House press secretary Karine Jean-Pierre claims Biden made reopening schools a major priority.
NEW YORK POST BLASTS RANDI WEINGARTEN, ANTHONY FAUCI FOR DODGING 'RESPONSIBILITY' ON SCHOOL CLOSURES
Conservatives across Twitter suggested otherwise, slamming her for rewriting history about the Biden administration's slow departure from COVID-19 lockdown policies.
"In the 2020 campaign, the D talking point was that opening schools was reckless and deadly and they should stay closed," political consultant Brittany Cohen recalled, posting a link to a 2020 campaign ad slamming Trump for trying to reopen schools. "They ran ads on it."
Political writer Hayden Cunningham asked, "Do they think we have no long-term memory?"
"This is a complete lie," National Review writer Pradheep J. Shanker replied. "Schools would've opened faster under Trump. Biden slowed the process down."
"Right, yes, it was _definitely_ 'thanks to Joe Biden' that schools reopened. That's _exactly_ how that went," entrepreneur Steve Murch tweeted sarcastically.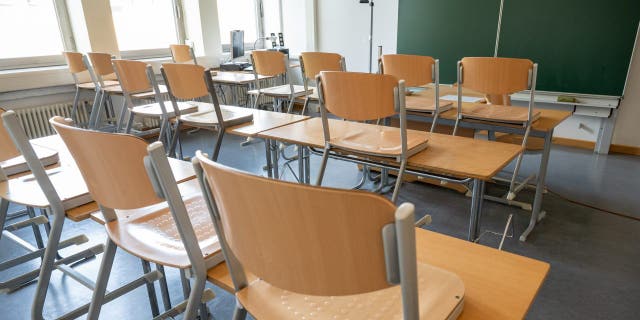 Many have discussed the learning loss that students have endured as a result of the harsh lockdown policies amid the COVID-19 pandemic. (Peter Kneffel/picture alliance )
RANDI WEINGARTEN CRUSHED FOR PUSHING SCHOOL LOCKDOWNS IN LIVE DEBATE: 'NO REMORSE WHATSOVER'
Washington Free Beacon contributor Noah Pollak focused on Jean-Pierre's credibility as the White House press secretary.
"An obvious point, but if a Republican press secretary lied as brazenly and intentionally as she does on a daily basis about absolutely everything it would be all the press could talk about," he tweeted.
Multiple Twitter accounts noted the influence teachers unions had in demanding schools remained closed.
"Spin doesn't change facts, @KJP46," the Republican Jewish coalition tweeted. "The American people know Joe Biden and Democrats across the country kowtowed to Union Bosses at the expense of parents and children."
"This will be news to the teachers unions who helped elect him," Accuracy in Academia chairman Don Irvine wrote.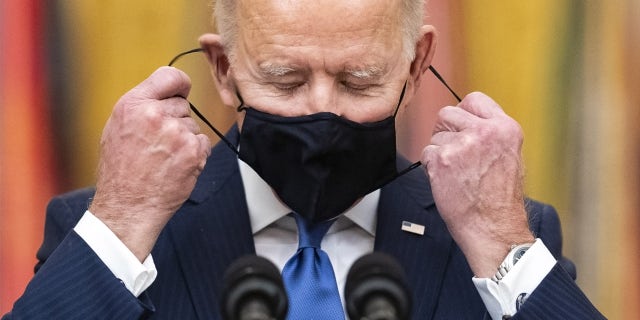 President Biden takes off his protective mask during an event at the White House on March 8, 2021. (Kevin Dietsch/UPI/Bloomberg via Getty Images)
CLICK HERE TO GET THE FOX NEWS APP
"Banning gas stoves isn't going to reduce our emissions as long as KJP has the podium," Kentucky GOP communications director Sean Southard tweeted.
Author Justin Hart quipped, "We could power the country for a year with all the gaslighting going on."