India's federal government asked states to identify emergency hotspots and ramp up-testing for COVID-19, after the country recorded its highest daily case count since September, a Reuters tally showed on Friday.
There were 6,050 new cases of COVID-19 in the last 24 hours, the federal health ministry said on Friday, continuing a sharp upward trend since a lull last year.
At a meeting to review the degree to which the states are prepared, health minister Mansukh Mandaviya asked them to ramp up genome testing and conduct mock drills in hospitals, a government statement said.
WHO BLASTS CHINA FOR WITHHOLDING INFO ON COVID ORIGIN AFTER DATA PULLED OFFLINE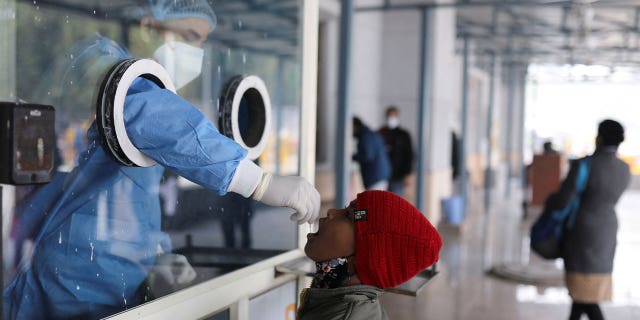 A healthcare worker collects a test swab sample from a child at a testing center inside a hospital in New Delhi, India, on Jan. 14, 2022. India is seeing an uptick in daily COVID-19 cases. (REUTERS/Anushree Fadnavis)
Daily new cases have nearly tripled from around 2,000 at the end of March.
The prevalence of XBB.1.16, classified as a variant of interest by the World Health Organisation, increased from 21.6% in February to 35.8% in March, the health ministry said, adding there that was no evidence of an increase in hospitalisations or deaths.
CLICK HERE TO GET THE FOX NEWS APP
Active cases totalled more than 28,300 with 14 deaths during the last 24 hours, taking the country's official death toll from the disease to 530,943.
India has recorded more than 44.7 million confirmed cases of COVID-19 since the start of the pandemic three years ago, the third-highest tally after the United States and China.