House Republicans on Wednesday delivered Speaker Kevin McCarthy the biggest win of his tenure leading the chamber so far by passing his bill to raise the debt limit and slash spending, a bill that serves as the GOP's position on how to avoid a debt crisis in the coming weeks.
The bill passed in a narrow 217-215 vote. Every Democrat voted against it, as expected, along with four Republicans: Andy Biggs of Arizona, Tim Burchett of Tennessee, Ken Buck of Colorado and Matt Gaetz of Florida.
Republicans cast the vote as a win that puts them in the driver's seat in negotiations they hope can happen with President Biden in the coming weeks. Biden has refused to entertain anything other than a clean increase in the debt ceiling, while Republicans insist he should agree to some trimming in the federal budget as a condition of raising the government's borrowing limit.
"We have lifted the debt ceiling, so nobody could worry about whether the debt ceiling is going to get lifted, we did it. The Democrats have not. The president wants to make sure the debt ceiling is going to be lifted? Sign this bill," McCarthy said in a press conference after the vote.
BIDEN THREATENS TO VETO HOUSE GOP PLAN TO ADDRESS DEBT LIMIT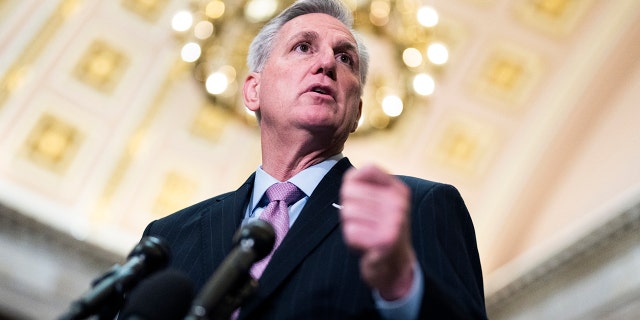 Speaker of the House Kevin McCarthy, R-Calif., scored the biggest win of his tenure leading the chamber so far with the passage of the debt ceiling bill on Wednesday. (Tom Williams/CQ-Roll Call, Inc via Getty Images)
In a call with reporters after the vote, House GOP leaders made clear that the ball is now in Biden's court. Fox News Digital asked House GOP Conference Chair Elise Stefanik, Majority Leader Steve Scalise and Majority Whip Tom Emmer about how they plan to convince their members to vote for a version of the bill again after Biden and McCarthy speak, assuming Democrats foist some changes onto the legislation.
"We are the only chamber that has done our job," Stefanik, R-N.Y., said. "[Senate Majority Leader Chuck Schumer] needs to get the negotiating table, as does President Joe Biden."
Scalise, R-La., said, "The negotiations need to happen on the Democrat side — in the Senate in the White House — not in the Republican-led House, because we had those negotiations, and came up with a bill that saves taxpayers money and grows the economy. At the end of the day, it's President Biden who can no longer sit on the sidelines."
Without some agreement to raise the debt ceiling, the federal government is at risk of not being able to pay its bills sometime around early June.
The House vote came after several dissenting GOP lawmakers gradually fell in line behind McCarthy on Wednesday after spending hours in the speaker's office the day before.
Rep. Nancy Mace, R-N.C., for example, who told reporters she was unhappy with the legislation and how leaders went about cobbling it together on Wednesday morning, emerged from McCarthy's office later that afternoon singing a different tune.
"We had a very productive meeting, it was very good. I feel like our voice has been heard, and that we're going to work on this together going forward," said Mace.
All four members of the Iowa House delegation — all Republicans — released a joint statement hours before the vote announcing their intent to support the bill. They were part of a group of about seven or eight lawmakers from the Corn Belt who were concerned about the initial bill's repeal of tax credits that would impede ethanol production in their state.
HOUSE LEADERS 'CONFIDENT' DEBT CEILING BILL WILL PASS DESPITE SOME GOP HESITANCE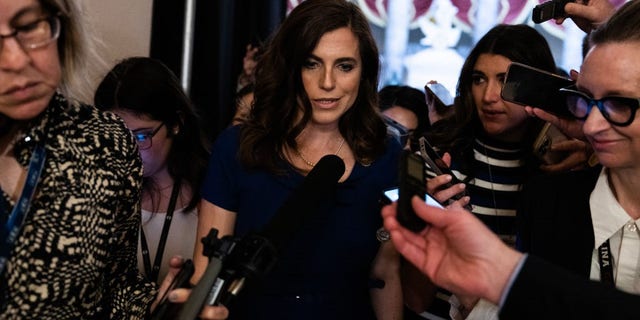 Rep. Nancy Mace, R-S.C., speaks with reporters after a meeting on the debt limit plan with Speaker of the House Kevin McCarthy, R-Calif., in the U.S. Capitol on Wednesday. (Tom Williams/CQ-Roll Call, Inc via Getty Images)
"Having successfully amended the bill to protect funding for these tax credits, our delegation will vote for this legislation, which is a starting point to avoid a default and cut wasteful spending," the statement read.
GOP leaders tweaked the bill overnight to assuage concerns from key Republican factions who appeared ready to oppose it on Tuesday. The changes soften their repeal of the biofuel tax credits and move the legislation's planned activation of work requirements for federal benefits up from 2025 to 2024.
It was also enough to win over Reps. Derrick Van Orden, R-Wis., and George Santos, R-N.Y., who both announced they were solid "yes" votes on the bill.
JEAN-PIERRE GETS DEFENSIVE ON BIDEN DEBT CEILING STRATEGY, SHIFTS BLAME TO MCCARTHY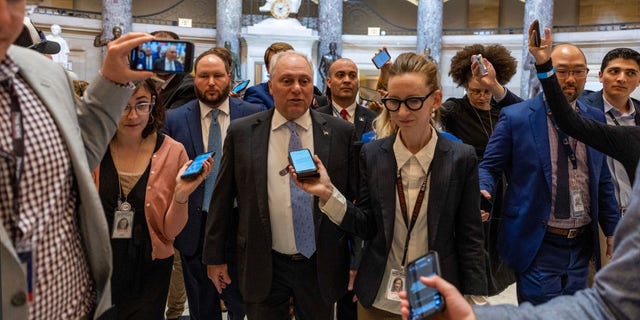 House Majority Leader Steve Scalise, R-La., is followed by members of the media as he walks in the U.S. Capitol on in Washington, D.C., on Wednesday. (Tasos Katopodis/Getty Images)
The Limit, Save, Grow Act aims to raise the debt limit by $1.5 trillion or through the end of March 2024, whichever benchmark is hit first. It also caps spending increases to 1% for the next decade. Meanwhile, in addition to the aforementioned cost-saving measures, it also caps discretionary spending at fiscal 2022 levels.
CLICK HERE TO GET THE FOX NEWS APP
The legislation faces an uphill battle in the Senate, however, where Majority Leader Chuck Schumer, D-N.Y., has criticized House Republicans for trying to pair spending cuts with raising the debt limit.
Similarly, President Biden threatened to veto the bill if it comes to his desk, and on Wednesday refused again to negotiate spending cuts in conjunction with a debt limit increase. That position was backed up by House Minority Leader Hakeem Jeffries, D-N.Y., who accused Republicans on the House floor of presiding over "exploding deficits" and going down "a dangerous path" with their legislation.