House Minority Leader Hakeem Jeffries, D-N.Y., likened Supreme Court Justice Clarence Thomas, former Secretary of State Colin Powell and other prominent Black conservatives to "House Negroes" in a student newspaper editorial about the "rise of the Black conservative."
Jeffries' editorial was published during his time at Binghamton University in upstate New York in February 1992 and was titled "The Black Conservative Phenomenon."
"There has been a recent trend in the Black political arena which I believe threatens to sustain the oppression of the Black masses. The phenomenon I refer to is the rise of the Black conservative," Jeffries wrote in the article, which was first reported on by CNN. "The most notable indicator of this is the appointment of Justice Clarence Thomas to the United States Supreme Court."
Pointing to differences between a "Field Negro" and a "House Negro" at the time, Jeffries claimed the former "labored from dusk 'till dawn" and "had nothing but contempt for his white master" while the latter "didn't labor in the field, they were domestic servants" and "sought to emulate the white master."
HAKEEM JEFFRIES BLASTED FOR CLAIM THAT GOP DOESN'T WANT KIDS 'TO LEARN ABOUT THE HOLOCAUST': 'DISGUSTING LIE'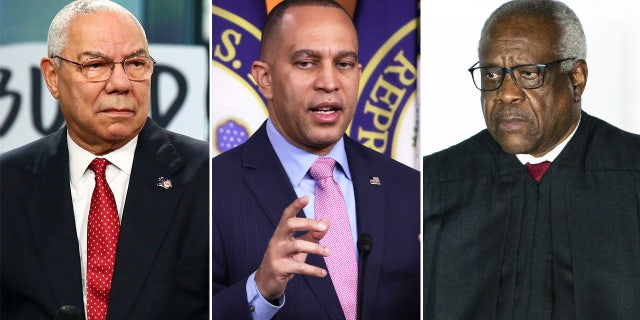 House Minority Leader Hakeem Jeffries, D-N.Y., center, penned an article during his college career that referred to Supreme Court Justice Clarence Thomas, right — as well as former Secretary of State Colin Powell, left — as "House Negroes." (Astrid Stawiarz, Alex Wong, Al Drago/Bloomberg via Getty Images)
In one subsection of the article labeled "White Media," Jeffries specifically targeted Thomas, Powell and Shelby Steele, an author and senior fellow at Stanford University's Hoover Institution.
"Perhaps the most frightening aspect of the rise of Black conservatives is that of their popular acceptance by the predominantly white media," Jeffries wrote. "Clarence Thomas, Colin Powell, and Shelby Steele are hailed as our leaders and pointed to as examples for us to follow. I find it suspect when the white power structure and their propaganda emissaries, the media, tell us who our leaders should be. Do you think that a ruling elite would promote individuals who seek to dismantle their vice-like grip on power? Of course not."
In another section of the article, Jeffries discussed his disdain for "token Blacks."
"Perhaps this is the problem with the black conservative politician of today," Jeffries wrote. "Their political agenda is not designed to contribute to the upliftment of their people. These right-wing opportunists espouse the political ideology of the power structure and, in return, they are elevated to positions historically reserved for whites."
HAKEEM JEFFRIES SAYS TRUMP SOCIAL MEDIA COMMENTS ARE GOING TO 'GET SOMEONE KILLED'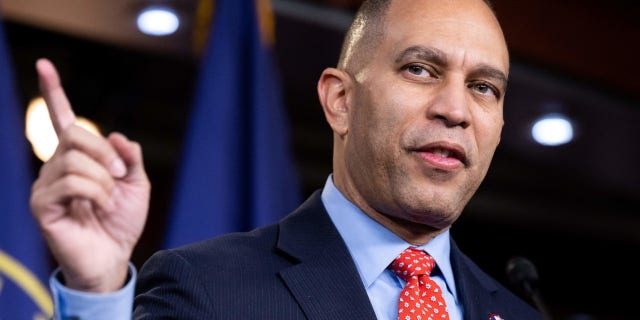 House Minority Leader Hakeem Jeffries, D-N.Y., holds a press briefing at the U.S. Capitol in Washington, D.C., on Jan. 12, 2023. (SAUL LOEB/AFP via Getty Images)
"Or perhaps the current trend is to have a new 'token Black' who emulates the white master in thought instead of a 'token Black' who may have divergent ideological thought but is impotent because of numerical isolation," he added. "There are those who may feel that the Black conservative may well have the interests of the Black masses at heart. Their supporters feel that advocating a right-wing agenda and embracing the Republican Party is more effective than opposing the system. This notion is simply unacceptable."
In a statement to Fox News Digital, Jeffries' office did not comment on whether the minority leader stands by his past remarks about Black conservatives, but asserted that he "does not share the controversial views espoused by his uncle" and that his record "speaks for itself."
"Leader Jeffries has consistently been clear that he does not share the controversial views espoused by his uncle over thirty years ago. Leader Jeffries has been in public service for more than 16 years as a state legislator and Member of Congress. His track record of bringing communities together and standing up for everyone speaks for itself," a Jeffries spokesperson said in a statement shared with Fox.
Jeffries also defended antisemitic Nation of Islam leader Louis Farrakhan and Jeffries' uncle, Leonard Jeffries, a Black studies professor who, according to CNN, "eventually lost his job over incendiary comments about Jewish people."
"Dr. Leonard Jeffries and Minister Louis Farrakhan have come under intensive fire. Where do you think their interests lie? Dr. Jeffries has challenged the existing white supremist educational system and the longstanding distortion of history. His reward had been a media lynching complete with character assassinations and inflammatory erroneous accusations. Clarence Thomas was appointed by George Bush to the highest court in the nation. Colin Powell was appointed by George Bush to lead the military establishment 'policemen of the Wall Street Bankers,' in the words of Cesar Agusto Sandino. Where do you think their interests lie?" Jeffries wrote in the 1992 editorial.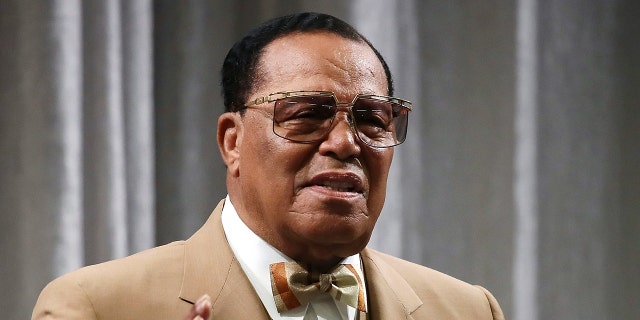 Nation of Islam Minister Louis Farrakhan delivers a speech at the Watergate Hotel in Washington, D.C., on Nov. 16, 2017. (Mark Wilson/Getty Images)
CLICK HERE TO GET THE FOX NEWS APP
Jeffries claimed that "the House Negro of the slavery era and the Black conservative of today are both opportunists interested in securing some measure of happiness for themselves within the existing social order."
"In both cases, the social order has Blacks occupying the lowest societal echelon," he added.
Jeffries clarified at the end of his editorial he was "not trying to encourage the restriction of Black political thought to one particular ideology," but said he hoped African-Americans would begin to "evaluate critically, the merits of the Black conservative phenomenon and then assign it its rightful place in the struggle to free persons of African descent from oppression."