Democratic Congresswoman Rashida Tlaib is proposing legislation that would require firearms dealers to try to sell a gun lock for every gun purchase made, a change she said would help prevent accidental shootings.
The proposed legislation, known as the ''Safe Storage Saves Lives Act,', makes it a "requirement that a gun seller have a compatible gun lock available for every firearm for sale" and states that it "shall be unlawful for any person to offer a firearm for sale unless the person offers for sale a secure gun storage or safety device that is compatible with the firearm."
The bill states that violators of the law would face a "penalty of not more than $1,000."
"It's horrifying that 4.6 million children in our country live in homes with a loaded and unlocked firearm," Tlaib said in a press release.
NEWSOM PROPOSES CONSTITUTIONAL AMENDMENT TO RESTRICT GUN RIGHTS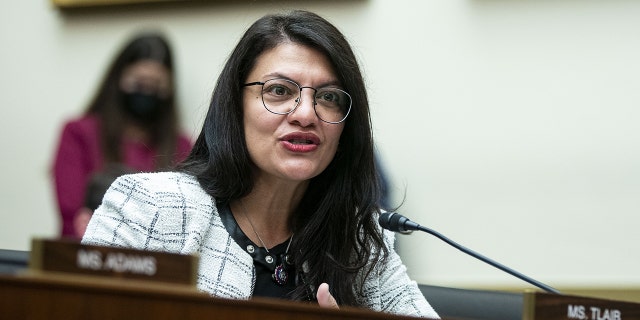 Rep. Rashida Tlaib speaks during a House Financial Services Committee hearing in Washington, D.C., (Al Drago/Bloomberg via Getty Images)
In a statement to Fox News Digital, the National Rifle Association said Tlaib's bill would set up an unnecessary requirement because gun manufacturers are already doing this.
"Rep. Tlaib isn't educated on this topic," the NRA said. "Firearm manufacturers already provide a lock with every gun that is sold, and anyone looking for additional gun locks can get them free through Project Childsafe, an industry program that provides free gun locks to anyone who wants one."