Happy wedding day, everybody. Oh, man, make this weekend. No, I'm sorry. It's just a measly 524 days till the 2024 election. The same amount of time it took Joe Biden to read Charlotte's Web as a freshman in college. So welcome back into the spotlight Iowa, the birthplace of vending machines, sliced bread and heterosexuals. On Tuesday, Florida Governor Ron DeSantis held his first campaign event in a tour that will also take him to New Hampshire and South Carolina, but I wonder if it was great to be back.
RON DESANTIS: It is great to be back and it's great for me to report that our great American comeback starts by sending Joe Biden back to his basement in Delaware.
Well, the rest of the speech hit the usual stuff, but the left's meltdown is already in mid-season form when it comes to Ron, because there's a model for what this little dictator in the making wants to do.
JOY REID: There is a model for what this little dictator in the making wants to do. Just look at China, Cuba, North Korea, Afghanistan, or Iran, where the government censors the media or force-feeds a strict conservative religious ideology to children in schools, deploys morality police to make sure you're wearing what they want, learning what they want, doing what they want.
I know, got to take out the batteries. So it makes you wonder if it's hard work to sound so stupid, she must practice 6-hours a day because she's got it down Pat. But you see the lockstep taking shape. DeSantis is public enemy number one, as is any Republican who might win an election. Meanwhile, the first official jabs between DeSantis and Trump have already begun, and Chris Christie is planning to hop into the race next week, right after he gets a clean bill of health from his trainer at SeaWorld. Something about his blowhole being clogged with Fluffernutter.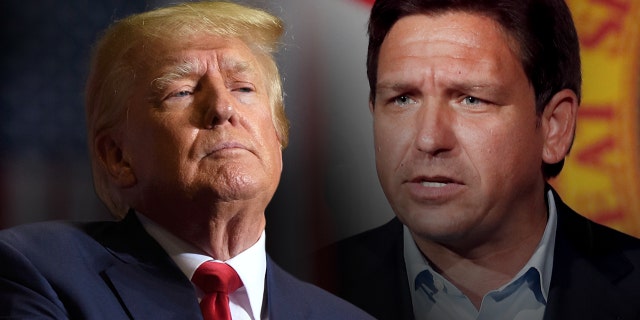 File photos of former President Donald Trump (left) and Florida Gov. Ron DeSantis (Fox News )
ANNOUNCER: A fatphone would say!
Disgusting, the things that they write, but, you know, some say he is presidential and that he's already the candidate most shaped like the Oval Office.
Speaking of polls, Trump wasn't too happy with his former press secretary, Kayleigh McEnany, on Tuesday. He accused her of inflating Desantis's numbers during an appearance on something called the Jerry Waters Show, writing: "Kayleigh 'Milktoast' McEnany just gave out the wrong poll numbers… I am 34 points up on DeSanctimonious, not 25 up. While 25 is great, it's not 34… That RINOS & Globalists can have her. Fox News should only use REAL stars!!!" I know real stars, but I've been saying that for years and they still won't hire Chuck Woolery. But of course, that's Trump. You love it or hate it. It's his persuasive strategy. You can get angry about it, but I doubt Kayleigh is. So why should you? Trump runs on reciprocity. You say something good about him, he returns the favor, you don't, that he will return that too. It's fine, but there is one flaw.
He gives no break for time served. She was his best press secretary, and those years spent on the front lines for him should count for something. But it's his most effective tool of persuasion, so he can't quit. The question is, can we, by just ignoring it? And I think so, because the Dems, they love it, because it keeps us busy beating up on each other. It's why I say Trump is a two-hour drive to an hour at the beach. The road is bumpy and exhausting, especially when allies receive friendly fire.
But remember, every Republican will have a rough ride because no matter who that person is, there will be accusations of bigotry, sexism, homophobia. For the media, every Republican is just another apocalypse in khakis. So while Trump might be 2 hours to the beach, DeSantis might be 90 minutes. But what if the beach isn't as nice? Then I blame women, White women in particular. Right Sunny?
The bottom line, she managed to take a general observation that spouses of any stripe stick together and make it only about Whites. And why? Because what else does she have? Nothing. She's not funny or smart or interesting, but she's an expert in calling people racist, so congrats on that. And so as each new Republican enters the fray, the latest will be crowned, no doubt, worse than Hitler. Meanwhile, Joe retreats to his basement, living on baloney sandwiches with the crust cut off, dusting off bowling trophies and sniffing Jill's old wigs. Sorry, Dr. Jill. You right, Joe? Yeah.
CLICK HERE TO GET THE FOX NEWS APP
TOM SHILLUE AS JOE BIDEN: I don't care. They're both MAGA. You know, MAGA, it's a little place population. No, thank you. But I can take on both of these guys. I'll just do what I did last summer. Go in the basement, and then I let the other people figure it out with the votes and all that kind of thing. But then we can make America great again. Now, wait a minute, that's their thing, that's MAGA. I'm a what do I do? I want to do whatever I do.