EXCLUSIVE: Republican presidential candidate and South Carolina Sen. Tim Scott launched a new ad as part of a massive seven-figure buy in the early caucus state of Iowa on Thursday, Fox News has learned.
The ad, titled, "Winning," is part of a larger $6 million buy, and includes Scott pushing back on the "victim" state of mind he says exhibits what President Biden's administration has given to America. It also acts as a response to First Lady Jill Biden referring to her husband as "the education president."
"Playing football taught me that it's good to fight, but it's better to win," Scott says in the ad, referencing his days as a high school and college football player. "In Joe Biden's America, everybody gets a participation trophy, and everybody is a victim."
2024 WATCH: IT'S TRUMP'S RACE TO LOSE 6 MONTHS AHEAD OF THE FIRST GOP PRESIDENTIAL PRIMARY
WOUNDED US ARMY VET CONSIDERING ANOTHER SENATE BID TO UNSEAT VULNERABLE NEVADA DEMOCRAT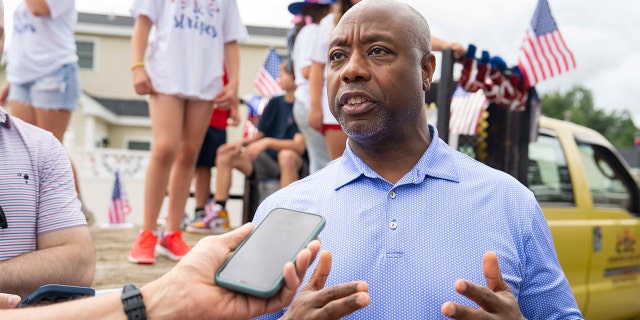 Senator Tim Scott, a Republican from South Carolina, attends the Independence Day parade in Merrimack, New Hampshire, US, on Tuesday, July 4, 2023. (Mel Musto/Bloomberg via Getty Images)
Scott is one of 13 candidates in the race for the Republican presidential nomination, and is one of two candidates from South Carolina – the other being former U.N. Ambassador Nikki Haley.
A June Fox News poll showed Scott tied in fourth place at 4% alongside former Vice President Mike Pence. Former President Donald Trump has maintained his front-runner status at 56%, followed by Florida Gov. Ron DeSantis in a distant second at 22%.