Former U.S. Rep. Bud Shuster, an influential Republican lawmaker who strongly backed transportation projects but ran afoul of ethics guidelines, has died. He was 91.
Shuster died peacefully at his farm Wednesday in Everett, Pennsylvania, surrounded by his family, including his son, Bill Shuster, who succeeded his father in the southern Pennsylvania congressional seat, Rebekah Sungala, a close family friend said.
Shuster died two weeks after fracturing his hip, which led to complications, she said.
HERB RULE, FORMER ARKANSAS LEGISLATOR AND US HOUSE CANDIDATE, DEAD AT 87
Republican U.S. Rep. John Joyce, who now represents the area, called Shuster a "true legend in the halls of Congress."
Shuster surprised his colleagues by announcing his resignation in 2001, a day after he was sworn in for his 15th term. He said it was due to losing his committee chairmanship.
Three months earlier, the House ethics committee had cited him for "serious official misconduct" for accepting improper gifts, favoring a lobbyist and misusing congressional staff for political work.
But Shuster's biggest legacy was in the ribbons of highway and the smooth runways he backed in his three terms as chairman of the House Transportation Committee, and his 28 years in Congress.
He was dubbed the "king of asphalt," in part for bringing his constituents the Bud Shuster Highway, which connected State College, Altoona and the Pennsylvania Turnpike.
Shuster once said he wanted to be remembered for helping average citizens.
"Other people have told me I'll be remembered for building America," he once told The Associated Press. "But the real psychic income comes when an elderly constituent said that, because of my rural development efforts, she can turn on a spigot for the first time ever and not get brown water."
Early in his congressional career, Shuster got a seat on the committee, then known as Public Works, and pledged to help his district's ailing fortunes by improving its roads.
Shuster used earmarks — a tactic that was rare in the 1970s, but became common while he was in office — to bring money to his district, which covered a large, rural and hilly section of southern Pennsylvania around the city of Altoona.
The first significant one, technically a demonstration project, was worth $25 million and paid for the construction of a 4.6-mile bypass around Everett.
In 1982, he got an earmark that was the down payment on what would become Interstate 99 — known as the Bud Shuster Highway.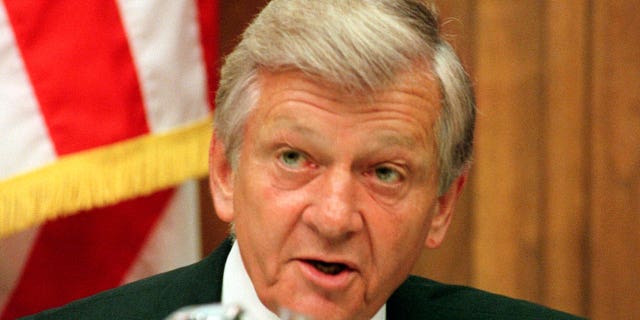 Former Republican Pennsylvania Congressman Elmer "Bud" Shuster died Wednesday at the age of 91.
His ability to deliver money to the district annoyed some fellow lawmakers. Sen. Daniel Patrick Moynihan, D-N.Y., complained in 1991 that "the state of Altoona" had received the most funds in a highway bill.
Shuster was unapologetic, saying the improvements made his Appalachian district more competitive, spurred the building of industrial parks and led to more jobs.
Once his position was solidified, Shuster was rarely opposed in elections. His last notable challenge came in 1984, the year he soundly beat Democrat Nancy Kulp, the actress who played Jane Hathaway on "The Beverly Hillbillies."
In October 2000, the House ethics committee rebuked Shuster for accepting improper gifts and favoring a lobbyist, Ann M. Eppard, who was also his former chief of staff.
The committee found Shuster improperly allowed Eppard to appear before him in his official capacity in the year after her resignation from his staff. This "created the appearance that his official decisions might have been improperly affected," the committee found.
Shuster said he "complied with the law and with his understanding of what was right."
He ran unopposed in the following month's election. But House Republican rules limited committee chairs to three, two-year terms and Shuster didn't want to accept a diminished role.
"After being the quarterback of a Super Bowl championship team, I have no desire to play backup," Shuster told the AP the day he resigned. He also cited his and his wife's health.
With Shuster's backing, his son Bill Shuster replaced him in Congress.
RONALD SARASIN, FORMER GOP CONGRESSMAN WHO HELMED CAPITOL HISTORICAL SOCIETY, DEAD AT 88
E.G. "Bud" Shuster was born in January 1932 in Glassport, an industrial town just south of Pittsburgh. His father was a railroad engineer.
He later recalled an encounter he had as an 11-year-old, when he saw people surround his congressman in search of help. He decided it was something he wanted to be some day.
Shuster put himself through school, earning a bachelor's degree from the University of Pittsburgh in 1954. He spent two years in the Army and went back to school, earning an MBA from Duquesne University in 1960 and, eventually, a Ph.D. in business and economics from American University.
He started a career in the computer business in the mid-1960s, rising to become a vice president with RCA in Washington. In the late 1960s, he engineered a turnaround at Datel, a computer terminal company.
When he decided to run for Congress in 1972, opponents and critics labeled him an outsider, even though he and his wife had bought a farm in Everett eight years earlier.
CLICK HERE TO GET THE FOX NEWS APP
Shuster narrowly beat a state representative in the GOP primary and rode President Richard Nixon's landslide re-election into the Capitol.