A former OceanGate Expeditions customer who took a trip to see the Titanic wreckage two years ago described the dive as a "kamikaze operation."
An international search and rescue operation is ongoing for five crew members on OceanGate's Titan sub, which went missing Sunday on a planned deep sea tourist expedition. Arthur Loibl, a retired German businessman and adventurer who went on the same trip in 2021, shared his experience with OceanGate in an interview with The Associated Press.
"You have to be a little bit crazy to do this sort of thing," Loibl said.
He explained that the idea of touring the Titanic wreckage came to him on a trip to the South Pole in 2016. At the time, a Russian company was the only service offering videos for half a million dollars.
"Imagine a metal tube a few meters long with a sheet of metal for a floor. You can't stand. You can't kneel. Everyone is sitting close to or on top of each other," Loibl told the AP. "You can't be claustrophobic."
OceanGate's sub experienced technical difficulties on the dive, Loibl said. He described how lights were turned off to conserve energy during the 2.5-hour descent and ascent, with the only illumination coming from a glow stick.
WHO IS ON THE OCEANGATE TITANIC SUB?
"I was a bit naive, looking back now," Loibl said. "It was a kamikaze operation."
MISSING TITANIC SUBMARINE: CANADIAN UNDERWATER ROBOT SEARCHES OCEAN FLOOR AS OXYGEN LEVELS DWINDLE
Inset, from left: Suleman Dawood, Shahzada Dawood, Stockton Rush, Paul-Henri Nargeolet and Hamish Harding are aboard the OceanGate Titan submersible. (Engro Corp. | Reuters/Shannon Stapleton | @OceanGateExped/Twitter | Felix Kunze/Blue Origin via AP | Ocean Gate/Handout/Anadolu Agency via Getty Images)
Another former passenger who visited the Titanic wreck site on board OceanGate's now-missing Titan submersible craft said everyone involved knew the risks of the "dangerous mission."
DEEP-SEA EXPERT WORRIES 'BANGING' COULD BE 'OVERLY OPTIMISTIC' AS TITANIC SUB MAY HAVE ALREADY RUN OUT OF AIR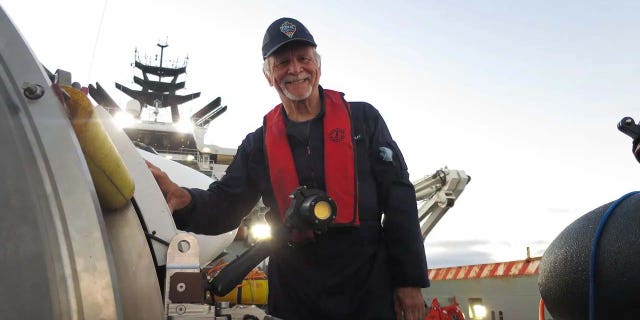 Paul-Henri Nargeolet poses alongside OceanGate's Titan submersible in 2022.  (@OceanGateExped/Twitter)
The search and rescue operation for the missing OceanGate Titan submersible has entered its fifth day.
The five passengers on board have been identified as Rush, Nargeolet, British businessman and explorer Hamish Harding, Pakistani businessman Shahzada Dawood and Dawood's son Sulaiman Dawood.
It has not been heard from since and its current whereabouts remain unknown. The U.S. Coast Guard has deployed underwater robots to comb the ocean floor in search of the Titan. The search was joined Thursday by a remotely operated vehicle (ROV) owned by the French vessel L'Atalante, the Coast Guard said.
Authorities said the missing sub would run out of oxygen sometime Thursday morning.
Fox News' Greg Norman and The Associated Press contributed to this report.