The Florida legislature passed the Heartbeat Protection Act Thursday that will limit abortion in the state after a heartbeat is detected.
SB 300 will establish protections for unborn babies with a heartbeat beginning at six weeks' gestation and allocates $25 million in funds for pregnancy centers to help women during both their pregnancy and after their child is born. The legislation allows exceptions to save the life of the woman and in the case of pregnancy caused by rape or incest until 15 weeks of pregnancy, but does not allow the mailing of abortion medication.
The six-week abortion limit is expected to go to Republican Gov. Ron DeSantis' desk to be signed into law, which will put the state more in line with other Republican-led states on abortion.
NEBRASKA LAWMAKERS ADVANCE 'HEARTBEAT BILL' THAT BANS ABORTION AFTER CARDIAC ACTIVITY IS DETECTED
While pro-life leaders applauded the passage of the bill as a huge win for the movement, opponents argue that by the time most women find out they're pregnant, it will already be too late to have an abortion, which they say will be even more difficult for women in rural areas with limited access to health care.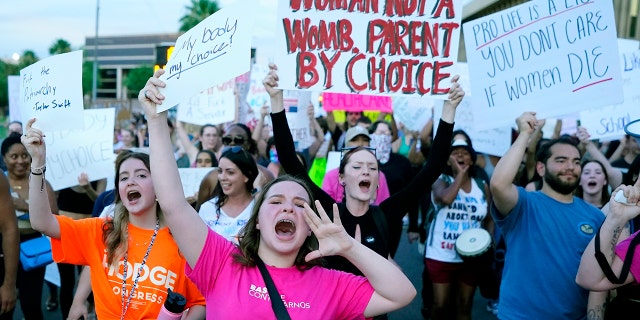 Protesters shout as they join thousands marching around the Arizona Capitol after the Supreme Court decision to overturn the landmark Roe v. Wade abortion decision Friday, June 24, 2022, in Phoenix.  (AP Photo/Ross D. Franklin)
Florida currently has a 15-week abortion ban, which was signed into law by DeSantis in April 2022. The legislation has been the subject of a legal battle and the 15-week limit remains in place until the Supreme Court hears the case, but the new proposal will only go into effect if the 15-week law is upheld.
Florida's pregnancy centers offer free pregnancy tests, ultrasounds, medical exams, counseling, parenting classes, financial classes and vital resources like food, diapers, clothing and financial assistance for housing and utilities. The Heartbeat Protection Act expands on the types of programs that can be funded to include adoption, as well as employment and educational resources.
Susan B. Anthony Pro-Life America's State Policy Director Katie Daniel applauded the passage of the legislation as a major win for the Sunshine State.
"Unborn babies are human beings with beating hearts at six weeks' gestation," she said. "A heartbeat at this point indicates a greater than 90% chance of surviving to birth."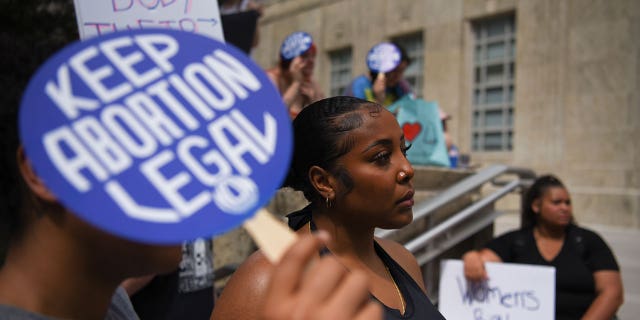 Abortion rights protesters participate in nationwide demonstrations following the leaked Supreme Court opinion suggesting the possibility of overturning the Roe v. Wade abortion rights decision, in Houston, Texas, U.S., May 14, 2022.  (REUTERS/Callaghan O'Hare)
More than 60% of Floridians, 61% of Independents and 58% of women support "protecting unborn children from abortion when their heartbeat can be detected," according to recent polling by the group.
"The Heartbeat Protection Act reflects these scientific facts and the consensus of 62% of Floridians – including majorities of women and Independents – that these vulnerable children deserve protection," she added. "Not only will this compassionate bill save tens of thousands of lives directly by protecting babies from abortion violence, it also provides $25 million in support for moms.
DOJ TO APPEAL ABORTION PILL CASE TO SUPREME COURT
Recent data released by the Florida Agency for Health Care Administration showed that 82,000 abortions occurred in the state in 2022, 95% of which were sought for "elective" or "social or economic" reasons.
March for Life President Jeanne Mancini commended the Florida legislature for passing the Heartbeat Protection Act, calling it "life-affirming legislation" that gives DeSantis a "prime opportunity to act upon the will of the people in Florida and protect the state's most vulnerable citizens."
Dr. Tara Sander Lee, the vice president and director of life sciences for the Charlotte Lozier Institute, praised Florida's legislature for taking a "science-based" approach.
"It is a scientific fact that the heart is the first functioning organ in a developing human being," she said. "At six weeks, the developing human heart beats rhythmically 110 times per minute pumping nutrient-rich blood throughout the body. Most people in America call that a heart."
APPEALS COURT PARTIALLY OVERTURNS LOWER RULING, PRESERVES ACCESS TO MIFEPRISTONE ABORTION PILL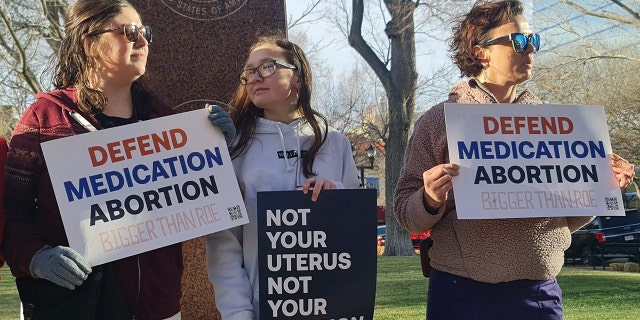 Abortion rights advocates gather in front of the J Marvin Jones Federal Building and Courthouse in Amarillo, Texas, on March 15, 2023. – US abortion opponents are hoping for a national ban on a widely used abortion pill when their lawsuit against government drug regulators is argued Wednesday in the Texas court of a deeply conservative judge believed to be sympathetic to their cause. Galvanized after the US Supreme Court ended the nationwide right to abortion last June, anti-abortion forces are now targeting the prescription drug mifepristone in their campaign to win a total ban on the practice.  (MOISES AVILA/AFP via Getty Images)
"Anyone who denies that an unborn child is alive and has a beating heart at 6 weeks is blatantly ignoring science to suit their own pro-abortion agenda," she added. "Florida is taking a bold and science-based stand, recognizing that behind every beating heart is a human life worth protecting."
The CEO of the American Association of Pro-Life OBGYNs, Dr. Christina Francis, also pointed to "scientific facts on human development" in support of the bill that indicate "a new, distinct human life comes into existence at the moment of fertilization."
"The first sign of this life that's detectable by current technology is the heartbeat, which can be identified via ultrasound. As obstetricians, we practice in accordance with these facts every day, working to promote the health of these human beings, caring for them and their mothers as our patients," she said. "Elective abortions are not healthcare – they end the lives of our fetal patients and often cause harm, such as worsening of mental health, to our maternal patients. We support policies that bring our laws into alignment with the science and protect the health of both our patients."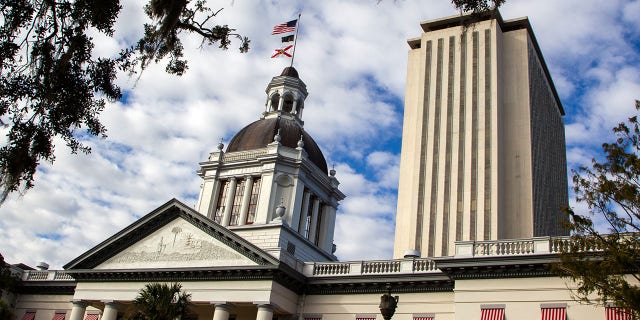 FILE: A view of the historic Old Florida State Capitol building, which sits in front of the current New Capitol, on November 10, 2018 in Tallahassee, Florida.  (Getty Images)
CLICK HERE TO GET THE FOX NEWS APP
Upon the news of the bill's passage, White House press secretary Karine-Jean Pierre issued a statement saying in part, "Today, Florida's Republican supermajority-controlled legislature sent an extreme and dangerous new abortion ban to Governor DeSantis's desk for signature. The ban flies in the face of fundamental freedoms and is out of step with the views of the vast majority of the people of Florida and of all the United States.

"This ban would prevent four million Florida women of reproductive age from accessing abortion care after six weeks — before many women even know they're pregnant. This ban would also impact the nearly 15 million women of reproductive age who live in abortion-banning states throughout the South, many of whom have previously relied on travel to Florida as an option to access care."