Florida Gov. Ron DeSantis signed the Heartbeat Protection Act into law Thursday evening, putting the state more in line with other Republican-led states, just hours after the legislation cleared the Florida legislature.
The new law expands protections to unborn children, giving them full rights to life once a fetal heartbeat is detected, which can be as early as six weeks of pregnancy. It also provides funding to help mothers across the state.
"Signed the Heartbeat Protection Act, which expands pro-life protections and devotes resources to help young mothers and families," DeSantis wrote on Twitter Thursday, sharing a photo of himself at his governor's desk where he is signing the law.
In the photo, DeSantis is surrounded by pro-life lawmakers and advocates.
FLORIDA LEGISLATURE PASSES SIX-WEEK 'HEARTBEAT BILL' TO LIMIT ABORTION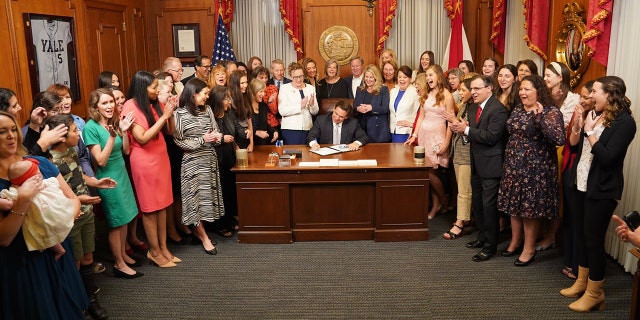 Republican Gov. Ron DeSantis of Florida signed the Heartbeat Protection Act into law on Thursday, April 13, 2023. (Twitter/Ron DeSantis)
Several people responded to the post, with pro-life leaders commending the governor's action and his fulfillment of a promise to defend life in Florida.
Some others were critical of the legislation. Opponents of the law argue that by the time most women find out they're pregnant, it will already be too late to have an abortion.
NEBRASKA LAWMAKERS ADVANCE 'HEARTBEAT BILL' THAT BANS ABORTION AFTER CARDIAC ACTIVITY IS DETECTED
Earlier in the day, the Florida legislature passed the Heartbeat Protection Act, or SB 300, which establishes protections for unborn babies with a heartbeat beginning at six weeks' gestation.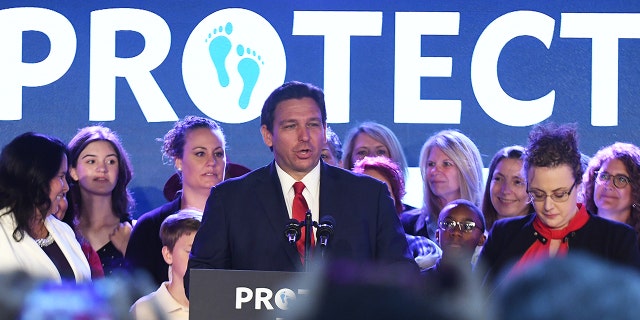 Governor Ron DeSantis speaks to pro-life supporters before signing Florida's 15-week abortion ban into law at Nacion de Fe church in Kissimmee.  (Paul Hennessy/SOPA Images/LightRocket via Getty Images)
The new law also allocates $25 million in funds for pregnancy centers around the state. The money is expected to help women during their pregnancy and after the child is born.
APPEALS COURT PARTIALLY OVERTURNS LOWER RULING, PRESERVES ACCESS TO MIFEPRISTONE ABORTION PILL
After the heartbeat bill passed the Florida legislature, the White House issued a statement critical of the "extreme and dangerous" legislation.
"Today, Florida's Republican supermajority-controlled legislature sent an extreme and dangerous new abortion ban to Governor DeSantis's desk for signature. The ban flies in the face of fundamental freedoms and is out of step with the views of the vast majority of the people of Florida and of all the United States," White House press secretary Karine-Jean Pierre said in a statement.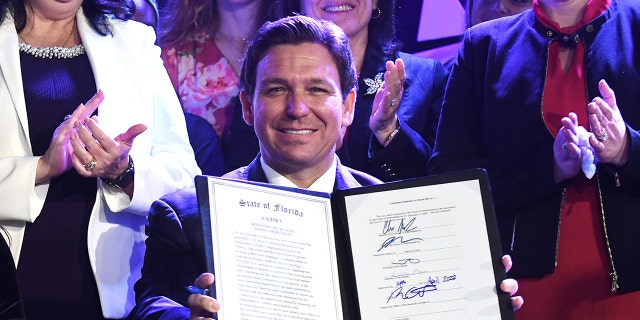 Governor Ron DeSantis signs Florida's 15-week abortion ban into law at Nacion de Fe church in Kissimmee.  (Paul Hennessy/SOPA Images/LightRocket via Getty Images)
It continued: "This ban would prevent four million Florida women of reproductive age from accessing abortion care after six weeks — before many women even know they're pregnant. This ban would also impact the nearly 15 million women of reproductive age who live in abortion-banning states throughout the South, many of whom have previously relied on travel to Florida as an option to access care."
CLICK HERE TO GET THE FOX NEWS APP
The legislation allows exceptions to save the life of the woman or for cases of rape or incest until 15 weeks of pregnancy.
Florida currently has a 15-week abortion ban, which was signed into law by DeSantis in April 2022. The ban was swiftly sued, and it could find its way before the Supreme Court.
Fox News' Kendall Tietz contributed to this report.