An etiquette expert based in Florida is sharing actions that people should never take while traveling on a flight — including wearing pajamas, eating seafood and holding up others in the aisle while loading bags in the overhead bins.
Jackie Vernon Thompson, 53, of Sunrise, Florida, said that traveling on an airplane can be complex when it comes to etiquette because there are unspoken rules to follow — and many people get it wrong.
Yet being in a small, enclosed space with a lot of other people for a period of time makes following the correct protocols critical, as SWNS reported of her comments.
AIRPLANE TRAVELER ASKS COUPLE TO STOP CHANGING THEIR BABY'S DIAPER ON THE SEAT'S TRAY TABLE: 'NO IDEA'
Vernon Thompson runs From the Inside-Out School of Etiquette. Her program offers instructional content for adults and children that includes such areas of behavior as effective communication, personal hygiene, business etiquette, body positivity and table etiquette and protocol (both American and European), according to her website.
REDDIT USER SPARKS HEATED DEBATE ABOUT RUSHING TO LEAVE AIRPLANE UPON LANDING: 'JUST RUDE'
"There are quite a few etiquette protocols that should be adhered to on a plane because we are confined in a small space," she said, as SWNS noted.
FLIGHT FRIGHT: FAMILY ASKS PERSON TO SWITCH PLANE SEATS, HE REFUSES — AND BIG TROUBLE ENSUES
"Spreading your legs out like that is a non-negotiable no-no," she said. "There are seats with extra legroom you can pay for," she added. So "if you need that, purchase a ticket for extra legroom."
"If you need to stretch your legs, take a walk — but you paid for your seat, not the aisle."

She also advised never switching seats of your own accord. Rather, always get permission first.

If you're interested in changing seats, she said it's best to ask a flight crew member if a seat closer to your party is free — but to do so once everyone has been seated.

MAN LEAVES HIS OWN WIFE ON NIGHTMARE PLANE TRIP, TRIES TO HELP CRYING BABY AND MOTHER: 'HUGE MISTAKE'
Regarding masking in these post-COVID times, she advised that if you cough frequently, even if it's not due to illness, you should wear a mask on board to give others peace of mind.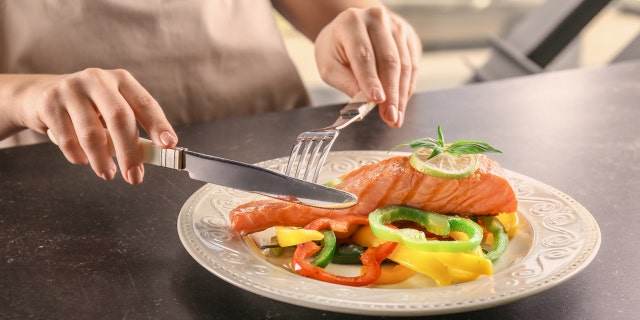 It's best not to eat seafood on board a plane, said one etiquette expert. Also, don't eat food with a lot of onions or garlic.  (iStock)
She said, "If you know your feet will have a foul odor, don't take your shoes off. If they're uncomfortable — well, you should have worn more comfortable shoes and controlled your hygiene better," she added.
She also said, "If you do take them off, it's not appropriate to walk anywhere on the plane barefoot or in just socks. Put them back on before leaving your seat."
"If the parent isn't making an effort to calm the child, politely and gratefully ask the parent to calm the little one."

With first class travel, the standards are even higher, she noted, because by paying extra for a seat, there's an understanding and "investment into a certain standard."

AIR TRAVEL CONTROVERSY: PASSENGERS WHO RECLINE THEIR SEATS ON FLIGHTS ARE SEEN AS 'RUDE'

The etiquette expert also shared views of children's behavior on flights, which all too often is controversial, she said.

Travelers should never forget to show patience and courtesy to flight attendants.

But she also said that other passengers who are not related to the children should "try to extend grace" — and remember that children can be disruptive by nature.

Try to stay calm and ignore disruptions from children nearby, advised a Florida-based etiquette expert. Also, remember that the parents themselves may be frustrated — so respect that they may be overwhelmed. (iStock)

She advised trying to stay calm and ignore disruptions; yet if something becomes out of hand, she said asking a flight attendant if there is a vacant seat a distance away would not be unreasonable.

Still, she said to remember that the parents themselves may be frustrated by the situation, so respect that they may be overwhelmed.

She also said that travelers should never forget to show patience and courtesy to flight attendants.

CLICK HERE TO GET THE FOX NEWS APP

"Be respectful and polite, and thank people if they help you with anything," she said.