The FBI is urging the public to be wary of using free charging stations that have become common sights in airports, hotels, and shopping centers.
The bureau's Denver office warned that "bad actors" have figured out ways to use public USB ports to introduce malware and monitoring software onto devices.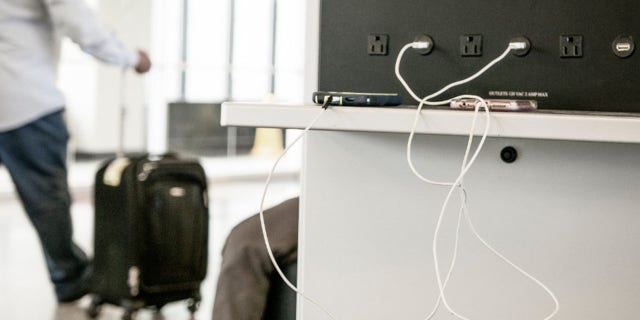 Free charging stations at an airport.  (FBI)
CALIFORNIA COUNTY INVESTIGATES NETWORK DISRUPTION, PARTNERS WITH FBI AND HOMELAND SECURITY
The agency advised travelers to instead carry their own charger and USB chord and use an electrical outlet instead.
The Federal Communications Commission (FCC) has defined this nefarious practice as "juice jacking."
The agency says that criminals can install malware through a "dirty" USB port and lock a device or export personal data and passwords. This information can then be used to access online accounts or sell it to other bad actions.
CLICK HERE TO GET THE FOX NEWS APP
The FCC has advised using an AC power outlet instead and bringing a car charger, and a personal USB cable when traveling. The agency also advises carrying a portable charger or external battery and carrying a charging-only cable, which prevents data from sending or receiving while charging from a trusted supplier.