An international effort to rebuild shark populations officially has begun.
Two baby zebra sharks were released in the Raja Ampat Regency of Indonesia earlier this year as the first step in a massive re-wilding project.
The new organization, called ReShark, has joined 15 countries and 44 aquariums in an effort to raise zebra sharks in captivity, then release them back into the wild, according to National Geographic.
WORLD'S LARGEST, RAREST OCEAN STINGRAYS SPOTTED AND TAGGED IN MOZAMBIQUE
ReShark aims to release 500 zebra sharks in Indonesian waters within the next five to 10 years.
Dr. Erin Meyer, Seattle Aquarium vice president of conservation programs and partnerships, told Fox News Digital in an interview that this is just the beginning of creating a shark resurgence.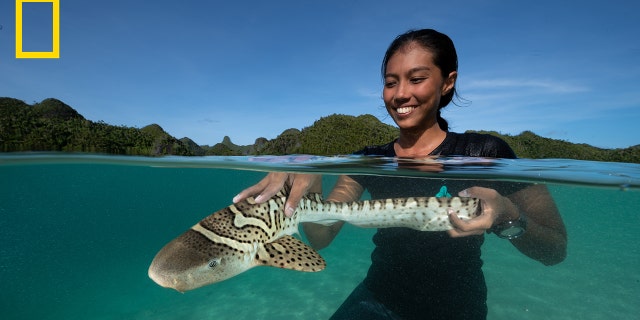 Scientist Nesha Ichida releases the second zebra shark of the day, a young female named Kathlyn, in Indonesia's Wayag Islands. (David Doubilet and Jennifer Hayes, National Geographic)
"We're just getting started in re-wilding the oceans, so we can ensure that we have a resilient, healthy, global ocean for today and for future generations," she said.
The international collective, which today has 70 partners, aims to restore threatened and endangered sharks as well as stingrays around the world.
There are currently almost 400 species of sharks and stingrays worldwide that are deemed threatened by the IUCN Red List of Threatened Species, according to Meyer.
SHARK TOOTH HUNTING: HOW TO FIND TOOTHY TREASURES AND WHERE TO SEARCH
The main cause of this decline is overfishing, said Meyer.
"We hear a lot about [people engaging in] shark fishing for their fins, but they're also fished for their meat," she said of sharks.
"And that meat is eaten all around the world."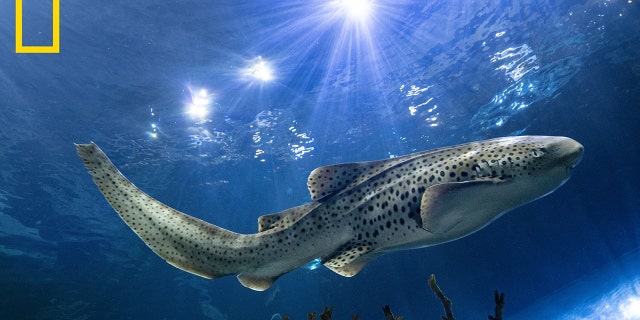 An adult female zebra shark glides through the Wild Reef exhibit at Shedd Aquarium in Chicago. Adult zebra sharks are endangered everywhere outside Australia, but there are more than 100 in aquariums around the world. Several aquariums, including Shedd, are letting adults mate and produce eggs, which will be shipped to Indonesia. (David Doubilet and Jennifer Hayes, National Geographic)
Meyer added that sharks are "keystone species" within their ecosystems, which means their environments can "collapse" without their "keeping other species in check."
ReShark first launched its initiative in 2020, beginning with the endangered zebra shark.
"We know what they eat and we know how to keep them alive."
In parts of the world such as Indonesia, Meyer noted, zebra sharks are "nearly extinct."
GIRL, 9 YEARS OLD, DISCOVERS RARE PREHISTORIC MEGALODON TOOTH IN MARYLAND WATERS: 'I COULDN'T BELIEVE IT'
In Raja Ampat, researchers were able to count only three zebra sharks in 15,000 hours of searching between the years 2001 and 2021, according to National Geographic.
"They also are a species that aquariums have been learning [about] and researching [while] in our care, for decades," Meyer said, explaining why the species was at the top of ReShark's priority list.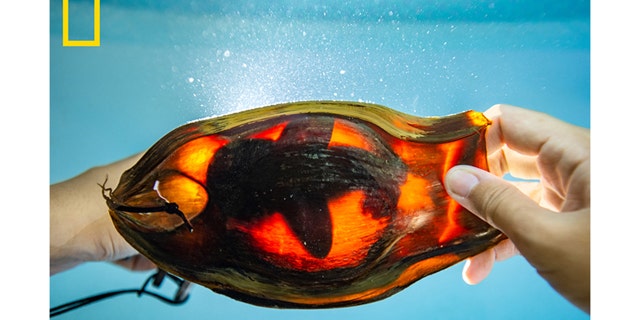 Shark caretaker Kyra Wicaksono uses a light to illuminate a zebra shark embryo inside its egg case at a new shark nursery at the Misool Resort in southern Raja Ampat, Indonesia. (David Doubilet and Jennifer Hayes, National Geographic)
"We know how to greet them. We know how to rear them. We know what they eat and we know how to keep them alive," she added.
Between data from aquariums around the world and insight from academic partners like Dr. Christine Dudgeon at the University of the Sunshine Coast in Australia, the organization was "confident" that their breeding and releasing activities would be successful, Meyer said.
ENDANGERED CALIFORNIA CONDORS RELEASED IN REDWOOD NATIONAL AND STATE PARKS FOR FIRST TIME SINCE 1892
This is the first time that international bodies have united to recover an endangered marine species while also breeding them in human care, Meyer also said.
"The ocean needs us."
"It seems like such a complicated thing to breed animals in aquariums in the U.S. and in Australia and in Europe, and then transport those eggs to Indonesia," she added.
"We had to make purpose-built nurseries in Indonesia [so] we could transport these eggs, rear them and then eventually release them into marine-protected areas where they would be able to grow and eventually reproduce on their own in the wild," she continued.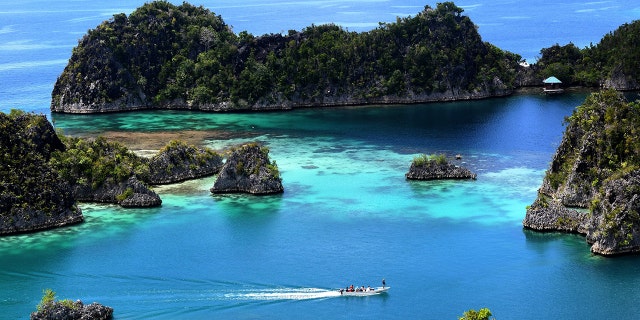 This photo, taken on Aug. 21, 2017, shows the blue sea around Raja Ampat, which means "Four Kings" in Indonesian. (GOH CHAI HIN/AFP via Getty Images)
Meyer added that they "needed everybody at the table" to make this possible.
ReShark's efforts finally came to fruition in January 2023 when the organization's first two baby zebra sharks — named Charlie and Kathlyn — were released into an off-limits shark fishing lagoon in Raja Ampat.
The event was "incredibly emotional," said Meyer, who was in attendance.
RESEARCHERS DOCUMENT 55 MORE WHITE SHARKS IN CAPE COD WATERS
The event was moving "not only because it felt like letting my shark children go off to college, but also because these animals are going to be the ambassadors for the future of this project to bring zebra sharks back," she also said.
Meyer continued, "And they're proof of concept that this incredible idea to bring together partners from around the world to bring sharks back, to restore sharks, is possible."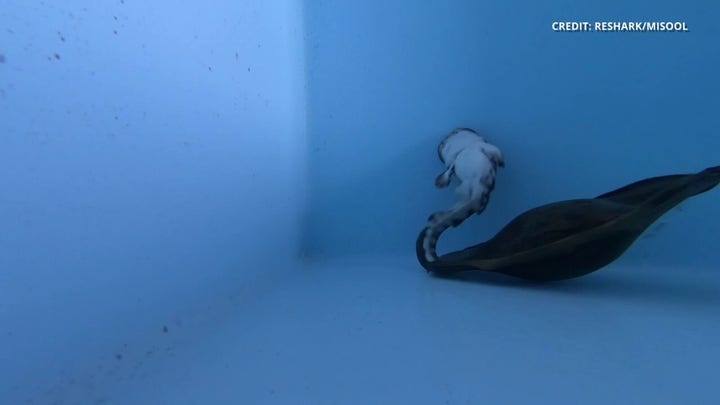 Video
She added, "It gives me hope, and it gives all of our partners hope, that we can do this with not just zebra sharks, but with other species, down the line."
ReShark plans to broaden its efforts to other shark and stingray species in the future, in other locations around the world.
"We're actively talking about what the next species will be," Meyer said.
SHARK ATTACK SURVIVOR IS ON A MISSION TO PROTECT THESE ANIMALS: 'FEAR CAN BE A POWERFUL MOTIVATOR'
"We do have our eyes on one location right now in western Indonesia … and [we're] connecting with partners in the Indian Ocean to identify a potential location there as well for another nursery," she added.
The conservationist explained that the major problem with releasing baby sharks is making sure they won't be immediately "fished out," since shark fishing is still a major threat.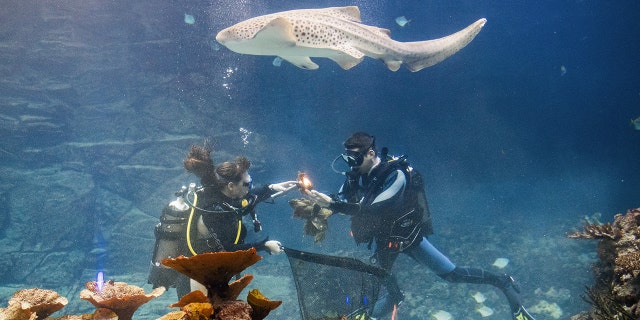 Two divers collect shark eggs as part of the annual inventory at the zoo in Hagenbeck, Germany, on Jan. 12, 2018.  (Daniel Reinhardt/picture alliance via Getty Images)
"We are looking for strongly enforced marine-protected areas so that we can release these animals into a safe place," she said.
"The ocean needs us," she added.
CLICK HERE TO SIGN UP FOR OUR LIFESTYLE NEWSLETTER
"There are species that aren't coming back with marine-protected areas alone, and this is an opportunity for aquariums to put their unique experience and expertise to work and partner with international NGOs and governments and local leaders to make it happen."
Currently, 37% of 1,199 species of sharks and stingrays face extinction. 
Sharks are among Earth's oldest species, NatGeo reports, surviving five mass extinctions over more than 420 million years.
Currently, however, 37% of 1,199 species of sharks and stingrays face extinction as the world's second-fastest dwindling vertebrate group behind amphibians.
CLICK HERE TO GET THE FOX NEWS APP
To learn more about the international collective to save the sharks, visit reshark.org.
For more on this story, visit natgeo.com/rewildingsharks.