Richard Lewis, a comedy legend best known to audiences for his role on "Curb Your Enthusiasm," just announced he is done with his stand-up career.
On Monday, Lewis shared the news on his social media that he had been diagnosed with Parkinson's disease, and after other health complications, he revealed his decision.
"I'm finished with stand-up, I'm focusing on writing and acting," he said in the video.
Lewis remained in good spirits, adding, "I have Parkinson's disease, but I'm under a doctor's care and everything is cool, and I love my wife, I love my little puppy dog, and I love all my friends and my fans, and now you know where it's been at the last three and a half years."
The 75-year-old is set to appear in "Curb Your Enthusiasm's" 12th season and confirmed in the video he had recently wrapped filming.
The comedian has always been open about his personal struggles, from addiction to anxiety, which is part of what made him famous.
Here's a look back at Lewis' journey from the stand-up stage to television and beyond.
PARKINSON'S DISEASE AFFLICTS THOUSANDS MORE AMERICANS THAN PREVIOUS ESTIMATES: NEW STUDY
Stand-up career
Richard Lewis was born in New York, New York, in 1947 and raised in New Jersey, the youngest of three children.
"My family — it wasn't an abusive family — they meant well, but they were in their own world," Lewis told the Los Angeles Times in 2014, by way of explanation for his decision to pursue comedy.
After high school and college, he tried an open mic night in 1971 in Greenwich Village and was eventually discovered by comedian David Brenner.
Brenner helped Lewis secure his first set on "The Tonight Show Starring Johnny Carson" in 1974.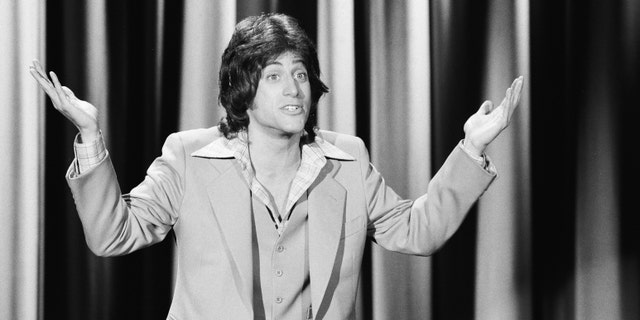 Richard Lewis on "The Tonight Show Starring Johnny Carson" in 1977. (Tom Ron/NBCU Photo Bank/NBCUniversal via Getty Images )
He continued performing and appearing on "The Tonight Show" throughout the '70s and '80s, and when David Letterman started his own talk show, the "Late Show with David Letterman," Lewis was a frequent performer.
Lewis is also credited with the origin of the phrase "date from hell," which became a part of the lexicon and spawned "____ from hell" spin-offs. According to his website, the Yale Book of Quotations officially attributed the now-common phrase, "the [blank] from hell," to him in 2006.
"That just came out of my brain one day and I kept repeating it a lot for some reason," he told GQ in 2021. "Same thing with the black clothes – I just felt really comfortable from the early '80s on, and I never wore anything else. I never looked back," he added, noting his signature style choice of always wearing black clothes.
The "Howard Stern" regular also produced comedy specials for HBO and Showtime, including "I'm in Pain," "I'm Exhausted, I'm Doomed," and "Richard Lewis: The Magical Misery Tour."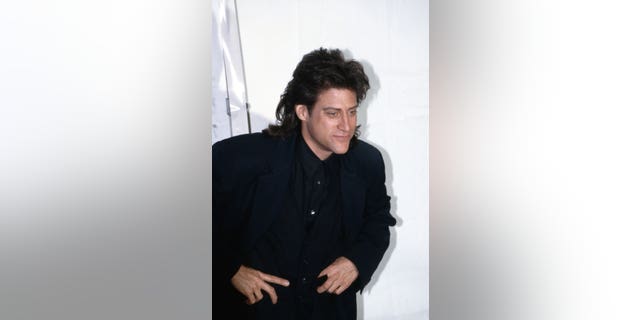 Richard Lewis in 1990, wearing his signature all-black ensemble. (Donaldson Collection/Michael Ochs Archives/Getty Images)
In 1989, Lewis performed at Carnegie Hall to rave reviews, following in the footsteps of one of his idols, Lenny Bruce.
The New York Times even made a comparison between Bruce and Lewis, saying, "This renowned comedian, often considered to be the heir to Lenny Bruce, is a master of long-form storytelling who turns his endless neurotic energy into brilliant comedy."
'JOHNNY CARSON': NEW BOOK PAINTS FEARLESS, TORTURED, GUN-TOTING KING OF LATE NIGHT
Addiction and mental health struggles
Throughout his career, Lewis has been open about his mental health and addiction struggles, earning him the nickname, "The Prince of Pain."
Lewis has talked about his alcoholism, telling the Los Angeles Times in 2001 that champagne was his drink of choice. He also said that though he "bottomed out" on cocaine, he knew alcohol was his primary problem.
In 1994, Lewis went to the emergency room for a cocaine overdose and finally sought treatment.
In his memoir, "The Other Great Depression," Lewis wrote, "The more successful I got, the more convinced I felt that I could become even more successful if I had a few more drinks before I performed."
"I needed a higher power in my life to help me in sobriety, which led me to become more and more spiritual. I can't be the captain of my own ship," Lewis said in a phone interview in 2008 with the Jewish Journal.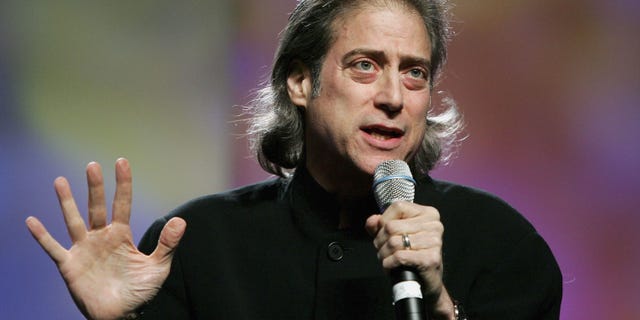 Richard Lewis has been open about his struggles with alcohol and mental health but has maintained his sobriety since 1994. (Ethan Miller)
Lewis' memoir was originally released in 2000, then re-released in 2008 with a new afterward about his progress in recovery. According to the Jewish Journal, in the new afterword, Lewis wrote, "The cold hard truth is that if I take for granted the progress I have made, I'm a goner."
The "Curb Your Enthusiasm" star has maintained his sobriety since 1994 and mentions throughout his routines he regularly sees a therapist. Although he jokes about their efficacy, Lewis previously told the Los Angeles Times he's been in and out of therapy since 1971 after his father died.
According to a 2020 Washington Post interview, Lewis has body dysmorphia, though he didn't elaborate further on if or how he was being treated for it. It was also revealed he stopped going to therapy in 2013.
JAMIE LEE CURTIS CALLS 22-YEAR SOBRIETY A 'LEGACY': 'WILL BE THE SINGLE GREATEST THING I DO'
Acting roles
In 1979, during "Saturday Night Live's" hiatus in early February, the film "Diary of a Young Comic" aired.
The 90-minute TV movie starred Lewis, who also co-wrote the film, as a young, Jewish, up-and-coming comedian. "SNL" executive producer Lorne Michaels was a producer on the film, and it received relatively positive reviews.
From 1989 to 1992, he starred in the ABC sitcom, "Anything but Love," alongside now-Oscar winner Jamie Lee Curtis.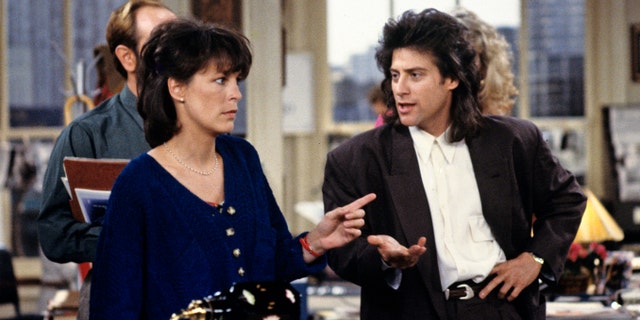 Jamie Lee Curtis and Richard Lewis starred in four seasons of the ABC sitcom "Anything but Love." (ABC Photo Archives / Disney General Entertainment Content via Getty Images)
Lewis and Curtis played co-workers at a Chicago magazine with a mutual attraction who try to keep things professional. On Lewis' website, he noted that the series is "closest to his heart."
While known primarily for comedy, Lewis also appeared in dramatic roles in "Leaving Las Vegas," starring Nicolas Cage and Elisabeth Shue, and "Drunks," starring Faye Dunaway and Diane Weist.
And despite his darker content, the comedian has appeared in some family friendly fare, including "Robin Hood: Men in Tights" and several episodes of the WB series "7th Heaven."
'Curb Your Enthusiasm' and friendship with Larry David
Lewis' best-known television work is his long-standing role on HBO's "Curb Your Enthusiasm" alongside friend Larry David.
The comedians have known each other since age 12 when they first formally met at summer camp at Camp All America.
According to a 2014 interview with Lewis, the two were actually born at the same hospital three days apart.
"I was a cesarean and a preemie," Lewis told the outlet. "I was born June 29 and I stayed in the Brooklyn Jewish Hospital four or five days. He was born three days later. We were in the same ward together."
Though they attended the same camp, they didn't form an instant friendship.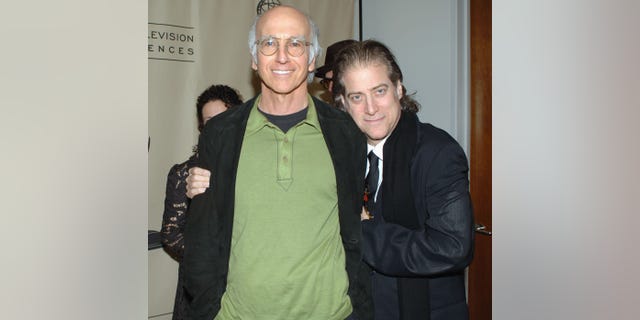 Larry David and Richard Lewis were born three days apart at the same hospital, and later met at summer camp when they were 12, though they disliked each other at first. They later became close friends on the stand-up comedy scene. (Stephen Shugerman)
On "The Howard Stern Show" in 2010, Lewis described it simply: "Hated him. Never saw him again until I became a comic. Became best friends."
When asked why he didn't like David at the time, Lewis put it bluntly, "He was a p—k," adding, "He was an obnoxious, gangly f—ing a–hole like I was" and they used to physically fight each other.
"But when I became a comic, he loved my work and I loved his work," he continued, explaining they discovered the camp connection late one night when Lewis was admittedly drunk.
That friendship led to David asking Lewis to appear on his HBO series, "Curb Your Enthusiasm," as a fictionalized version of himself in 2000.
Since then, he's been a beloved part of the show and credits it with a late career boost and offering breaks from touring.
NETFLIX TO PAY JERRY SEINFELD, LARRY DAVID MORE THAN $100M EACH IN NEW 'SEINFELD' STREAMING DEAL: REPORT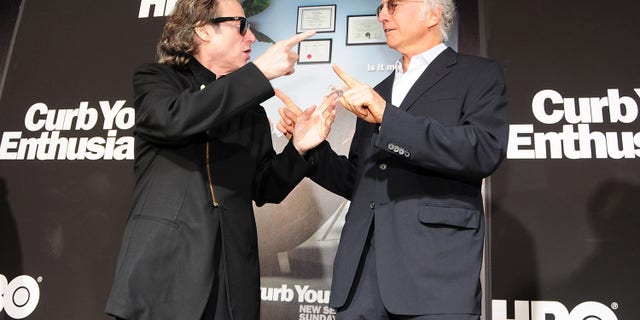 Richard Lewis and Larry David arrive at the 2009 premiere of HBO's "Curb Your Enthusiasm." (FilmMagic Inc. / FilmMagic)
"The show's been on since 2000, so when you think of that, say some guy's in medical school, he's 25, he was only 5 when the show started," Lewis told GQ in 2021. "So, there's been a lot of generations."
In 2021, it initially seemed that Lewis would be unable to appear on the series' 11th season due to health issues. The comedian shared the news on Twitter at the time, saying, "Tragically, these past 18 months I've endured a back and two shoulder surgeries and [will] not able to be in #CurbYourEnthusiasm for season 11."
Luckily for fans, Lewis was able to return for one episode.
"Great news for me! Although I'm still recovering from three surgeries and missing Season 11 of Curb, LD called me and asked if there was any chance if I felt strong enough to do one episode! I am and here I'm on the set to shoot it. I'm so grateful," he wrote on Twitter at the time.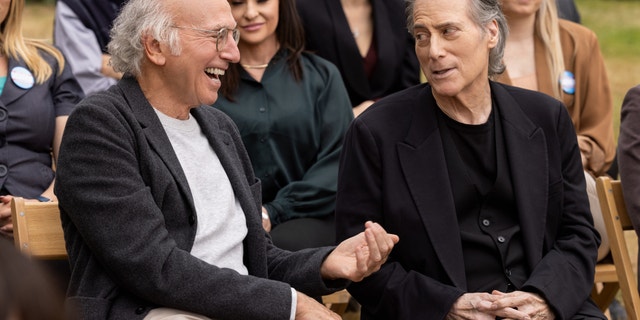 Richard Lewis was only able to appear in one episode of "Curb Your Enthusiasm's" 11th season due to health issues. (John P. Johnson / HBO)
In total, Lewis has undergone four surgeries for back and shoulder injuries and pain, as well as a hip replacement.
SHAQ UPDATES CONCERNED FANS ON HEALTH AFTER HIP REPLACEMENT SURGERY
Personal life and Parkinson's diagnosis
Contrasted with confessional style on stage, Lewis has remained relatively private about his love life.
He met his wife, Joyce Lapinsky, in 1998, but didn't marry her until 2005, when he was 57 years old.
"I was really needy," he told the Washington Post in 2020, explaining the delay in marriage. "It was all about the road, and I came first."
Lewis praised Lapinsky in a 2020 interview with the Chicago Tribune discussing his pain and surgical issues at the time, saying, "I'm so lucky. I'm so riddled with gratitude that I have a wife who's doing everything for me, except the rehab."
"When I get down, I think it could be a lot worse, really."
He also noted at the time he was "not thinking about stand-up" and wanted to spend more time at home.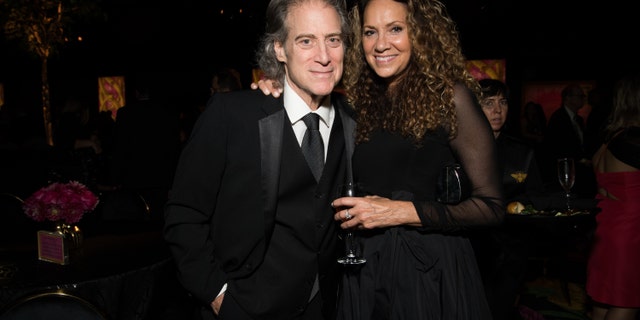 Richard Lewis married Joyce Lapinsky in 2005 after being together for seven years. (Emma McIntyre)
CLICK HERE TO SIGN UP FOR THE ENTERTAINMENT NEWSLETTER
Then, this week, Lewis made the announcement about his Parkinson's diagnosis and decision to step away from stand-up entirely.
In his social media video, Lewis said that he was in the middle of a comedy tour three and a half years ago, and at a certain point, he thought to himself, "You know, I'm at the top of my game. After 50 years almost, I'm just going to call it quits."
He said he "felt great about it," but after he made that decision, "s— hit the fan."
"Two years ago, I started walking a little stiffly, I was shuffling my feet, and I went to a neurologist, and they gave me a brain scan, and I was diagnosed with Parkinson's disease."
"Luckily I got it late in life," he said, "and they say you progress very slowly, if at all, and I'm on the right meds, so I'm cool."
CLICK HERE TO GET THE FOX NEWS APP
Prior to his announcement, Lewis also shared a loving tribute to his wife on Twitter.
"I had some great girlfriends so far on 12 seasons of #curb that LD [Larry David] ruined for me, but in real life, my wife, Joyce, has been my dream come true for 25 years," he wrote after joking about his fictional girlfriends on the show.