AUSTIN, Texas – University of Texas students shared with Fox News whether they feared AI replacing them in their future jobs, with one computer science major saying ChatGPT poses a "big risk" to his planned career.
"A lot of my career path revolves around trying to go into software engineering," Abhinav, a computer science and business major, told Fox News. "I can see that ChatGPT and a lot of the advanced AI is able to complete a lot of the easier tasks, especially for front-end development."
VIDEO: COLLEGE STUDENTS CONSIDER A HYPOTHETICAL AI TAKEOVER OF THEIR CAREERS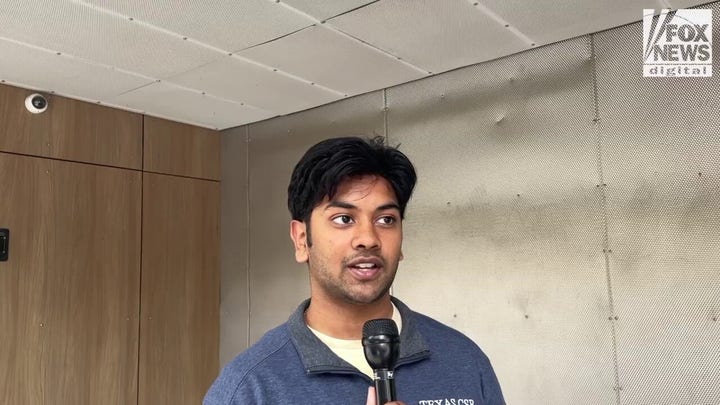 Video
WATCH MORE FOX NEWS DIGITAL ORIGINALS HERE
"That is a pretty big risk for full-stack engineering, which I'm trying to go into," the Frisco, Texas, resident said.
Texas college students considered how AI might affect their career prospects this week following a recent report that OpenAI's ChatGPT chatbot could replace nearly 5 million American jobs.
The artificial intelligence software reportedly told Challenger, Gray & Christmas, an outplacement and executive coaching firm, that it'd likely replace humans in repetitive and predictable roles, such as those involving customer service, translation, technical writing and data entry.
Challenger, Gray & Christmas used Bureau of Labor Statistics data to estimate that at least 4.8 million U.S. jobs could be replaced in such a scenario.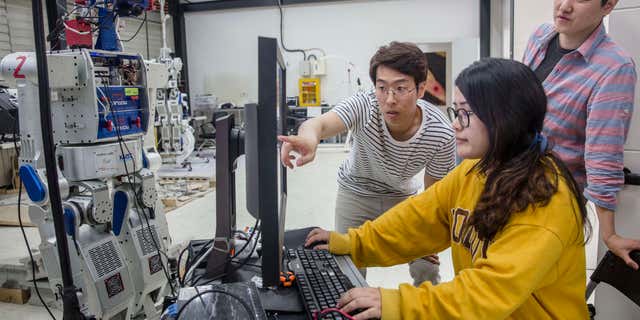 Students at KAIST university in Seoul, South Korea, scan AI software inside a research center for humanoid robots. (Jonas Gratzer/LightRocket via Getty Images)
EVERYTHING YOU NEED TO KNOW ABOUT ARTIFICIAL INTELLIGENCE: WHAT IS IT USED FOR?
Riley, an economics major, predicted that AI could replace her in some aspects of her future career.
"Certain parts could definitely be rendered obsolete," the Dallas resident told Fox News. "In the Industrial Revolution and every technological advancement, certain jobs are rendered obsolete, but the new jobs come."
Meanwhile, another economics major from China said she wasn't worried about AI replacing humans in the workforce.
"Even ChatGPT needs workers and professional employees to make it effective," the student, who said she also minored in computer science, told Fox News.
AI: NEWS OUTLET ADDS COMPUTER-GENERATED BROADCASTER 'FEDHA' TO ITS TEAM
Carly, a journalism major, predicted that AI might threaten news credibility in the future.
"There's always going to be a need for journalism," she told Fox News. "I truly believe that."
"However, I do believe it'll make it harder to find out what's true and what's not, and it will make it harder to find the source of said writing as AI can take many, many works and compile them into one," Carly said.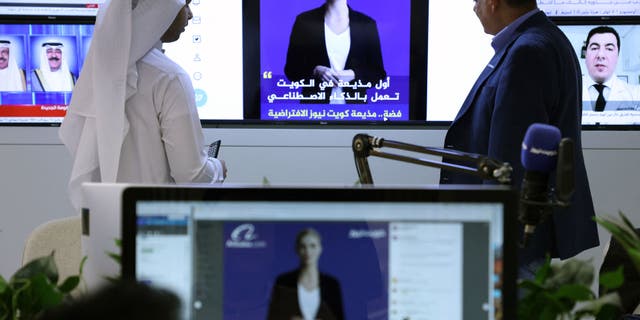 Reporters watch an AI-generated news anchor named "Fedha," which the Kuwait News service recently debuted. (Yasser al-Zayyat/AFP via Getty Images)
Abhinav said he's also witnessed ChatGPT expand his generation's career options.
"It also is opening avenues into other things, like prompt engineering, which is a pretty new career path that's really helpful for… identifying the right questions to ask AI," he told Fox News.
CLICK HERE TO GET THE FOX NEWS APP
To hear more college students consider the prospect of AI rendering their future jobs obsolete, click here.