A software company is looking to use artificial intelligence (AI) to help companies mitigate and avoid human rights risks in their supply chain.
"When it comes to transparency in supply chains, there is such an enormous amount of data that is being spread not just in spreadsheets but also through social that we can start to use to identify and zero in," Justin Dillon, CEO and Founder of FRDM, told Fox News Digital, adding that it's "early, early days" for the technology and methods his company uses.
Any AI technology requires significant amounts of data to analyze and process, and Dillon pointed to a treasure trove of data available on social media that his company can use to help map out problematic hotspots in supply chains — areas that companies can then work to avoid and help create more ethical routes.
Dillon related a story from a father in Australia who was talking about using "social listening," which is the analysis of conversations and trends related to different brands. Marketing firms have used social listening, also known as social media listening, to help companies figure out their image on different platforms and reshape it.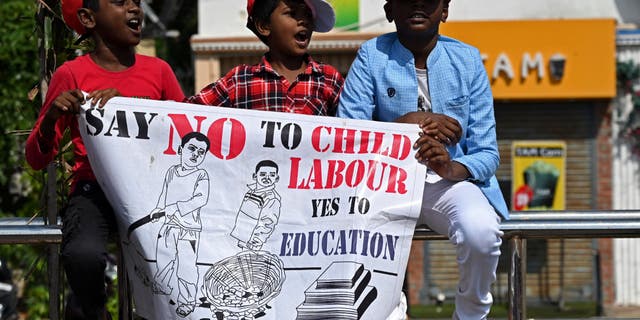 Boys take part in an awareness rally to mark 'World Day Against Child Labour' in Chennai on June 12, 2022.  (Arun Sankar/AFP via Getty Images)
"Less than 6% of companies have visibility beyond tier one suppliers," he wrote on a blog post from April this year. "For most companies, their supply chain data is a sock drawer where nothing matches. COVID exposed this."
"Disparate ERP (Enterprise Resource Planning) software, legacy IT systems with hand-cuffed data, multiple-language and multi-currency spreadsheets are just a few of the challenges procurement professionals deal with on a daily basis," he said.
AI MAY ISSUE HARSHER PRISON SENTENCES, BAIL IF UNLEASHED TO MAKE JUDGEMENTS: STUDY
WHAT ARE THE FOUR MAIN TYPES OF ARTIFICIAL INTELLIGENCE? FIND OUT HOW FUTURE AI PROGRAMS CAN CHANGE THE WORLD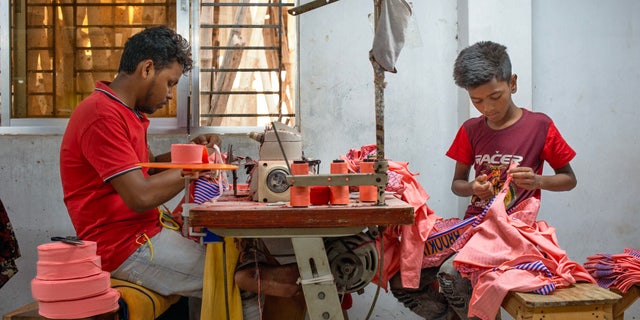 A kid working beside his colleague in a local ready-made garment (RMG). Child labour is restricted in ready-made garment (RMG) sectors. However, there are still children reported to be working in many local garment factories at the outtake of Dhaka, Bangladesh.  (Ziaul Haque Oisharjh/SOPA Images/LightRocket via Getty Images)
"Social listening is going to become a big, big tool to be able to identify where there might be a hotspot around child labor, forced labor, indentured servitude or some type of exploitation in a supply chain."
AI TOOLS BEING USED BY POLICE WHO DON'T UNDERSTAND THE TECHNOLOGY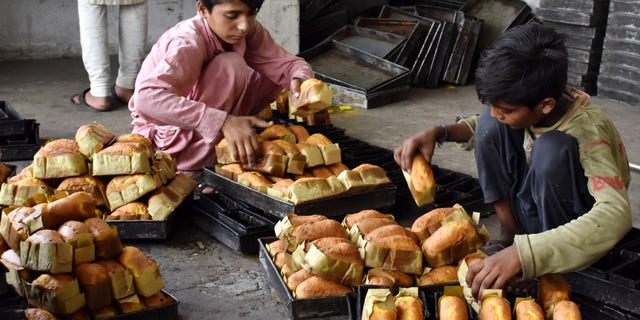 Boys work in a bakery on the World Day Against Child Labor in Lahore, Pakistan on June 12, 2022. Pakistani President Arif Alvi said on Sunday that his country is committed to its international obligations toward the prevention of child labor. (Sajjad/Xinhua via Getty Images)
"Words like ethical and sustainable – they're such nebulous terms," Dillon argued. "It's kind of like fitness: It's really never done, there's no box to check … where you can go 'now that's done.' The problem with ethical sourcing or sustainable sourcing or transparency is that it truly is never done."
"I believe that all of the pressure, both from media and certainly from government, is putting pressure on the companies to start building systems they've never had before," he added. "Companies have not had to build transparent supply chains."
Dillon highlighted as his greatest concern that companies will look to fix one part of the supply chain.