I'll never forget helping Robert from Virginia find $24,578 sitting in a bank account he didn't know existed. He heard me talk about how to find hidden money on my national radio show.
These days, just about everything seems like a scam, but money might be yours, just waiting to be claimed. You need to know the legitimate places to look.
Why is all this unclaimed money sitting around? You have to do some work to get it. Here's how.
BIG TECH IS LISTENING AND TRACKING YOUR VOICE RECORDINGS. HOW TO MAKE IT STOP!
Don't hire a service for this
Start in your home state
Your search begins where you live. Each state has an independent treasury website with a special search function for unpaid dues.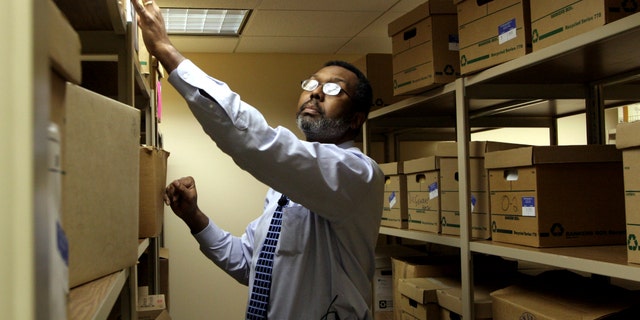 Director of the Unclaimed Property Department, Elliott Kindred, searches for boxes of unclaimed property in their vault area (storage room) at the Chief Financial Officer's office in downtown DC.  (Rich Lipski/The Washington Post)
Skip Google since scammers abound on searchers like this. To find the link for your state's treasury website, visit the National Association of Unclaimed Property site. Select your state or province.
Each state's site is a little different, but follow the step-by-step instructions, enter your information, and the database will do the rest. Often, the paperwork you need to complete to claim your money can be printed on these pages.
MissingMoney is a free government search site. All the site asks for is your name and resident state(s). Living in several places does complicate your search, so you may have to sift through the results.
Check for VA life insurance benefits
The U.S. Department of Veteran Affairs offers a search on its site for unclaimed insurance funds owed to current and former policyholders or beneficiaries. The search does not include funds from Servicemembers' Group Life Insurance (SGLI) or Veterans' Group Life Insurance (VGLI) policies from 1965 to the present. But it's worth a shot.
Simply search for your or your veteran's last name on the VA.gov site.
You can search the money left in credit unions at the National Credit Union Administration site.
At TreasuryHunt.gov, you can look for any matured savings bonds that have stopped paying interest.
Check for unclaimed tax refunds
The Internal Revenue Service may owe you money. Every year, the IRS has millions of dollars in tax refunds that go undelivered or unclaimed.
My popular podcast is called "Kim Komando Today." It's a solid 30 minutes of tech news, tips, and callers with tech questions like you from all over the country. Search for it wherever you get your podcasts. For your convenience, hit the link below for a recent episode.
PODCAST PICK: Space junk hitting Earth, cruise ship potty cam & how to purge your browser's dirty secrets
Plus, will ChatGPT take your job? I speak with Matt Schlicht, CEO of Octane AI and a leader in the chatbot space, about the future of AI in the workplace and how to get it to work for you. Child predators target kids' webcams, Hawaiian tourists' GPS blunder and make sure your security cam doesn't break the law.
CLICK HERE TO GET THE FOX NEWS APP
Copyright 2023, WestStar Multimedia Entertainment. All rights reserved.