EXCLUSIVE: Two former U.S. ambassadors are sounding the alarm on the increasing number of green energy projects nationwide being developed with the involvement of Chinese companies.
Former U.S. Ambassadors Peter Hoekstra and Joseph Cella said Chinese companies, which are subject to strict Chinese laws, have made a concerted effort to take advantage of U.S. green energy goals. The companies, they said, are exploiting American tax incentives to build facilities and projects in the U.S., bolstering Chinese industry and ensuring continued U.S. reliance on technology from China.
"It'd be very ironic if we moved towards electric vehicles to the numbers that the Biden administration is talking about and the key component comes from China," Hoekstra, who served as U.S. ambassador to the Netherlands from 2018 until 2021, told Fox News Digital in an interview. "That is a terrible, terrible place to be."
"Right now electric vehicle sales are about 3 to 5% of new automobile sales," he continued. "Now is the time for the U.S. to establish its own capabilities rather than increasing reliance on an unreliable and a threatening adversary."
CCP-BACKED TECH COMPANIES ARE POISED TO CASH IN ON BIDEN'S CLIMATE BILL, NATIONAL SECURITY EXPERTS WARN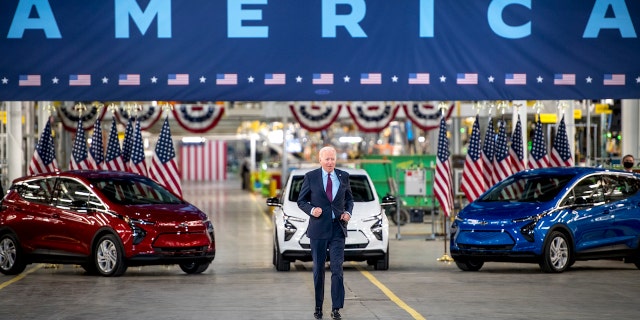 President Biden set a goal shortly after taking office for half of all cars sold in the U.S. to be zero emissions by 2030 as part of his aggressive climate agenda and has repeatedly visited EV manufacturing facilities. (Nic Antaya/Getty Images)
Hoekstra added that China's dominance throughout the green energy supply chain, from developing critical mineral mines in Africa to building battery components, exhibits intentionality that is "very perilous not only for our national security, but our economic security and prosperity as well."
Earlier this year, Hoekstra, who also previously chaired the House Intelligence Committee, established the Michigan-China Economic and Security Review Group, a watchdog group devoted to reviewing Chinese economic investments across the country with a particular focus on Michigan. Democratic Michigan Gov. Gretchen Whitmer boasted last month that her administration has recently attracted $16.6 billion worth of electric vehicle (EV) and battery projects to the state.
NEARLY 200 DEMS JOIN REPUBLICANS IN BLOCKING CHINA FROM BUYING RURAL LAND
Cella — who served as the U.S. ambassador to Fiji, Kiribati, Nauru, Tuvalu, and Tonga from 2019 until 2021 — joined Hoekstra's group as a director.
Together, Hoekstra and Cella have specifically called attention to two EV battery plant projects proposed for Michigan. The first, slated for Big Rapids, Michigan, involves the Hefei, China-based Gotion High-Tech while the second, proposed for Marshall, Michigan, involves the Ningde, China-based Contemporary Amperex Technology (CATL).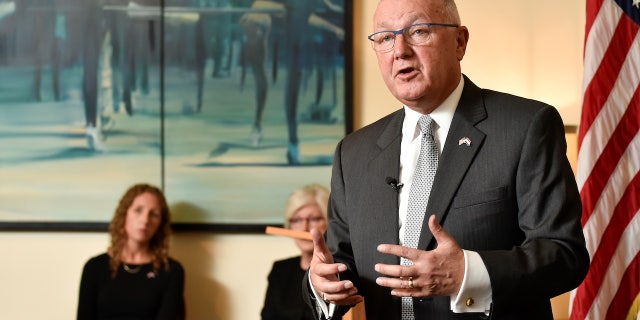 Former U.S. Ambassador to The Netherlands Peter Hoekstra speaks during a press conference at the U.S. embassy in The Hague on Jan. 10, 2018. (JOHN THYS/AFP via Getty Images)
"Subnational incursions are afoot," Cella told Fox News Digital in an interview. "China is on the hunt. The Chinese Communist Party is on the hunt. They are looking for these open doors to kick in, in states. And they have carried great sway. You just need to look at Gotion or CATL — textbook examples of this influence operation."
The former ambassadors said, altogether, the Whitmer administration has promised about $4 billion in tax incentives and infrastructure improvements to facilitate the construction of the Gotion factory and the second facility, a Ford Motor factory which CATL has promised to provide key technology for.
JOE MANCHIN BLASTS BIDEN ADMIN FOR CEDING CONTROL TO CCP ON GREEN ENERGY: 'PATHETIC'
"The details of the business relationship between CATL and Gotion are different," Hoekstra said. "But the bottom line is we are enriching the Chinese battery industry at the expense of providing the opportunity for American or companies in our allied countries to expand and grow their business."
In October, Whitmer announced that Gotion would invest $2.4 billion to construct two 550,000 square-foot production plants along with other supporting facilities spanning 260 acres in northern Michigan. She applauded the proposal, saying it would shore up Michigan's status as the" global hub of mobility and electrification."
However, Republican lawmakers and local leaders have increased scrutiny on Gotion's proposal, pointing to its Chinese ownership and ties to the Chinese Communist Party (CCP). The corporate bylaws of Gotion High-Tech, whose California-based subsidiary Gotion proposed the Michigan plant, requires the company to "carry out Party activities in accordance with the Constitution of the Communist Party of China."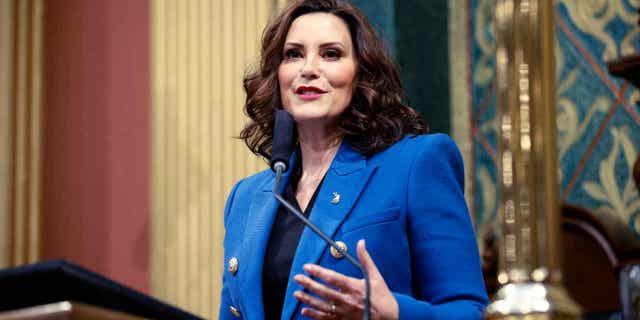 Michigan Gov. Gretchen Whitmer has repeatedly touted EV battery plants proposed by Chinese companies in her state. (AP Photo/Al Goldis, file)
Amid massive uproar from locals who have expressed concern about a CCP-affiliated company building a factory nearby, Gotion put its plans on hold in February. On Wednesday, Gotion leaders and local officials held a virtual public roundtable in an attempt to assuage the concerns.
BIDEN NOMINEE WANTS TO HIJACK LITTLE-KNOWN AGENCY TO RAM THROUGH CLIMATE AGENDA
"There is no communist plot within Gotion to make Big Rapids a center to spread communism," Chuck Thelen, Gotion's vice president of North American operations, said during the event, MLive reported.
Ahead of the event, though, Hoekstra and Cella penned a letter to Assistant Attorney General for National Security Matthew Olsen and the Department of Justice's Foreign Agents Registration Act (FARA) Unit. They asked Olsen and the FARA unit to investigate individuals in Michigan who are advocating on behalf of foreign interests.
"The speed and secrecy which officials in the State of Michigan have operated with State and local leaders imperils our national security and must be given the strictest of scrutiny through both a [Committee on Foreign Investment in the United States (CFIUS)] Review and an investigation to ascertain FARA has been violated," they said.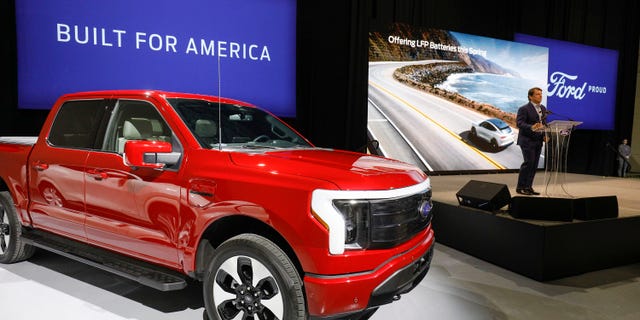 Ford CEO Jim Farley announces the company's partnership with Contemporary Amperex Technology to build an electric vehicle battery plant in Marshall, Michigan, on Feb. 13. (Bill Pugliano/Getty Images)
Similarly, national security experts and lawmakers have raised the alarm on Ford's agreement with CATL to build an EV battery plant of its own in Michigan. Sen. Marco Rubio, R-Fla., the vice chairman of the Senate Select Committee on Intelligence, requested a CFIUS review of that plan.
Hoekstra and Cella argued that the Biden administration has largely been absent from key conversations regarding the Gotion and CATL facilities in addition to other projects across the country with Chinese involvement. CATL is reportedly in talks to provide technology for a Tesla plant in the U.S. and announced in March it would help develop a battery storage plant in Texas.
CEO OF FORD-PARTNERED CHINESE EV BATTERY COMPANY HAS TIES TO CCP 'UNITED FRONT' APPARATUS
"The Biden administration — there's not a clear, consistent policy on how to react and deal with China," Hoekstra told Fox News Digital.
In late March, the Biden administration proposed a series of rules on how it would implement EV tax credit provisions of the 2022 Inflation Reduction Act. Under the provisions, consumers will only be able to receive tax credits for EVs that are manufactured with a certain amount of critical minerals and components from the U.S. or nations the U.S. is in a free trade agreement with.
However, the administration refused to weigh in on whether the Ford-CATL or Gotion proposals, as domestic projects with Chinese involvement, would be eligible for tax incentives.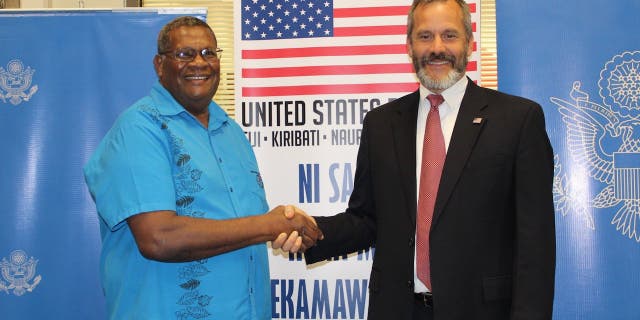 Former U.S. Ambassador to Fiji, Kiribati, Nauru, Tonga, and Tuvalu Joseph Cella (right) is pictured in September 2020.  (State Department)
"States cannot be sovereign entities when it comes to national security," Cella said. "I think that speaks to the importance of the review group's mission. We'll be scaling this and fighting this elsewhere, not only for projects that are underway, but looking at things that are currently there and averting things that may be underway."
CLICK HERE TO GET THE FOX NEWS APP
Biden set a goal shortly after taking office for half of all cars sold in the U.S. to be zero emissions by 2030 as part of his aggressive climate agenda and has repeatedly visited EV manufacturing facilities, including some in Michigan.
China currently boasts 78% of the world's cell manufacturing capacity for EV batteries, according to a Brookings Institution analysis released in July. The nation also controls a large share of the world's mining and mineral refining capacity.
Whitmer's office didn't respond to a request for comment.