Democratic Chicago Alderman Raymond Lopez sounded off on the city's handling of the migrant crisis and the ongoing crime rates, expressing hope that the new mayor will turn things around in an interview with Fox News Digital.
Lopez slammed now-ousted Democratic Chicago Mayor Lori Lightfoot for failing to properly house the thousands of illegal immigrants that were bussed from the southern border by Republican Texas Gov. Greg Abbott, questioning whether the monthly $20 million that was allotted over the past several months to combat the crisis was even spent, saying "we have no idea" what happened to that money.
"We were woefully underprepared in our efforts to help these individuals who are have been shipped to our city and I think many people have used them as pawns for political gains," Lopez told Fox News Digital. "The fact of the matter is this that we could have, with the amount of money we spent at this point, we could have built shelters for these people to be welcomed in, to get medical care for, to have housing for. But we haven't lived up to the moment… She's leaving it to the next administration of Brandon Johnson to contend with the humanitarian crisis that was delivered to her by Abbott, but made worse by her own ineptitude."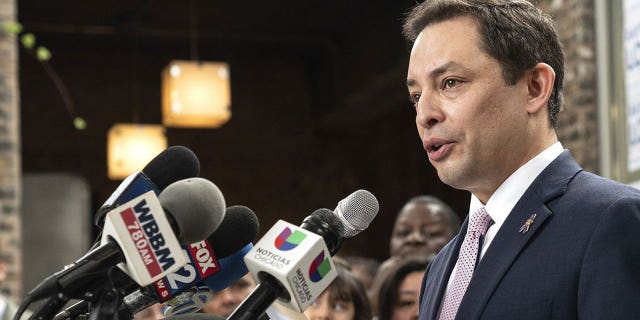 Democratic Chicago Alderman Raymond Lopez spoke with Fox News Digital about the city's mishandling of the migrant crisis, the unrelenting crime as well as his new working relationship with Chicago Mayor Brandon Johnson. (E. Jason Wambsgans/Chicago Tribune/Tribune News Service via Getty Images)
Lopez, perhaps the most vocal Lightfoot critics among Chicago Democrats who at one point threw his hat in the ring to challenge her in the mayoral race, said she "stoked racial fears and to further divide the city" by supplanting migrants into neighborhoods unbeknownst to community leaders, leaving many of the migrants to "find refuge in police district stations across the entire city."
Her administration, he said, refused to work with him in trying to give the migrants appropriate shelter, pointing to a field house located in his ward that could have housed up to nearly 300 migrants.
NEW CHICAGO MAYOR BRANDON JOHNSON SAYS CITY 'TRAUMATIZED BY VIOLENCE' HAS 'ENOUGH ROOM' FOR MIGRANT SURGE
"This was a totally avoidable situation," Lopez said. "Had the city council, had the mayor chosen to act and instead of gaslighting everyone at every turn as opposed to pointing fingers at Greg Abbott or others- Look, Lori Lightfoot, her socialist enablers, they all said make this an unchecked, welcoming city. Somebody took us up on that offer, and now we are falling behind in what we said was our ideals in this city. And if we had planned and used our resources better, we wouldn't be in the midst of a humanitarian crisis now."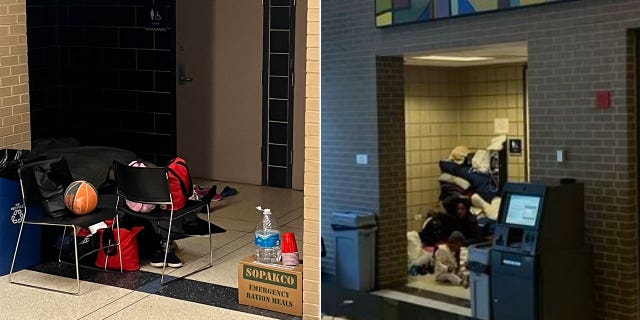 Photos taken by Chicago Alderman Raymond Lopez last month show migrants with their children taking shelter on the floors of restrooms in the city's public buildings. (Courtesy of Chicago Alderman Raymond Lopez)
While still a staunch supporter of Chicago's sanctuary city policy, Lopez slammed Lightfoot-era "zero exceptions" reform that he said protected dangerous felons, murderers and gang members, something he hopes will be reversed in the next administration.
Lopez shed some light on his working relationship with newly-sworn in Chicago Mayor Brandon Johnson, telling Fox News Digital "I have actually spoken to him more times in the last three and a half weeks than I did Lori Lightfoot in four years."
CHICAGO'S NEW MAYOR COMPARES COP'S MURDER WITH DEATH OF ARMED TEEN SHOT BY POLICE
"I am cautiously optimistic about the new administration," Lopez said, who had backed Johnson's opponent Paul Vallas in the mayoral run-off last month. "If I have a mayor who's willing to take my phone call, that at least gives me the opportunity to argue my case on whatever the policy discussion or issue that we have before us. And I have not had that opportunity for four years under the Lightfoot administration. So hopefully that bodes well for the rest of our relationship moving forward."
He stressed, however, that there's a difference between being listened to and being heard. And only time will tell whether anything Lopez told Johnson will be reflected in the actions taken in office.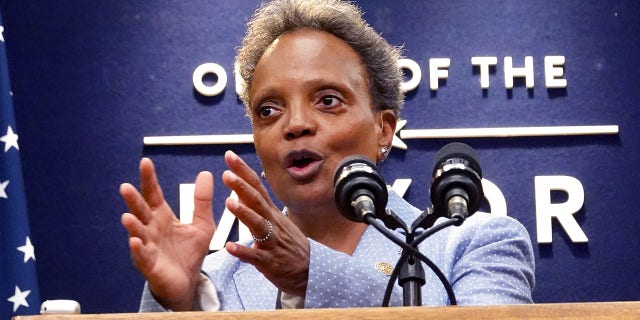 Chicago Mayor Lori Lightfoot was ousted from office after just one term in office, failing to earn enough support to even reach April's run-off, which was won by her progressive challenger Brandon Johnson.  (Scott Olson/Getty Images)
Johnson, widely seen as being to the left of the already-progressive Lightfoot, previously expressed support for the movement to defund the police, a stance he had softened during the election, which crime was a major campaign issue.
Lopez offered mixed feelings as to how Johnson will tackle crime. On one hand, he was encouraged to see Johnson tap Chicago police force veteran Fred Waller to serve as interim superintendent of the Chicago Police Department. On the other hand, Johnson defended the teen rioters who wreaked havoc in the city last month by saying "It is not constructive to demonize youth who have otherwise been starved of opportunities in their own communities."
DAUGHTER OF LATE CHICAGO COP FRUSTRATED BY CRIME SURGE: 'NOT THE CITY HE WAS SWORN TO PROTECT'
"That's not the right answer," Lopez reacted. "And I hope that Fred Waller and others will tell him that you don't need to make excuses for bad behavior. We can get by by holding the line and telling people when they're right and when they're wrong. And you have to put resources out there to show that we're trying to make an effort not only to support law enforcement, not only to support neighborhoods and public safety, but also to show that we're giving the youth and those who need a second chance all the opportunities in the world to right their own personal lives if they are so willing to do so."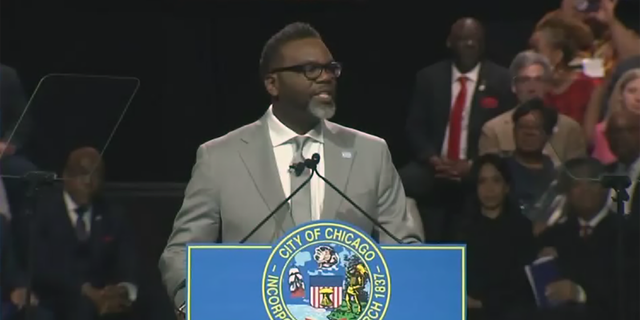 Chicago's new Mayor Brandon Johnson delivered his first speech in office Monday. (Fox News)
CLICK HERE TO GET THE FOX NEWS APP
The Chicago alderman welcomed the DNC selecting his city to host the 2024 convention, but says Johnson will have his work cut out for him to make positive changes before laying out the "blue" carpet for the nation's top Democrats next summer, including President Biden.
"We're going to have 100,000 Democratic delegates, spouses and all of them descending on our city. And it's really gonna be a challenge for the new mayor… to whip this city back into shape from a public safety standpoint. We have to keep our guests safe. We have to showcase our city as being a safe place to come. And if we don't get all of that right over the next few months, if we don't create a safe public transportation system, if we don't have clean airports that aren't homeless shelters, no one's gonna want to come here. Everyone's gonna want a remote convention rather than show up to the city of Chicago," Lopez said. "So I think it's imperative that the new mayor listens to what our concerns are and our suggestions are, how to get the city up to speed for when the convention happens. That is a big platform for him, particularly being a new mayor, who I'm would sure gets the stage in his home city to welcome everyone. You're not going to want to welcome people that people are still getting mugged on the Michigan Avenue."