And then there were three… Chevrolet ZR2s.
Chevrolet has unveiled the first Silverado 2500 HD ZR2 pickup, which brings the high-performance trim to its heavy-duty lineup for the first time.
The full-size truck borrows its style and tech from the midsize Colorado ZR2 and light-duty Silverado 1500 ZR2.
The two models have the highest conquest rates and bring in the youngest customers out of all the high-feature trims Chevy offers on its pickups.
IT LIVES: CHEVROLET LAUNCHING NEW DIESEL-POWERED PICKUP AMID ELECTRIC PUSH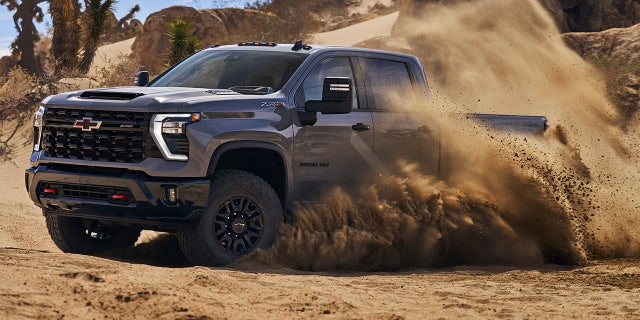 The Chevrolet Silverado HD ZR2 is a high-performance version of the pickup. (Chevrolet)
The Silverado 2500 HD's blacked-out grille features a hollow "Flowtie" Chevrolet badge that maximizes cooling for its 401 hp 6.6-liter V8 or an optional 470 hp turbocharged V8 diesel, which cranks out a prodigious 975 lb-ft of torque.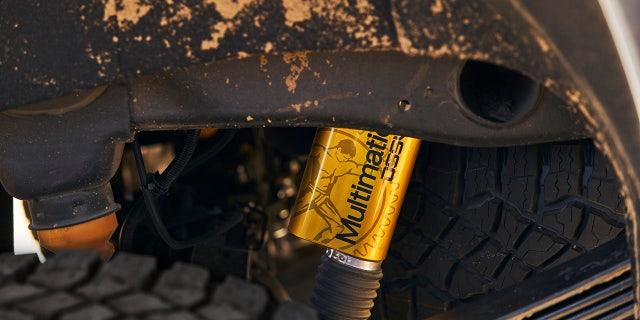 The ZR2's ultimatic shocks were originally developed for racing cars. (Chevrolet)
The truck gets a beefed-up suspension with a 1.5-inch lift and an equal increase in wheel articulation that's kept in check by a set of very special Multimatic DSSV (Dynamic Suspensions Spool Valve) dampers. The shocks originally developed for IndyCar and Formula One racing cars and are able to adjust their damping force with varying impacts to keep the body under control over small bumps and the suspension from bottoming out over big ones.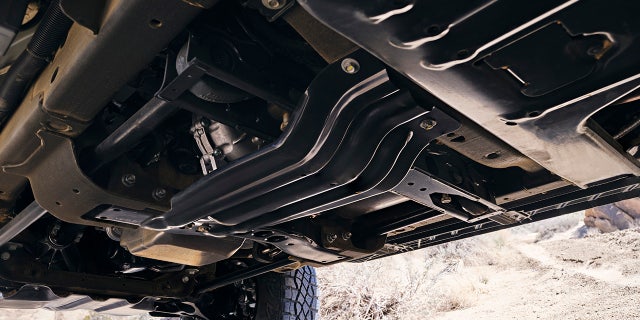 The ZR2 gets substantial steel skid plates. (Chevrolet)
Steel bumpers and skid plates plus standard 35-inch mud terrain tires further improve its off-road capability.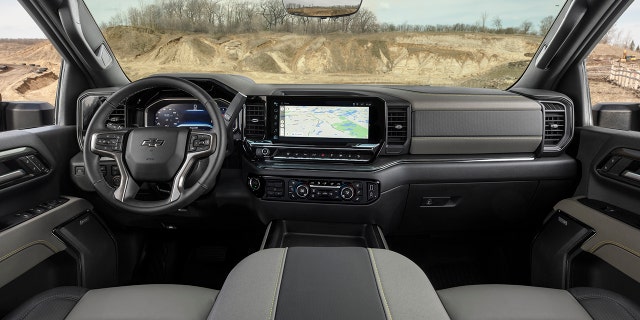 The ZR2's interior was designed to be upscale, but easy to clean. (Chevrolet)
The upscale leather surfaces and other trim materials in its crew cab were chosen to be easy to wipe clean and the ZR2 comes with a 360-degree camera and head-up display with an inclinometer to make it easier to navigate tricky terrain.
CLICK HERE TO SIGN UP FOR THE FOX NEWS AUTOS NEWSLETTER
The ZR2 is meant to be used as a toy that can haul other big toys along with it. It is rated to tow 16,000 pounds with the gasoline engine and 18,500 with the diesel, which have payload capacities of 3,397 and 3,193 pounds, respectively.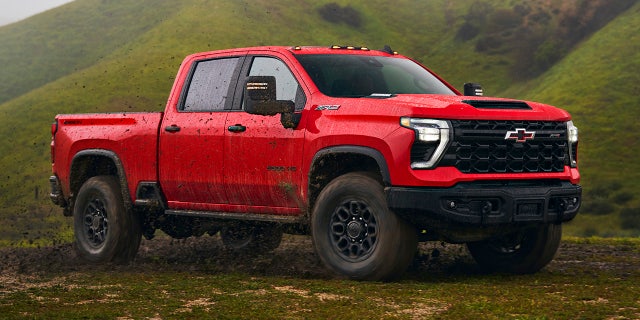 The ZR2 Bison features unique wheels and bumpers. (Chevrolet)
The truck can be enhanced with a Bison package developed with off-road specialist AEV that includes unique gloss black wheels; high-clearance steel bumpers with winch provisions and recovery points; stamped steel skid plates; and AEV badges.
CLICK HERE TO GET THE FOX NEWS APP
Pricing for the Silverado 2500 HD will be announced closer to when shipments begin from the GM factory in Flint, Michigan, where it will be built.