A Canadian aircraft deployed to assist with rescue efforts for the missing Titanic tourist submersible picked up "underwater noises" in the vessel's search area, according to the Coast Guard (USCG).
"Canadian P-3 aircraft detected underwater noises in the search area," the USCG in the Northeast region announced on Twitter early Wednesday morning.
The Coast Guard said the detection of the underwater sounds in the designated search area prompted investigators to deploy remotely operated vehicle to relocate and investigate the origin of the unusual noises.
Though the search efforts "yielded negative results," the USCG said the operation continues.
The sub, which is carrying five people, was in the process of diving approximately 12,500 feet underwater to view the Titanic's wreckage site.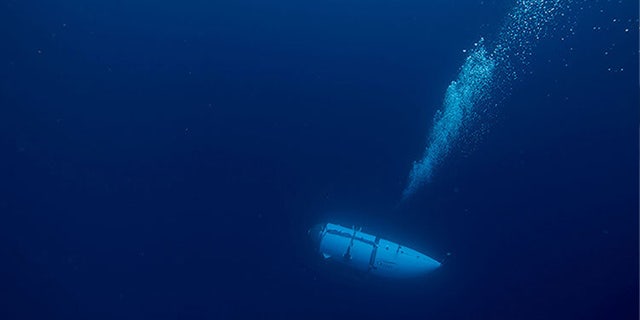 The 21-foot submersible had five people on board when it lost contact with Canadian research vessel Polar Prince approximately 1 hour and 45 minutes into its dive to view the Titanic wreckage site. (Ocean Gate / Handout/Anadolu Agency via Getty Images)
OCEANGATE, COMPANY BEHIND MISSING TITANIC TOURIST SUB, ONCE SUBJECT OF LAWSUIT OVER SAFETY COMPLAINTS
First Coast Guard District Response Coordinator Capt. Jamie Frederick said multiple agencies with expertise and special equipment are participating in the "complex" search effort.
The submersible, which was only equipped with a 96-hour oxygen supply, began its dive at 8 a.m. on Sunday and was expected to resurface at 3 p.m. The Coast Guard said it received a report at 5:40 p.m. from Canadian research vessel Polar Prince alerting that the sub was overdue for its return.
The Polar Prince also reported that it lost contact with the sub approximately 1 hour and 45 minutes into its dive.