Roughly a third of federal workers in Canada walked off the job Wednesday after failing to reach a deal for wage increases.
The strike was announced after the Public Service Alliance of Canada (PSAC), the union representing the workers, failed to reach a deal with the federal government before the 9 p.m. Wednesday deadline.
PSAC President Chris Aylward said the union, which had been in collective bargaining since 2021, had exhausted every avenue.
"We will remain on strike until the government addresses our key issues at the bargaining table," Aylward said.
LOS ANGELES SCHOOL DISTRICT WORKERS APPROVE LABOR DEAL AFTER 3-DAY STRIKE
The Canadian government said it presented a "fair, competitive offer to the PSAC," including a 9% increase over three years, and that it would continue negotiations to reach an agreement quickly.
Canadian Prime Minister Justin Trudeau stressed the need to resolve the dispute as quickly as possible.
"Let's make sure that while this is going on, we are at the negotiating table," Trudeau told reporters. "I know that Canadians will not be terribly patient if it continues too long."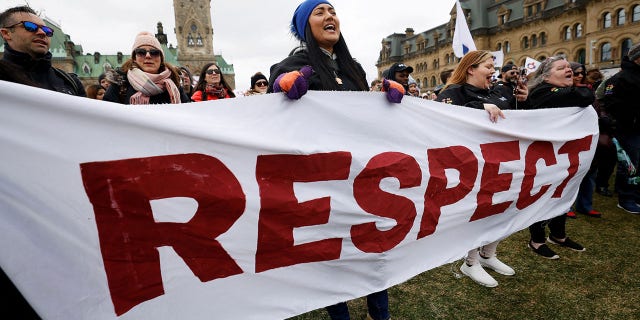 Picketers march on Parliament Hill after more than 155,000 public sector union workers with the Public Service Alliance of Canada (PSAC) began a strike, in Ottawa, Ontario, Canada, April 19, 2023. (REUTERS/Blair Gable)
The strike involves roughly 155,000 federal workers and is the largest against a single employer in Canadian history, according to PSAC. Contract negotiations involve some 120,000 workers under the Treasury Board and more than 35,000 revenue agency workers.
Tax agency workers are pushing for a pay increase of 22.5% over the next three years. Treasury Board workers are seeking a 13.5% pay increase over the same period.
CLICK HERE TO GET THE FOX NEWS APP
The strike is expected to delay some federal services, including tax refunds and passport renewals, among others.
Reuters contributed to this report.