Obstetrician-gynecologists and officials at Mucinex – a popular cough and cold medication that's designed to minimize mucus buildup – are trying to dispel a rumor that claims the over-the-counter medicine can help boost fertility.
The rumor, which has been circulating on TikTok, is largely connected to limited studies on guaifenesin, the active ingredient that's in Mucinex and many other over-the-counter congestion relief medicines, which have examined the effect it might have on fertility.
A 2010 study published by the International Journal of General Medicine, which was republished in the National Library of Medicine, found "almost entirely anecdotal" evidence that guaifenesin may improve "sperm count and motility."
SPERM COUNTS AND CONCENTRATIONS DECLINING GLOBALLY SINCE 1970S BUT FERTILITY IMPLICATIONS UNKNOWN: STUDY
Another study published in Fertility and Sterility, an official journal for multiple reproductive organizations, 28 years prior, claimed that guaifenesin may thin cervical mucus, which could help women who are trying to conceive.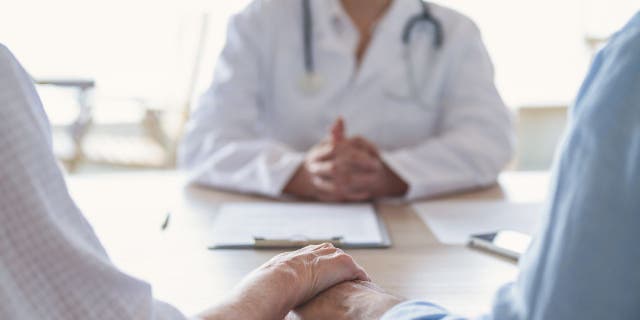 Very limited studies on the efficacy of guaifenesin on male and female fertility have been done. (iStock)
Guaifenesin, also known as glyceryl guaiacolate, is a medicinal ingredient made out carbon, hydrogen and oxygen (C10H14O4), according to the National Library of Medicine. The ingredient is an expectorant, meaning it thins mucus from airways.
TikTok users who view and create videos that fall under the #FertilityTok hashtag, which has more than 10.7 million views, have referenced the two studies, debated whether the findings are accurate or have taken stances to dismiss or support the efficacy of guaifenesin.
Dr. Rachel Danis, a reproductive endocrinologist and infertility specialist at Progyny, a New York City-based fertility benefits and insurance company, told Fox News Digital that early infertility treatments around the 1980s focused on managing "hostile cervical mucus" in female patients who had difficulty getting pregnant.
MORE COLLEGE-EDUCATED WOMEN ARE HAVING BABIES BEFORE MARRIAGE: STUDY
"Hostile cervical mucus refers to copious discharge around the time of ovulation which was thought to prevent the passage of sperm through the cervical canal into the uterine cavity and then the fallopian tube," Danis explained.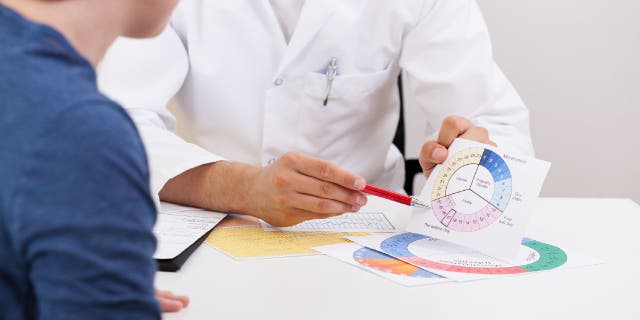 Male gynecologist shows menstrual period to patient (iStock)
Danis noted that old studies that examined the efficacy of guaifenesin had many confounding variables for infertility, including ovarian reserve, male factor infertility and tubal factor, which makes it difficult to understand how guaifenesin actually improves fertility.
"In sum, the data on this drug is so limited, so I do not think we can support the use of guaifenesin in treatments of infertility," Danis concluded.
FDA ADVISES AGAINST COOKING CHICKEN WITH COLD MEDICINE IN RESPONSE TO 'SLEEPY CHICKEN' TREND
Officials at Reckitt Benckiser, the parent company of Mucinex, are aware that TikTok users and everyday people are spreading the rumor that Mucinex helps with fertility.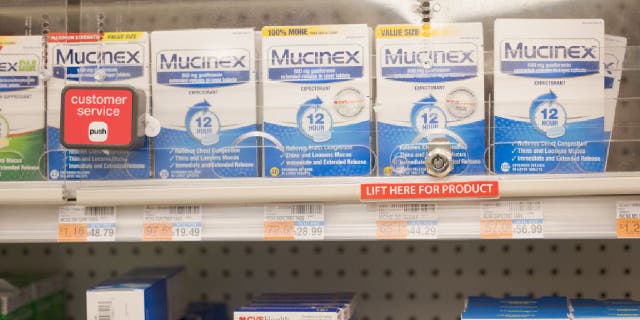 Mucinex is a cough and cold medicine that's meant for thinning excess phlegm. (Nora Savosnick/Bloomberg via Getty Images)
"As a global leader in health and hygiene, we wish to clarify that Mucinex should only be used as intended and in line with usage instructions," a Reckitt spokesperson told Fox News Digital.
"Taking Mucinex for infertility constitutes off-label use," Reckitt continued. "Taking medications outside their approved indications or without acknowledging all active ingredients may be harmful."
CLICK HERE TO SIGN UP FOR OUR LIFESTYLE NEWSLETTER
Reckitt warned that users of Mucinex and other cough or cold medicines should be aware that guaifenesin is commonly used in combination with other active ingredients.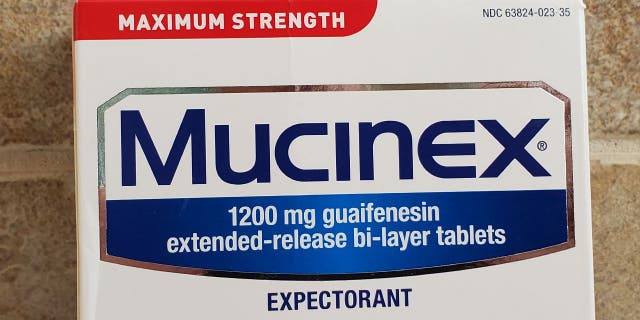 Mucinex's main active ingredient is guaifenesin, which is an expectorant that thins mucus. (Smith Collection/Gado/Getty Images)
"Mucinex-D for example contains pseudoephedrine, a nasal decongestant which should only be used for approved indications and carries specific risks," Reckitt's spokesperson said. "Please always read the label and safety information before taking any self-care medication."
CLICK HERE TO GET THE FOX NEWS APP
Reckitt advises anyone who has doubts or concerns about guaifenesin or fertility should have a discussion with their health care provider.