The California dermatologist accused of poisoning her estranged husband with drain-clearing chemicals mixed up the cocktail to kill ants, not her spouse, according to her lawyer.
A grand jury indicted Dr. Yue "Emily" Yu, 45, of Irvine, last week on three counts of felony poisoning and another of domestic battery.
Dr. Jack Chen, Yu's 53-year-old husband, filed for an order of protection over the summer after he said he suffered internal injuries and rigged their kitchen with home surveillance cameras that allegedly caught her spiking his lemonade.
Following a court appearance Tuesday, her attorney David Dworakowski told reporters that the couple had an ant infestation at their home that Yu was trying to address.
CALIFORNIA DOCTOR SAYS HE CAUGHT WIFE DUMPING DRANO IN HIS LEMONADE AFTER RIGGING KITCHEN WITH CAMERAS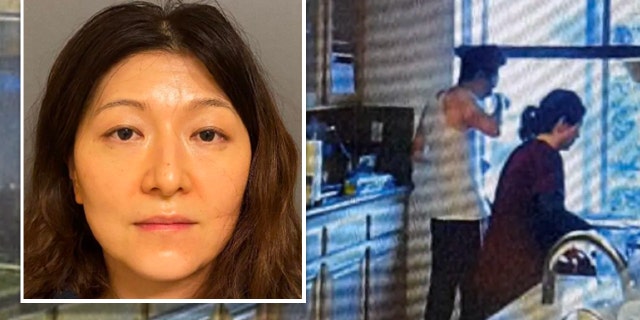 In a screengrab from home surveillance video, Dr. Jack Chen sips from a drink he alleges that his estranged wife, Emily Yu, inset, poisoned with Drano. (Orange County Superior Court, Irvine Police Department)
"While prosecutors are making it out like this video of Emily is a 'smoking gun,' the reality is she was trying to attract the ants into the glass so they would drown," Dworakowski told the New York Post.
He did not immediately return a call seeking comment Wednesday.
The cameras, Chen alleged in court filings, recorded Yu spiking his drinks with Drano, a brand-name chemical drain cleaner that the U.S. government describes as "very dangerous" if ingested, inhaled or placed in contact with the skin or eyes.
"On three separate occasions of I have video of her pouring Draino (sic) taken from under our kitchen sink and pouring it into my lemonade (I drink it hot)," he wrote in a petition to the court.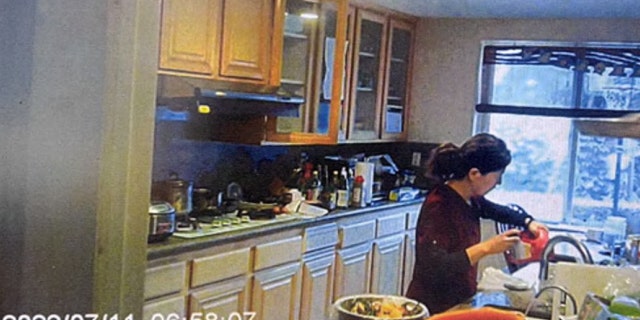 Yu is seen in a screengrab from video opening a bottle of Drano in the kitchen. (Orange County Superior Court)
CALIFORNIA DERMATOLOGIST ARRESTED AFTER HUSBAND SHARED 'COMPELLING' VIDEO OF HER POISONING HIM, POLICE SAY
Chen put the cameras in place after becoming suspicious in March and April of last year, after noticing "a chemical taste" in his lemonade and being diagnosed with ulcers, gastritis and esophagitis, according to the filing.
In one instance, he said, he covered his drink with plastic wrap — and she allegedly peeled it off, spiked the drink, and replaced the covering.
Yu faces a maximum of eight years and eight months in prison if convicted on all counts, according to the Orange County District Attorney's Office.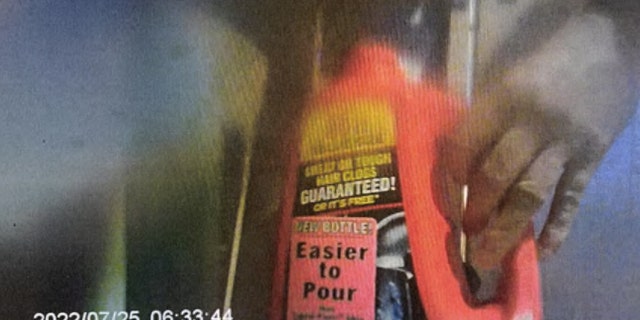 Chen even put a camera under the sink, where the family stored the Drano bottle. (Orange County Superior Court)
She is scheduled for arraignment next Tuesday in Santa Ana.
Yu will also have her medical license reviewed by the state board and could lose it, according to prosecutors.
Prosecutors say Chen's video recorded his wife tampering with his drinks three times in July. He provided a sample to Irvine police, who shared it with the FBI. Lab testing found traces of drain cleaner inside, according to prosecutors.
CLICK HERE TO GET THE FOX NEWS APP
"Our homes should be where we feel the safest," DA Todd Spitzer said in a statement. "Yet, a licensed medical professional capitalized on her husband's daily rituals to torment her husband by systematically plying his tea with a Drano-like substance intending to cause him pain and suffering."