NASCAR will not discipline Bubba Wallace after he was spotted raising his middle finger during a post-race interview following his second-place finish at the All-Star race at the North Wilkesboro Speedway over the weekend.
The decision not to fine Wallace comes from NASCAR's understanding that Wallace was gesturing toward a friend and that while the gesture itself was inappropriate, it was not done with malicious intent, FOX Sports reported Monday.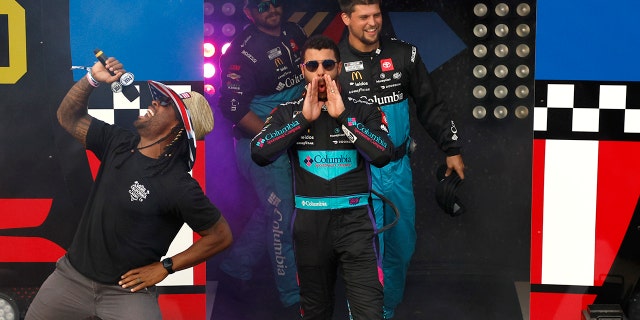 Bubba Wallace, driver of the #23 Columbia Sportswear Company Toyota, walks onstage during driver intros prior to the NASCAR Cup Series All-Star Race at North Wilkesboro Speedway on May 21, 2023 in North Wilkesboro, North Carolina. (Sean Gardner/Getty Images)
Wallace finished second in the 200-lap race on Sunday behind Kyle Larson, who claimed his third All-Star race victory in just five years.
BUBBA WALLACE APPEARS TO FLIP OFF CAMERA; NASCAR REPORTEDLY INVESTIGATING APPARENT HACK INTO DRIVER'S RADIO
However, the obscene gesture and Wallace's second-place finish were overshadowed by another controversy when someone reportedly hacked his radio during the race.
"Go back to where you came from you a–hole," the person reportedly said. "You're not wanted in NASCAR."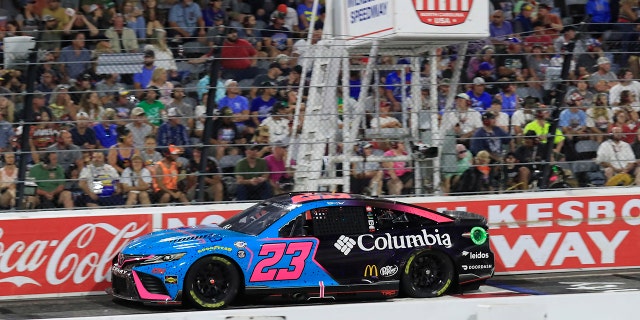 Bubba Wallace, #23 23XI Racing Columbia Sportswear Company Toyota, during the Sunday evening NASCAR Cup Series All-Star Race on May 21, 2023 at the North Wilkesboro Speedway in North Wilkesboro, North Carolina. (David J. Griffin/Icon Sportswire via Getty Images)
CLICK HERE TO GET THE FOX NEWS APP