NASCAR star Bubba Wallace finished in second place at the All-Star Race after Kyle Larson put on a dominant showing in the Cup Series' return to North Wilkesboro Speedway.
But Wallace turned heads after the race when he appeared to flip off the camera before he talked to FOX Sports' Jamie Little about his performance. Wallace appeared to be booed during the driver introductions and after the race.
CLICK HERE FOR MORE SPORTS COVERAGE ON FOXNEWS.COM
"I mean, I finished fifth, I got a good payday. I'm good."
KATELYN LARSON CHUGS BEER AFTER HUSBAND'S NASCAR ALL-STAR RACE VICTORY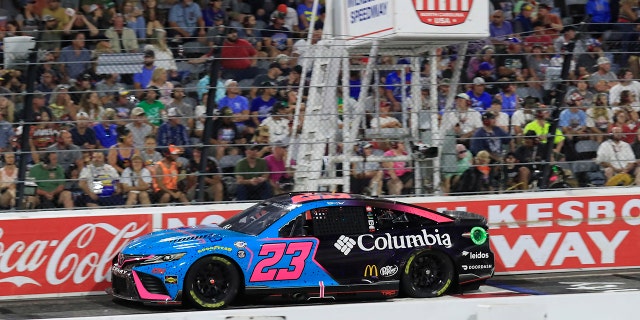 Bubba Wallace during the NASCAR Cup Series All-Star Race on May 21, 2023, in North Wilkesboro, North Carolina. (David J. Griffin/Icon Sportswire via Getty Images)
Wallace's second-place finish in the Cup Series event was overshadowed by an incident on his radio. A person apparently was able to spread a derogatory message over his airwaves, according to Motorsport.com.
"Go back to where you came from you a–hole," the person reportedly said. "You're not wanted in NASCAR."
Wallace finished about 4.5 seconds behind Larson.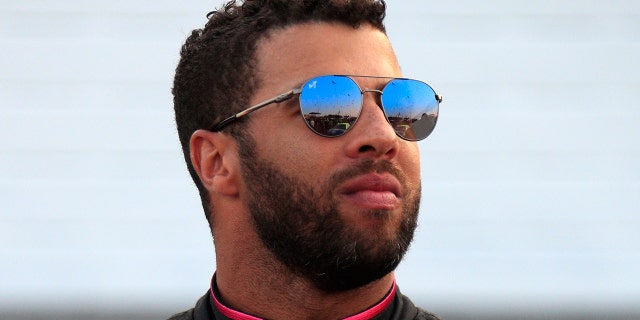 Bubba Wallace talks with members of his crew on May 21, 2023, at North Wilkesboro Speedway in North Carolina. (Jeff Robinson/Icon Sportswire via Getty Images)
CLICK HERE TO GET THE FOX NEWS APP
"Larson was lights out, so congrats to him," Wallace said. "They have been hitting it on the head all season, so to run second to them is not a bad thing. But to run second in the All-Star race sucks because you go home with nothing."