"Boy Meets World" almost had a different leading lady.
During a recent appearance on the "Pod Meets World" podcast, Bonnie Morgan, known for her role as Samara in "The Ring," opened up to hosts Danielle Fishel, Rider Strong and Will Friedle about her experience getting hired to play Topanga Lawrence on the show and how she felt when she was eventually let go.
"I had three callbacks," she said. "They kept bringing me back, and … it was rooms full of people every time. And, weirdly, every time I'd audition, we'd talk a lot. Every time I'd come back, the script would change slightly, it seemed, to things we had talked about."
Morgan felt a connection to the role. She said the character Topanga had hippie parents, and, in real-life, her mother "grew kombucha mushrooms in our kitchen."
After surviving the power struggle, Morgan arrived on set for her first day, calling it "the weirdest the day of my life."
She remembered "all the adults were short with me" and described the table read as "fun" but said things went downhill after that.
"Now, we're blocking, and Ben [Savage] kind of started poking at me a little bit. He would make faces and try to break me, and it worked. At this point, I was becoming a nervous wreck," she recalled. "I couldn't get his name, the opening line, Cory … and [director] David [Trainer] was just like, 'Get it together.' I'm trying to pull it together. I pulled it together in sheer fear, and Ben just kept doing this thing to crack me up."
The next morning, Morgan explained, she woke up ready to celebrate her new job when the phone rang during breakfast. Her father answered the phone.
"He just said, 'What? You're kidding. They fired you. You're fired,'" Morgan recalled.
CLICK HERE TO SIGN UP FOR THE ENTERTAINMENT NEWSLETTER
Morgan described feeling "shattered" when she heard the news, saying, "I don't know a lot of adults that could take that one."
When the show eventually aired, the only time she watched was when the pilot premiered.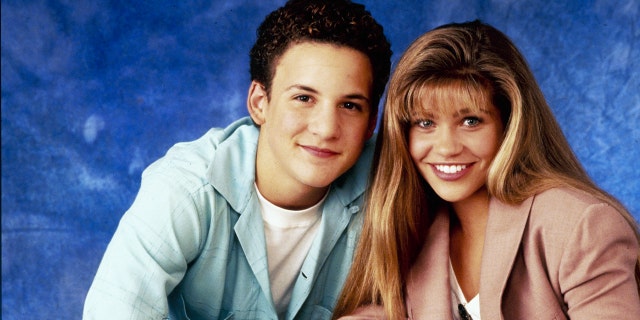 The role of Topanga eventually went to Danielle Fishel, who played the character throughout the show's run and in the 2014 reboot. (Getty Images)
The role eventually went to Fishel, who played the character until the end of the original series in 2000 and again in the 2014 Disney Channel reboot series "Girl Meets World."
CLICK HERE TO GET THE FOX NEWS APP
Fishel acknowledged that while she was always confident in speaking with adults, "in a romantic, male gaze sense, I should not have been outwardly talked about at 14, 15, 16 years old."
"Even directly to me," she added during the podcast, "I had people tell me they had my 18th birthday on their calendar. I had a male executive — I did a calendar at 16 — and he specifically told me he had a certain calendar month in his bedroom."