United States Border Patrol Chief Raul Ortiz on Monday disclosed approximate figures for apprehensions and "gotaways" at the southern border following last week's expiration of Title 42.
Tweeting early Monday morning, Ortiz said that in the past 72 hours, three agents had been assaulted, 14,752 people had been apprehended, and approximately 4,316 "gotaways" had been reported.
Ortiz also disclosed that agents had seized 4 lbs. of marijuana, one pound of cocaine, nearly $60,000, in addition to encountering five sex offenders and one wanted felon.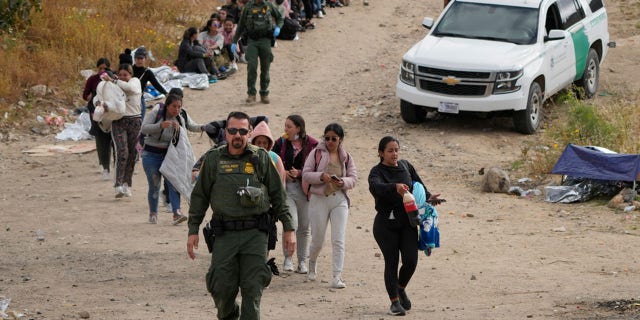 FILE: A U.S. Border Patrol agent leads a line of women to a van as they wait to apply for asylum between two border walls Thursday, May 11, 2023, in San Diego.  (AP Photo/Gregory Bull)
Immigration restrictions linked to the coronavirus pandemic — referred to as Title 42 — expired at midnight Thursday and new U.S. enforcement measures went into effect Friday.
BIDEN SAYS BORDER LOOKS 'MUCH BETTER THAN YOU ALL EXPECTED' AFTER TITLE 42 ENDS, HAS NO PLANS TO VISIT
In the days since, the number of migrants encountered at the southern border has fallen 50% compared with the 10,000-plus encountered each day for the three days leading up to the end of Title 42.
Still U.S. officials are cautioning that it's too early to draw firm conclusions.
"We are closely watching what's happening," Blas Nunez-Neto, assistant secretary for border and immigration policy at the Department of Homeland Security, said. "We are confident that the plan that we have developed across the U.S. government to address these flows will work over time."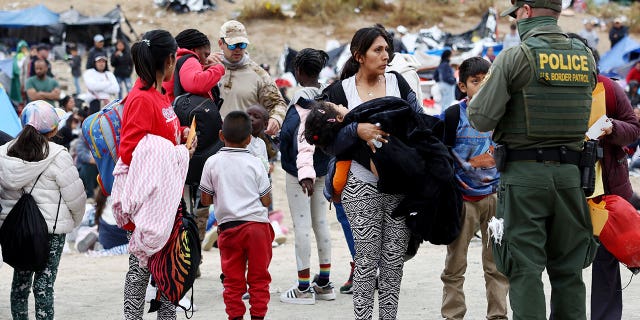 A U.S. Border Patrol agent (R) speaks to immigrants before they are transported from a makeshift camp between border walls, between the U.S. and Mexico, on May 13, 2023 in San Diego, California.  (Mario Tama/Getty Images)
Nunez-Neto credited the U.S. planning as well as enforcement measures Mexico and Guatemala have carried out in recent days along their own southern borders. He said the number of migrants in U.S. custody also has fallen "significantly" since last week but is still high.
Title 42 allowed U.S. officials to quickly expel migrants without letting them seek asylum, but it also carried no consequences for those who entered the country and were expelled. In the leadup to the end of Title 42, the U.S. introduced tough enforcement measures to discourage people from arriving at the border, encouraging them instead to use one of the pathways the U.S. has created to facilitate migration.
MIGRANTS CROSSING BORDER RELEASED WITH COURT DATES THAT ARE YEARS AWAY
Many migrants, worried about these tough enforcement measures, came before Title 42 expired.
The U.S., meanwhile, is in litigation about whether it can release migrants without what's called a "notice to appear." Usually, migrants who are released into the United States — as opposed to those held in custody or immediately expelled — get a "notice to appear," which includes a court date and some type of monitoring with immigration officials. But it can take up to two hours to process a single person for this, potentially choking Border Patrol holding facilities when they're at capacity.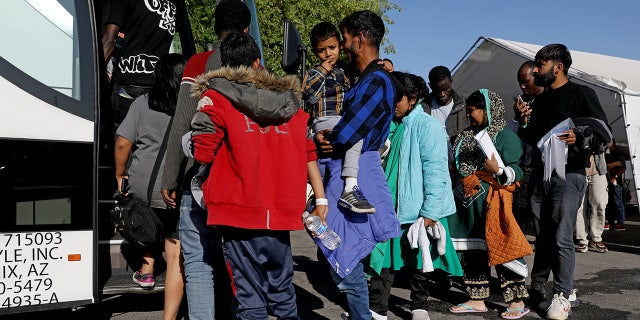 FILE: Migrants who have been processed by U.S Border Patrol and have been released from their center, are given assistance from the Regional Center for Border Health to relocate to areas outside of Yuma, on Friday, May 12, 2023 in Somerton, AZ.  (Gary Coronado / Los Angeles Times via Getty Images)
Since 2021 the U.S. has often released migrants from custody with instructions to report to an immigration office in 60 days. It's a process that takes only 20 minutes, but it's come under attack by those who say it doesn't offer enough oversight. On Friday, a Florida court temporarily put an end to the process. The administration is appealing that decision.
TEXAS SENDS MIGRANTS TO NAVAL OBSERVATORY NEAR VP HARRIS' HOME, ONCE AGAIN
On Monday, the judge, in a preliminary injunction, narrowed the order so it only applies to migrants who say they plan to stay in Florida until their court hearings.
In court filings last week, U.S. authorities said they cannot confidently estimate how many people will cross the border. Matthew Hudak, deputy Border Patrol chief, said authorities predict arrests will spike to between 12,000 and 14,000 a day.
Fox News' Bill Melugin on Monday challeneged White House Press Secretary Karine Jean-Pierre for denying that U.S. Customs and Border Protection (CBP) was "encouraging or allowing mass release of migrants."
CLICK HERE TO GET THE FOX NEWS
He noted that on Thursday alone, more than 6,000 migrants were released without a court date and the Biden administration was arguing in federal court that it needs these releases.
The Associated Press contributed to this report.