Bob Newhart's wife, Ginnie Newhart, died Sunday in Los Angeles after a long illness. She was 82.
The couple, who met through comedy legend Buddy Hackett, were married for 60 years.
The Newharts tweeted Monday afternoon from Bob's account, "We lost our beloved Ginnie Quinn Newhart – Wife, Mother and Grandmother on April 23rd, 2023 after a long battle with illness. She was our rock and we miss her terribly."
A private funeral service will be held in the coming weeks, according to the family.
BOB NEWHART WON'T RETIRE AT AGE 90: 'I DON'T THINK I'LL EVER STOP PERFORMING'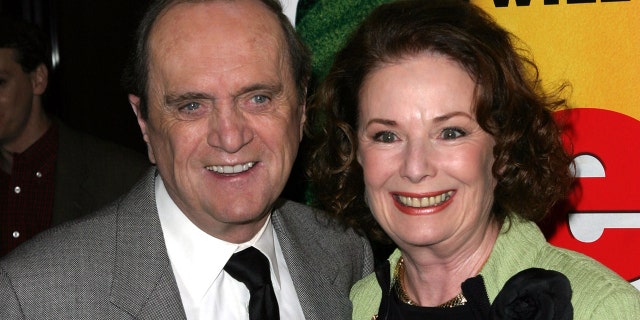 Bob Newhart's wife of 60 years, Ginnie Newhart, died Sunday at the age of 82. (James Devaney)
BOB NEWHART SHARES FAVORITE MEMORIES OF ED SULLIVAN, DEAN MARTIN, JUDY GARLAND
Born Virginia Lillian Quinn in New York, she was the daughter of veteran character actor Bill Quinn.
Ginnie and Bob met on a blind date in 1962 set up by comedian Buddy Hackett.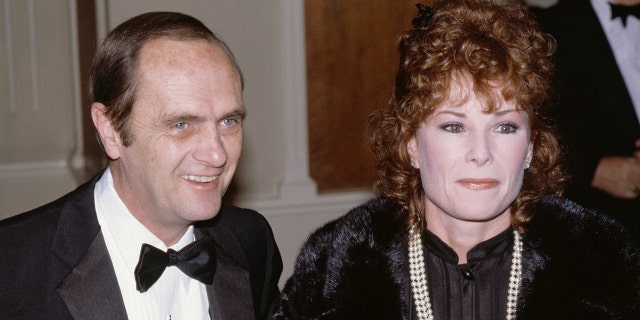 Bob and Ginnie recently celebrated their 60th wedding anniversary. They attended the 40th annual Golden Globes in 1989. (Michael Ochs Archives)
Newhart recalled, "Buddy said, 'I've got a girl for you.' She's going with another guy, but I don't think he's right for her, so I'm going to fix you up on a blind date. You'll meet her and you'll date and you'll get married. Then you'll have kids and you'll call one of the kids Buddy.' Which we did."
One year later, they were married.
"The Bob Newhart Show" enjoyed a popular six-season run as part of CBS' Saturday lineup, which also highlighted other hit shows, including "All in the Family," "M*A*S*H," "The Mary Tyler Moore Show" as well as "The Carol Burnett Show."
CLICK HERE TO SIGN UP FOR OUR ENTERTAINMENT NEWSLETTER
Ginnie was also responsible for the idea behind the highly acclaimed series finale of "Newhart," which ran from 1982 to 1990.
Bob shared his secrets for a successful marriage with Parade magazine last year.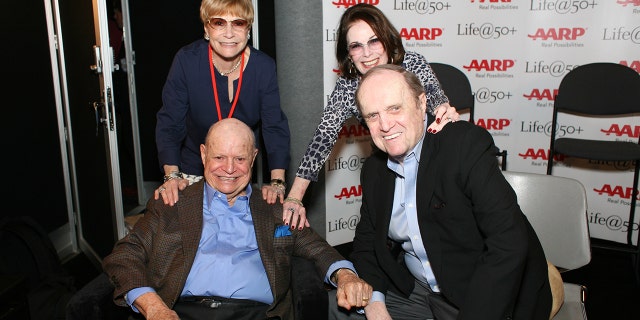 Bob and Ginnie Newhart were great friends with Don Rickles and wife Barbara. (Jim Steinfeldt)
"The marriages of comedians, no matter how stormy, seem to last a long time, and I attribute it to laughter," he said. "No matter how intense the argument you're having, you can find a line, and then you both look at each other and start laughing. It's over, you know?
"I think that sense of humor is very important to the longevity of a marriage."
Over the past six decades, Ginnie and Bob have raised their four children, Rob, Tim, Jennifer and Courtney, in Los Angeles and are proud grandparents to 10 grandchildren.