The U.S. oil and natural gas industry contributes $1.8 trillion annually to the U.S. economy while supporting nearly 11 million jobs, according to an industry analysis published Tuesday morning.
The report — commissioned by the American Petroleum Institute (API) and prepared by PricewaterhouseCoopers using 2021 data — showed the oil and gas industry has a massive economic impact, both directly and indirectly by impacting sectors throughout the energy supply chain, across all 50 states. Overall, the industry's nearly $2 trillion impact on U.S. gross domestic product accounts for 7.6% of the national total.
"Natural gas and oil delivers growing economic contributions to America that were nearly equivalent to Canada's annual GDP last year," API President and CEO Mike Sommers said in a statement Tuesday. "From Pennsylvania to California, America's natural gas and oil workforce is the backbone of communities, supporting nearly 11 million careers throughout the energy supply chain."
"America's economic outlook is brighter when we are leading the world in energy production and this analysis serves as a reminder that we need policies and regulations that encourage investment and enable development," Sommers continued.
REPUBLICAN STATES PREPARING LEGAL ACTION OVER BIDEN'S POWER PLANT REGULATIONS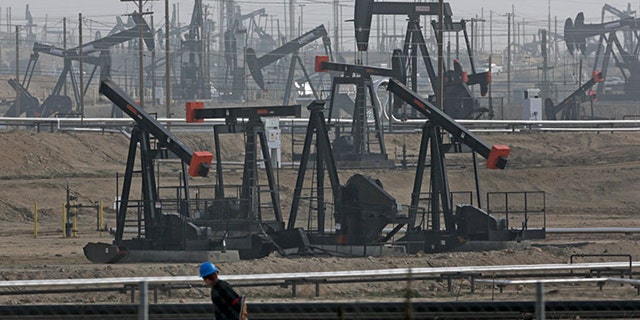 Oil pumpjacks operate at the Kern River Oil Field in Bakersfield, California. (AP Photo/Jae C. Hong)
Domestic oil and gas producers also generated more than $908 billion in labor income, 6.4% of the national total, from jobs directly and indirectly supported by the industry.
The report also highlighted the positive economic impact the industry has had in every state, including several Democratic-led states where lawmakers have taken aim at the fossil fuel industry as part of their aggressive climate agenda and green energy push.
According to the analysis, the fossil fuel industry generated $454.5 billion for the Texas economy, the largest impact of any state, in 2021. The next three states whose economies were most-impacted by the industry were California, Pennsylvania and New York where producers generated $217.1 billion, $75 billion and $70.1 billion, respectively.
CALIFORNIA GOV. NEWSOM STRIKES DEAL TO PUNISH FOSSIL FUEL COMPANIES AFTER FIRST PROPOSAL REJECTED
"California is drastically cutting our dependence on fossil fuels and cleaning our air," Democratic California Gov. Gavin Newsom said in a November announcement unveiling the "world's first detailed pathway to carbon neutrality."
The state's plan involves goals to slash greenhouse gas emissions by 85%, cut oil usage by 94% and deploy more solar and wind capacity over the next two decades. The aggressive plan to overhaul the state's energy system came three months after a top California environmental agency moved forward with a rule requiring all new vehicle sales to be electric by 2035.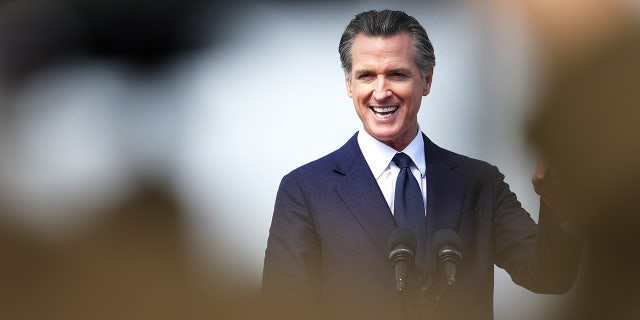 Democratic California Gov. Gavin Newsom has repeatedly taken aim at the oil and gas industry since taking office in 2019. (Justin Sullivan/Getty Images)
And, earlier this month, the New York state government led by Democratic Gov. Kathy Hochul approved a sweeping $229 billion budget that prohibits natural gas hookups in new smaller residential buildings by 2026 and in larger residential buildings by 2029, making it the first state in the country to pass such a measure.
"Our budget prioritizes nation-leading climate action that meets this moment with ambition and the commitment it demands," Hochul said.
New York has also banned oil and gas fracking statewide.
CLICK HERE TO GET THE FOX NEWS APP
While Democratic Pennsylvania Gov. Josh Shapiro has taken a less aggressive approach, he created a climate taskforce led by Natural Resources Defense Council, a left-wing environmental group, to help craft climate policies. He also touted the federal Inflation Reduction Act in his budget for the opportunities it provides for "climate change mitigation."
The API report also showed Illinois and Colorado, two states where Democrats have taken aim at oil and gas production, are among the top 10 beneficiaries of the oil and gas industry.
In addition, the Biden administration has repeatedly attempted to decrease the amount of land and waters leased for fossil fuel production.
The Department of the Interior has held a handful of onshore fossil fuel lease sales since President Biden took office, and it only held those auctions after a federal judge issued an injunction that blocked the President Biden's 2021 moratorium on new drilling. The agency has also failed to hold any offshore lease sales that weren't otherwise legally mandated, and it proposed a plan to block all such leasing through 2028.