A harrowing bee attack in a Los Angeles neighborhood was caught on video Monday, showing the moments a police volunteer collapsed to the ground as the insects swarmed.
Emergency services arrived in the Encino neighborhood around 4 p.m. to a call of a bee swarm outside a home on Adlon Road, FOX11 Los Angeles reported.
When a uniformed Los Angeles police volunteer got out of his car to help, the bees attacked.
Aerial footage shows the man walking back to the car and swatting the air around his head. The attack appears to intensify, and the man walks down the street while swatting at his head and face.
CLIMATE CHAOS? BUGS WILL THRIVE IN AN EVER-WARMING WORLD, SAYS SCIENTISTS
The volunteer was eventually able to leave the scene and was treated on a sidewalk before being taken to a hospital. It was unclear how many times the man was stung.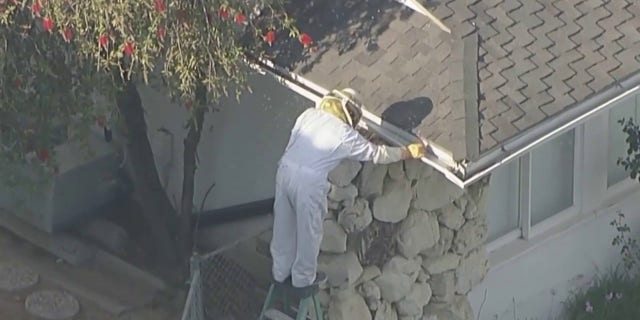 Professionals were called to deal with the bees, which appeared to congregate near the roof of a home. (FOX11 Los Angeles KTTV)
The police volunteer was the second person attacked by the swarm of bees, according to the station. No details about the other attack or the person's condition were immediately available.
Officials advise running in a straight line, covering your face and getting to shelter. They say never get into water and do not fight the bees.